Four UA engineering grads on winning Indy 500 team
06/03/2016

Over Memorial Day weekend, millions of IndyCar racing fans watched in awe as rookie driver Alexander Rossi crossed the finish line to pull off an improbable upset in the 100th running of the Indy 500, a race also known as "The Greatest Spectacle in Racing." And no one was cheering him on louder than four UA engineering graduates on the Firestone Racing team.

Cara Adams ('02, mechanical engineering) works as a senior project engineer in Race Tire Development at Firestone Racing. She is responsible for the development of all the Superspeedway tires used by the race teams at the Indy 500. On race day, you might spot her stationed at the scoring pylon or walking up and down the pit lane while monitoring the performance of the tires.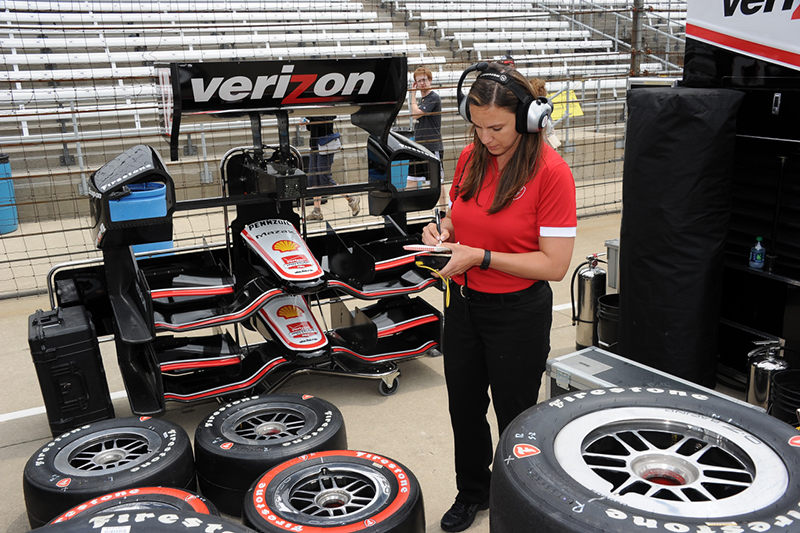 Cara Adams, senior project engineer of race tire development, Bridgestone USA, inspects tires during an Indianapolis 500 practice. — Photo by Chris Jones, INDYCAR
Yes, there is a lot of excitement, and there is a lot of stress and pressure by people who want to know what their tires are going to do with different suspensions and configurations."
Found love of racing at UA
While an engineering student at UA, a classmate who was on the College of Engineering's SAE Formula Team invited Adams to the machine shop to check out their racecar. "I loved it and jumped right in and tried to learn and do everything from sweeping floors to how to use the mill," adds Adams. "That's when I decided that I wanted to work in racing."
RELATED
After graduation, Adams was hired as an engineer in the Tire-Vehicle Dynamics group at Bridgestone, but her sights were set on racing. "I found the manager of our Race Tire Development group," she recalls. "I told him my goal was to work for his group. I asked him what skills or traits his ideal engineer would have. He told me, and I went out and bought textbooks, read and studied on my own time and tried to find things in my current job that might parallel to the Race Tire group. When an opening became available, my goal was for them to have no choice but to hire me."
Team effort by alumni
Adams credits Thomas German ('92, mechanical engineering), the lead race team engineer, for the continued success in the Firestone Racing department. Upon graduation from UA, German started his own business – ELEVEN, a company that designs and builds customized motor bikes – which he still runs even after his move to Firestone. Two additional UA engineering grads on the Race Tire Development team include Dennis Boley ('04, chemical engineering) as a lead tire compounder and Philip Severyn ('05, mechanical engineering) as a lead virtual tire simulator.
This year's Indy 500 contest turned into a fuel mileage race because of its lengthy caution breaks, and it was won by engineers who had Rossi save a few extra laps of fuel by drafting behind cars for most of the last run. Other cars had to pit during the last few laps, but Rossi's team had saved him enough fuel to win. In fact, he ran out of fuel after crossing the finish line.
But don't look for Adam's gas tank to run out of fuel anytime soon.
---
Media contact: Lisa Craig, 330-972-7429 or lmc91@uakron.edu.