Esports facilities ready for grand opening
10/02/2018

It's almost time to unveil the state-of-the-art home for The University of Akron's Zips Esports teams, and the club and recreational gaming spaces.

The UA community, including students and alumni, and the public, will get the opportunity to have a premier electronic gaming experience during the grand opening of our three esports gaming facilities on Friday, Oct. 5, from 2 to 6 p.m. during Homecoming Weekend.

Visitors can tour the facilities in renovated spaces across campus, meet and watch teams compete in action and put their own gaming skills to the test to play for prizes. Outside in Coleman Common, the more than a dozen esports clubs will be recruiting student players, and visitors can meet with Zips Esports sponsors and try out their gaming products.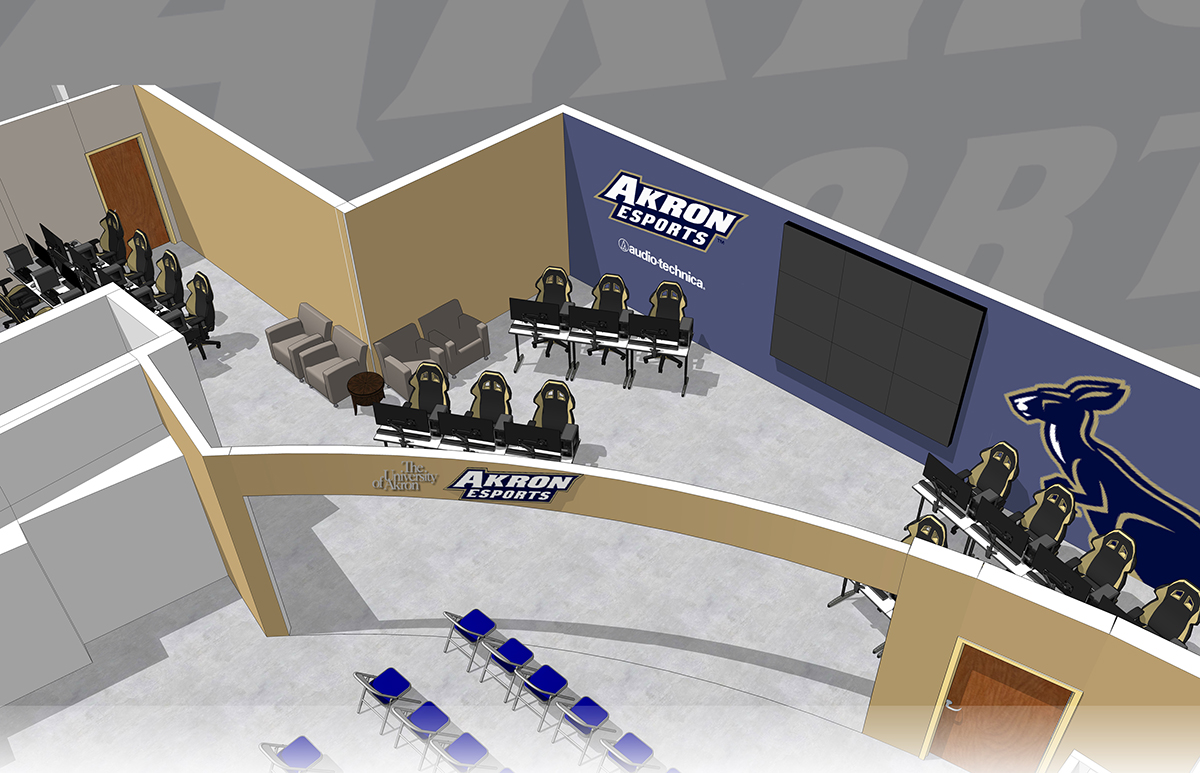 UA's five varsity esports teams will compete in the new 1,222-square-foot gaming arena located on the first floor of InfoCision Stadium-Summa Field. The site includes a hyper wall display for spectators to watch competitions and a studio for broadcasting competitions and events.
"Zips Esports is excited to offer student gamers at The University of Akron one of the first large-scale opportunities to gather and game in-person in a shared communal space," said Michael Fay, Jr., head coach and director of esports programs. "These facilities will enable the varsity, club and recreational players to get to know each other, collaborate around the games they love and contribute to the social capital of the UA campus community. When the University offers students the ability to engage with what they're passionate about, those students will bring more of that passion to every aspect of their college careers."
UA's five varsity esports teams will compete in a new gaming arena located on the first floor of InfoCision Stadium-Summa Field. There, spectators will be able to watch matches live on a hyper wall display. The facility will also house a studio for broadcasting competitions and events.
An esports center located on the first floor of the Jean Hower Taber Student Union will be home to more than 300 students representing more than a dozen esports club teams. The facility will feature a viewing lounge where live esports broadcasts will be aired throughout the day, and an exclusive training space for varsity teams. Free devices will also be available for recreational use by other members of the student body who are not members of a club or varsity team.
The Drs. Gary B. and Pamela S. Williams Honors College will house a recreational gaming café on the first floor that will be available for all students with good academic standing to access for free. University employees, alumni and community members who are gamers and want to access the café will be able to purchase passes.
Each facility will be outfitted with cutting-edge gaming PCs and headsets. The facilities will be outfitted with 93 state-of-the-art Gravity Gaming PCs for competitive esports, 15 Xbox Ones and 15 PlayStation 4s.
UA recently signed SteelSeries as a partner, making the company the exclusive peripherals partner of Zips Esports, providing keyboards, mice and mousepads for each of the PC gaming station in the facilities. In August, UA's esports program partnered with Audio-Technica to make the audio equipment designer and manufacturer its exclusive audio supplier for all gaming and broadcasting. UA announced in July the team coaches and leaders – including the first female collegiate esports coach – selected to manage and coach the five inaugural esports varsity teams this fall.
UA is the first public university in northern Ohio to create a varsity esports program. For more information about the program, contact Michael Fay, Jr. at mfay@uakron.edu.
Follow the progress of Zips Esports on Twitter and Facebook.
---
Media contact: Alex Knisely, 330-972-6477 or aknisely@uakron.edu.