Education major will never 'Lego' of this once-in-a-lifetime opportunity
05/11/2018

Even though we all get older, many of us are still children at heart. We reminisce on those experiences of running through the house, playing with cars or dolls, and building with Lego bricks, yet we know that these are things from which we can never earn a living. Or, can we?

In a whirlwind competition that began in April, Maxx Davidson, a fourth-year life science education major at UA and a student in the Dr. Gary B. and Pamela S. Williams Honors College, was named the first Master Builder for the new Legoland Discovery Center, which opens Sept. 21 in Columbus. His career now is to live out his passion — building with Lego bricks.

Davidson is only the 22nd Master Model Builder to be named by The Lego Group, worldwide.

A builder his whole life — from Duplo bricks at the age of 2 to a Lego Millenium Falcon at age 4, Davidson has continued that interest right through his college years. Here at UA, Davidson took up real-life construction as a member, and then as president, of our Habitat for Humanity chapter.

Davidson was one of 2,000 applicants for the Legoland position. Among those, only 100 were selected to participate in a three-round building competition to display their skills. The final round, which took place in Columbus May 5-6, featured 10 competitors working with kids visiting Easton Town Center with their parents.

"I feel almost like I'm one of the characters in a movie that you'd see, like no one can have this cool of a thing happen to them in real life," Davidson told his hometown paper in Ashland, Ohio.

As part of the competition, Davidson built fish swimming through a forest of seaweed and sponge, a photo of his mother, and even a record player replica with a convincing needle. He was almost speechless when he was announced as the winner in front of about 100 cheering spectators.

"It means I'll have a full-time position building with Lego bricks, working with kids and working in this incredible center," noted an enthusiastic Davidson. "I believe that what I learned in my education classes will be essential to the job. From Education Psychology to Instructional Design, the classes have given me a set of tools that will prepare me for the challenges of the job."

Davidson will be in charge of the center's more than 1 million Lego bricks. He will have his own Master Model Builder studio, stocked with Lego products to build anything he wants and outfitted with a glass wall so visitors can watch him work. He will also work alongside kids who come to visit the center.

One of his major tasks will be to create Miniland Ohio, a space filled with Lego versions of iconic Ohio landmarks.

Davidson's advice to other children-at-heart? Keep pursuing your passions.

"If you have something you're passionate about, creatively or otherwise, even if you might not be able to make a career out of it, stick with it. Everyone needs a creative release," he said.
---
► Story by Erica Cantrell
► Media contact: Lisa Craig, 330-972-7429 or lmc91@uakron.edu.
---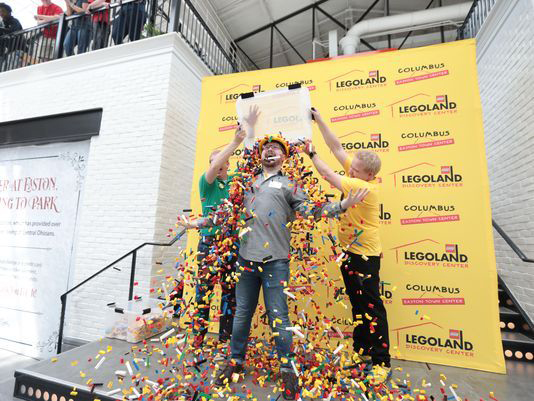 Maxx Davidson gets Legos dumped on him after winning a competition. — Photo courtesy of USA Today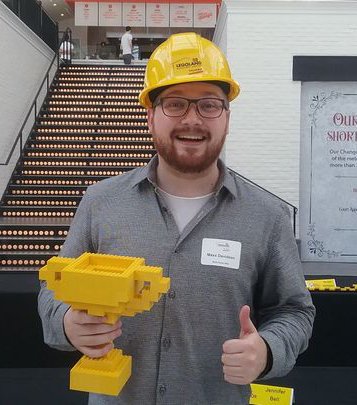 Maxx Davidson holds Lego trophy.