Diverse Engineering podcast returns for Season 3
10/19/2022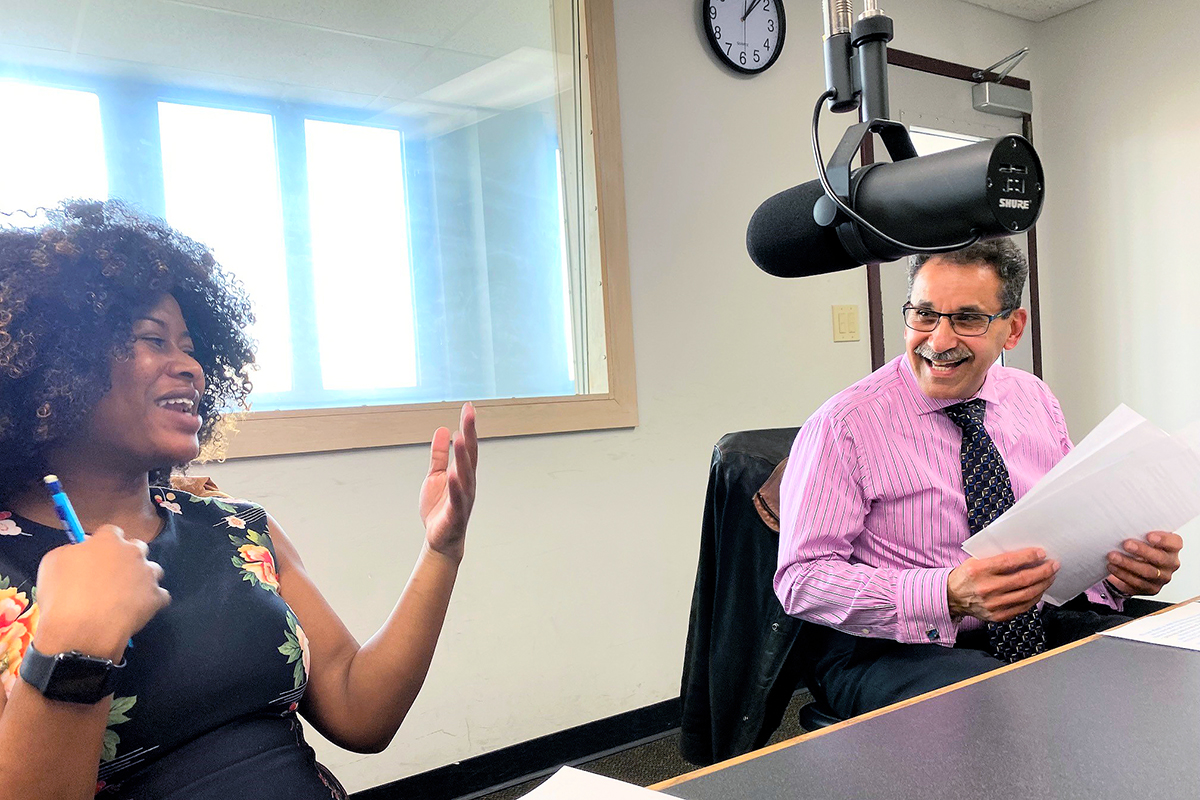 Host EbaNee Bond with electrical engineering professor Dr. J. Alexis De Abreu-Garcia in WZIP studios.
Created by Heidi Cressman in The University of Akron's College of Engineering and Polymer Science, the Diverse Engineering podcast was launched in 2020 as a way elevate the voices and stories of diverse engineers from The University of Akron.
The podcast is hosted by EbaNee Bond, a UA alumna who received her Bachelor of Science in Mechanical Engineering in 2018. Season 3 includes six episodes featuring interviews of University of Akron engineering faculty (past and present). In May 2022, Diverse Engineering was recognized by Insight into Diversity Magazine as an "Inspiring Program in STEM."
Guests include Dr. Guo-Xiang Wong (mechanical engineering), Dr. J. Alexis De Abreu-Garcia (electrical engineering), Dr. Michelle Hoo Fatt (mechanical engineering), Dr. Malik Elbuluk, Dr. Audrey Nguyen (biomedical engineering), and Dr. Ruel McKenzie (polymer engineering).
The first episode of Season 3 drops on October 25 and will available on Spotify and Apple Podcasts and can be streamed online.
The podcast raises funds for underrepresented engineering students at The University of Akron. To date, the podcast has raised $65,000. Learn more about the podcast and support our students.
---
RELATED CONTENT:
Learn more about our diversity and inclusion programs at UA.
Check out the complete Season 3 episode lineup.
---
Story by Kelly Bray.
Media contact: Cristine Boyd, 330-972-6476 or cboyd@uakron.edu.
Share