Creativity of graphic design students in spotlight at Akron awards ceremony
03/01/2019

The Akron Civic Theatre was the setting for a night of triumph for many of our Myers School of Art graphic design students as well as faculty and alumni when the Akron chapter of the American Advertising Federation, or AAF-Akron, held its annual award ceremony on Feb. 22.

Among the winners of AAF-Akron American Advertising Awards (formerly called the ADDYs), were more than a dozen students and two faculty members and two 2018 graduates.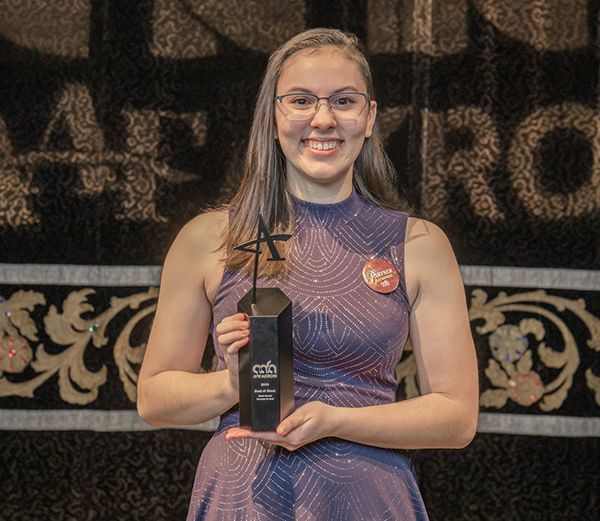 Maria-Groom holds her Student Best of Show Award.
It was a very big night for Myers," exclaimed Melissa Olson '10, president of AAF-Akron and manager of student affairs at our School of Art. "As both an employee and an alumna of Myers School of Art, this year's ceremony made me exceedingly proud. From presenting a Silver Medal Award to Dennis Kleidon, who helped launch the Graphic Design Program, to honoring student Maria Groom with the Student Best of Show, I smiled so much that my cheeks hurt."
Groom won the Student Best of Show for her piece "Campaign for Good" done at UA, as well as a Gold Student Award.
Dennis Kleidon, professor emeritus of art, was the winner of the Silver Medal Award — a lifetime achievement award in advertising. Read more.
The School of Art's unique in-house student design studio, Design x 9, which provides a professional atmosphere, both in philosophy and physical space, won a professional Gold Award for its piece, "Be Inspired, Creative and Unique UA," done for Myers School of Art.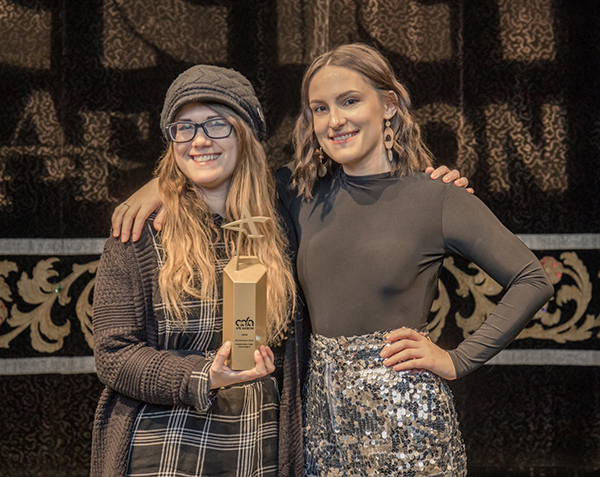 Sid Burgan and Emily Torian accepted the professional Gold Award on behalf of Design x 9.
"Design x 9 is a wonderful opportunity for graphic design students to extend their training beyond the traditional classroom environment and work with real deadlines, limitations and clients," noted Olson.
Also collecting a number of awards were associate professors Dave Szalay and Bob Kelemen.
Szalay won six gold ADDYs for his pieces "2018 Buggy Trail Poster," "Sizing It Up," "Ignite Fall Cover: Mental Health," "Dave Szalay Promotional Cards," "Szalay Promo – Dog Walk 1958" and "Buggy Trail Map," done for various clients. He also won a silver ADDY for "Dave Szalay, Illustrator" and a Judge's Choice Award for "Buggy Trail Map," done for Ohio Amish Country.
Illustrations done by Szalay were also honored through work entered by his clients — NeoMed for IGNITE Magazine and Kleidon Associates, which won four Golds, a Silver and a Judge's Choice Award.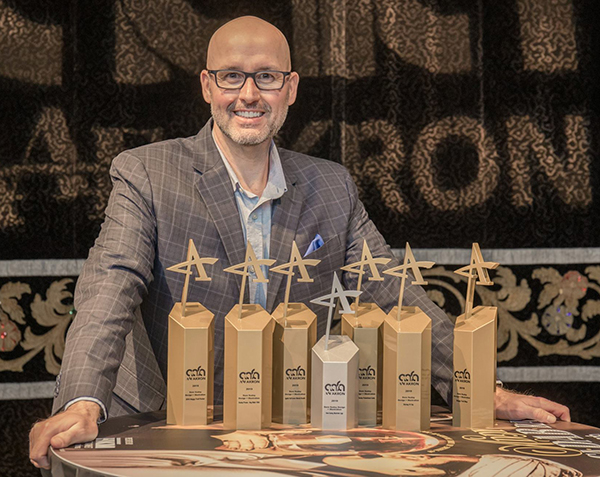 Kelemen won two Silver Awards for his posters "Extra Large Type 2" done for The Morgan Conservatory and "Where Does Wood Type Come From?," done for The University of Akron.
Caitlin Kane and Malieka Gurrera, who graduated in 2018, received awards for work they completed during their last semester of their senior year.
Kane won two Gold Awards for "Fat Cat Toys" and "Senior Exhibition Giveaway," and a Silver Award for "Senior Process Book," all done at The University of Akron.
Gurrera won a Silver Award for "Moonstruck Chocolate Packaging," done at The University of Akron.
Olson admitted her dual role made for a long week ahead of the awards ceremony.
"I had a difficult time keeping all the winners a secret until the awards show, but doing so was entirely worth it to see the joy on the faces of the students who have been anticipating this evening for so long," she said with a smile. "The legacy of the Myers School of Art Graphic Design program and the burgeoning talent of current and graduating students is truly inspiring,"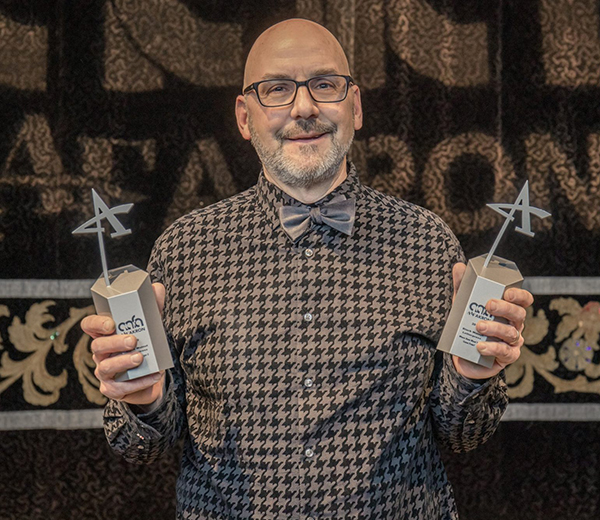 Bob Kelemen received two awards.
Janice Troutman, director of the Myers School of Art, was quick to agree.
"Last Friday evening was another incredible night for The University of Akron's Graphic Design Program," said Troutman. "I am extremely proud to be part of the Myers School of Art's talented faculty who lead the students to become accomplished, creative professionals. Congratulations to the faculty, students and alumni."
Here is the list of other student winners recognized for work done at UA:
Abby Palombo, Silver Award for "Campaign for Good."
Andrew Baker, Silver Award for "Open Homes Campaign."
Brad Kelley, Gold Award for "Airbnb Open Event Invitation," and two Silver Awards for "RSDG Concert Poster" and "Maize Valley Winery & Brewery Logo."
Emily Torian, Silver Award for "Cosmopolitan Magazine Redesign."
Jake Spinner, Gold Award for "Every ½ Second Counts."
Katie Simpson, Silver Award for "Campaign for Good."
Kim Wengerd, Silver Award for "I Love My Body Banner."
Leah Edwards, Gold Award for "Loganberry Books Brand Identity."
Logan Mackulin, Gold Award for "Fund Music Education."
Lucien Milford, Silver Award for "Travel Posters."
Moukdala Phengmany, Silver Award for "Lantern Calendar" and Gold Award for "Cleveland Zoo Walking Map."
Rachel Faber, Silver Award for "The Race of Gentlemen" and Gold Award for "First Ladies' National Library."