Commercialization is within reach for UA team's dry adhesive products
01/11/2017

Spiders, geckos and insects can stick to any surface with ease and not leave any marks or trails along their path – and so can new dry adhesive products produced by Akron Ascent Innovations (AAI). The groundbreaking invention has reached the next step in the innovation process with the announcement that AAI has formed a strategic partnership with Velcro Companies to combine its dry adhesive technology with VELCRO® Brand's classic hook and loop technologies.

"We are flattered to have this collaboration with Velcro," said Barry Rosenbaum, University of Akron Research Foundation Senior Fellow and AAI president and CEO. "Velcro is an organization that has been working with adhesive technologies for several decades. It is a great opportunity to partner with a company that knows the industry and can help us expand and market our product."
Beneficial partnership
AAI's adhesive products are known for their strong shear adhesion strength, minimal tackiness and their low peel strength, which allow for easy and clean removal from surfaces. The dry adhesive technology can adhere to almost any surface, including drywall, steel, glass, or plastic, which is unlike Velcro's product that can only stick to itself. Velcro has found a significant need for an adhesive that can stick to outside surfaces and was attracted to AAI's adhesive technology and the talents displayed by the AAI team.
Velcro's mission is to solve complex problems for their customers and Velcro found that AAI's adhesive technology can be very useful in many consumer products. For now, products are being developed for wall hangings, including picture frames, posters and other types of wall art where repositionability, reuse and clean removal provide added value. Future applications are being studied for applications in the automotive, packaging, personal care, medical and construction industries.
AAI was founded by inventor Dr. Shing-Chung Josh Wong, a mechanical engineering professor at UA, and Rosenbaum. Their start-up licensed the technology from The University of Akron Research Foundation and received grants from the National Science Foundation I-Corps program, the NSF SBIR Phase 1 and 2 programs, and the Ohio Third Frontier's Technology Validation and Start Up Fund Phase 1 and 2, as well as an investment from the Northeast Ohio Student Venture Fund.
The product hasn't hit store shelves quite yet, but there is a strong possibility that by end of this year, this product can be used to hang all of your family photos and household decorations.
Story by Courtney Bosetti
---
Media contact: Lisa Craig, 330-972-7429 or lmc91@uakron.edu.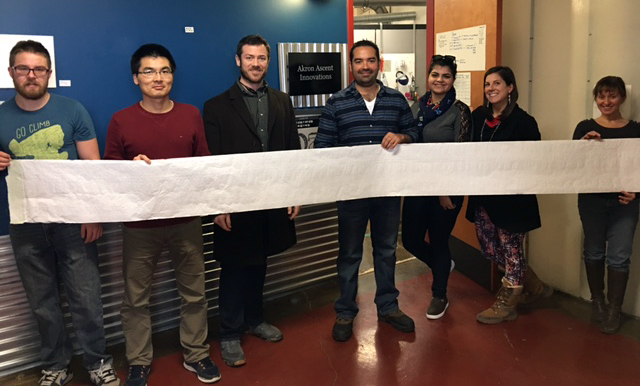 AAI's Akron-based team, which includes four UA graduates and one current UA student, hold a 17-foot long strip of adhesive film. They are, from left, Matt Cymbal, Fei Wang, Kevin White, Ali Blandon Cruz, Roxanna Raoufi, Rebecca Kuznarsky and Sherri Hart.