Christine Amer Mayer named to University's Board of Trustees
08/31/2021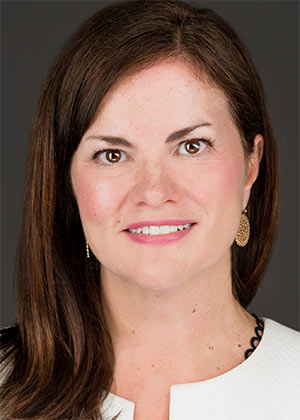 Christine Amer Mayer
Ohio Gov. Mike DeWine has appointed Christine Amer Mayer to serve on The University of Akron Board of Trustees, effective August 27.
Mayer is president of GAR Foundation where she guides the foundation's strategic direction and annual grantmaking which focuses heavily on education and economic development. She will fill the position vacated by Michael Dowling. Her term will expire July 1, 2028.
"Christine Amer Mayer is a consummate professional that is known for her passionate support of organizations throughout the greater Akron area, and we look forward to having her join the Board of Trustees," said Joseph M. Gingo, Board chair. "She will bring a truly unique perspective to the Board that will allow us to better serve the students at the University of Akron."
"I'm humbled by this opportunity to serve," said Mayer. "As someone who was born and raised in Akron, I deeply understand UA's positive impact on the community and its citizens. I look forward to partnering with the board and President Miller in supporting a thriving University of Akron."
An Akron native, Mayer practiced commercial litigation and business law for eight years with Buckingham, Doolittle & Burroughs in its Columbus, Cleveland, and Akron offices. She joined GAR Foundation in 2001 as a program officer. She was named president of the foundation in 2012.
She also serves as a trustee of the John S. and James L. Knight Foundation. She chaired the board of United Way of Summit and Medina when that organization transformed its business model to focus on four Bold Goals. She was a founding board member of ArtsNow, which works to leverage the arts and culture in Summit County to support and strengthen the region's economic and social vibrancy.
Mayer has been named to the Inside Business Power 100 list of Most Influential Leaders six times and has received the Women's History Project of the Akron Area's Woman of the Year award for her innovative efforts to strengthen the arts landscape in Akron.
She earned a Bachelor of Arts in English from Duke University and a Juris Doctorate from The Ohio State University.
RELATED
Share