Chemical engineering students host national conference
05/02/2022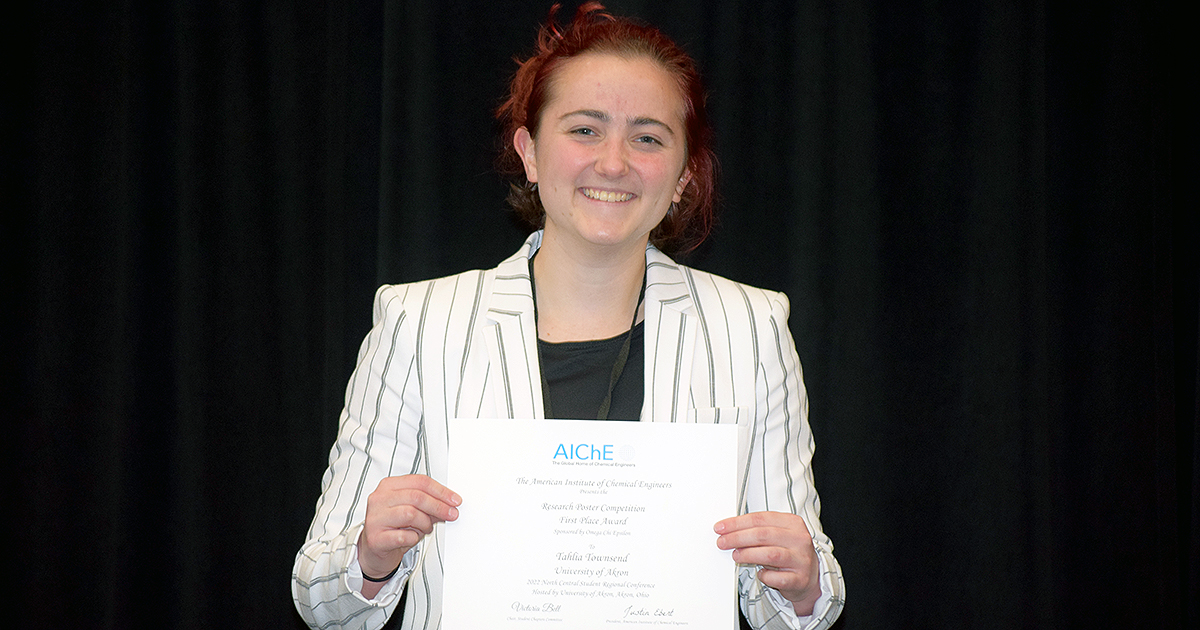 University of Akron student Tahlia Townsend, winner of the Research Poster Competition
This April, the student chapter of the American Institute of Chemical Engineers (AIChE) hosted the 2022 AIChE North-Central Conference on UA's campus. Over 200 students from 21 different universities in the region attended. The event was an opportunity for chemical engineering students connect with students from other schools, participate in competitions, and hear from leading experts in the field.
"This conference brought together bright minds to celebrate and advance the chemical engineering profession," says Victoria Bell, UA AIChE co-president and conference chair. "It gave students the opportunity to be recognized, to network, to learn, and to grow together."
Undergraduate students competed for monetary prizes and the chance to advance to the National AIChE Conference that will be held in Phoenix this fall. Competitions included ChemE Jeopardy, ChemE Car, the Research Poster Competition, and the Student Technical Presentation. UA's own Tahlia Townsend won the first place for displaying her research on sodium borate corrosion inhibitor characterization.
The conference also included a career and graduate recruitment fair workshops and speakers on topics such as soft skills and leadership, managing finances, and different research areas.
"I am so proud of our students!" says Dr. Roya Gitiafroz, associate professor of instruction in the Department of Chemical, Biomolecular and Corrosion Engineering. "They did an extraordinary job in planning and hosting this conference. Their leadership skills will serve them well in their careers. Go Zips!"
The speaker lineup included:
Heidi Cressman, director of diversity and inclusion, College of Engineering and Polymer Science
James Eagan, Ph.D., associate professor, polymer science
Becky Hartman, associate director, co-op and placement
Fardin Khabaz, Ph.D., assistant professor, polymer engineering
Nic Leipzig, Ph.D., associate professor of chemical, biomolecular, and corrosion engineering
Alessandro Perego, Ph.D., graduate student
Donald Visco, Ph.D., professor of chemical, biomolecular, and corrosion engineering
Visiting guest speakers included:
Clint Allen, The Sherwin-Williams Co.
Emma Bailey, MBA, The J.M. Smucker Company
Marcela Castano, Ph.D., Bridgestone Americas
Carina Diamond, MBA, CFP, AIF, Dakota Wealth Management
Christine Duval, Ph.D., Case Western Reserve University
Gary Kalbasky, RoviSys
Matthew Liberatore, Ph.D., The University of Toledo
Chelsea Monty-Bromer, Ph.D., SweatID/Cleveland State University
Jordan Shaffer, MBA, The J.M. Smucker Company
Congratulations to our students for their amazing accomplishments.
---
RELATED CONTENT:
---
Media contact: Cristine Boyd, 330-972-6476 or cboyd@uakron.edu.
Share