Career Services helps students embrace new job recruiting norms
09/15/2020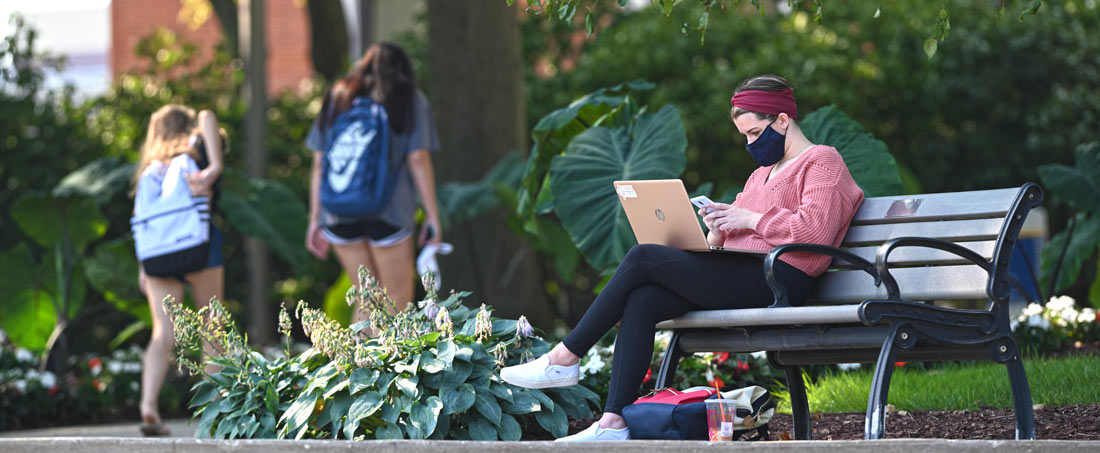 The COVID-19 pandemic is changing lots of things, including the ways in which employers are getting their first impressions of potential new employees.
Replacing a firm handshake and good eye contact at in-person career fairs are intimate virtual meetings between a company's recruiters and students who are looking to start their careers. The University of Akron's Career Services office is embracing these adjustments as it continues to prepare current students and recent graduates for their futures.
"Since virtual environments require fewer logistics, Career Services will be able to increase the number of student preparation sessions and recruiting events that we can offer this fall," says Laura Carey, director of Career Services at UA. "A Virtual STEM Graduate Student Career Fair is being offered for the first time on Oct. 14 and a Virtual Student Employment Job Fair was offered in August."
As opposed to traditional in-person events, virtual career fairs are more intimate, less noisy and give participants – employers and students – more valuable one-on-one time than usually occurs during a normal career fair.
In fact, 76% of higher education career centers think that virtual recruiting will become the norm after COVID-19, according to a recent survey of 1,000 career centers by Handshake, a job-recruiting website and app that connects college students with employers that have job and internship opportunities. UA's Career Services uses Handshake to help students search for jobs, internships and Career Services events.
Career Services hosts preparation sessions in advance of career fairs to help students with virtual mock interviews, resume writing, virtual "elevator pitches" about themselves for the one-on-one meetings and tips on the technology they will need to make for a smooth and uninterrupted virtual experience. The office also offers guides on taking proper headshots at home, virtual interviewing and participating in virtual networking events. Tools are also available for job recruiters who might be new to participating in virtual career fairs.
Opportunities for career fairs
This semester Career Services will offer four virtual internship and career fairs in addition to the College of Engineering and Polymer Science's virtual career and co-op fairs.
During UA's virtual career fairs, students have the option to meet with employment recruiters and make their "elevator pitch" during 30-minute general group sessions, as well as one-on-one 10-minute sessions. After these meetings, which are held via Handshake and scheduled in advance, employers may connect individually with interested students to go over more specific details about available job openings and to schedule additional interviews.
"Data has shown that many employers prefer virtual career events because they allow recruiters to devote more time to meeting with students," said Carey. "Plus, recruiters don't have to travel or find their way around campus if they're out of the area. This really opens up more opportunities for companies to find suitable employees and allows more companies to attend our career fairs for the first time."
In a separate survey, Handshake found that students are quickly switching to digital recruiting and are looking for support from their universities and connection with employers. More so, 74% of seniors want their career center to help facilitate interactions and communications with employers.
Career Services ready to help
When it comes time for students to prepare for a virtual career fair, UA Career Services is ready to help.
Carey suggests student-participants attend as many general sessions as they can and do research on the company and job openings in advance. Students are still recommended to dress appropriately in business attire during virtual career events.
"Engaging virtually might sound overwhelming at first for students and employers, but it's very simple," said Carey. "Handshake is user friendly and will guide participants through the registration process. Members of Career Services will visit the general sessions to offer any help with technology. Assistance will be available for all students and employers who might feel unprepared for a virtual career fair."
Other virtual events hosted by Career Services included the JCPenney Suit-up event, held Sept. 11-13. As part of this event, participants were able to text a special number via their cellphones for a coupon featuring 30% off selected dress apparel, shoes and accessories. Career Services also offers students assistance on how to tie a tie, match an outfit and how to fit themselves for suit jackets and other pieces of clothing.
Upcoming virtual internship and career fair events:
Wednesday, Sept. 16, 10 a.m. to 2 p.m. (part-time, seasonal, non-degree full-time only)
Tuesday, Sept. 29, 10 a.m. to 2 p.m.
Wednesday, Sept. 30, 10 a.m. to 2 p.m.
Thursday, Oct. 1, 2-6 p.m.
College of Engineering and Polymer Science Virtual Career Fairs:
Monday, Sept. 21, 1-4:30 p.m.
Tuesday, Sept. 22, 8:30 a.m. to 12 p.m. and 1-4:30 p.m.
Wednesday, Sept. 23, 8:30 a.m. to 12 p.m. and 1-4:30 p.m.
Thursday, Sept. 24, 8:30 a.m. to 12 p.m. and 1-4:30 p.m.
---
Media contact: Alex Knisely, 330-972-6477 or aknisely@uakron.edu.