Alumna receives prestigious Milken Educator Award and $25,000
01/26/2018

A University of Akron alumna who has donned bee, waitress and drill sergeant costumes as a teacher to help her students better comprehend mathematical ideas recently received the prestigious national Milken Educator Award and an unrestricted cash prize of $25,000.

Maria Rodgers was the only Ohioan to receive the award during the 2017-18 season and the first from Maple Heights City Schools. She is among 44 honorees. Rodgers was honored Jan. 10 in front of a gymnasium packed with her students, peers and visiting dignitaries at Milkovich Middle School in Maple Heights, where she teaches math.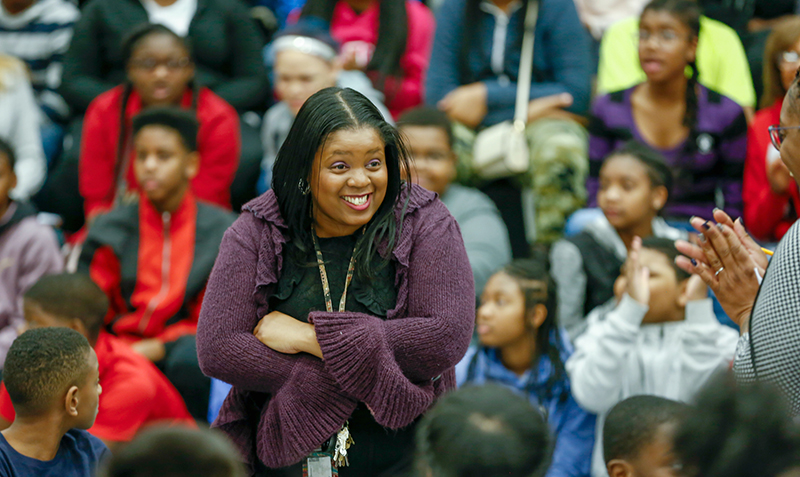 Surrounded by students, math teacher Maria Rodgers is presented with Ohio's 2017-18 Milken Educator Award and $25,000 on Jan. 10 at Milkovich Middle School. — Photo courtesy of the Milken Family Foundation.
The 12-year educator earned a bachelor's degree in 2005 and master's degree in 2011 at UA. Rodgers previously taught math at Barack Obama Elementary School in the same school district.
Rodgers also teaches an elementary summer intervention program to get to know future students and prepare her curriculum. Through her instruction, 92 percent of her students pass state math assessments.
'Success and commitment'
"An accomplished educator like Maria Rodgers illustrates the success and commitment of the LeBron James Family Foundation College of Education in producing quality leaders in the world of education," said Dr. Jarrod Tudor, acting dean of the college. "Congratulations to Ms. Rodgers for receiving this impressive award."
The Milken Educator Awards has been hailed by Teacher magazine as the "Oscars of Teaching." The very first awards were presented by the Milken Family Foundation in 1987. The awards provide public recognition and individual financial rewards of $25,000 to elementary and secondary school teachers, principals and specialists from around the country who are furthering excellence in education. Recipients are heralded in early to mid-career for what they have achieved and for the promise of what they will accomplish.
---
Media contact: Alex Knisely, 330-972-7429 or aknisely@uakron.edu.