Al Roker to visit UA as speaker for 2023 Delta Gamma Lectureship in Values and Ethics
03/13/2023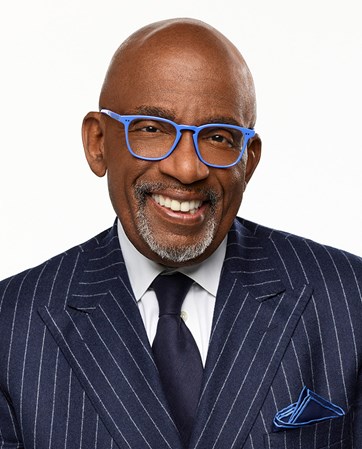 As host and weatherman of NBC's Today Show, along with Savannah Guthrie and Hoda Kotb, Al Roker has the undivided attention of the nation (over 30 million viewers per week) every weekday morning as America prepares for school and work.
On March 29, Roker will be the featured speaker for the 2023 Delta Gamma Lectureship in Values and Ethics on the campus of The University of Akron (UA). Bringing his charismatic attitude and smile to the podium of E.J. Thomas Performing Arts Hall at 7:30 p.m., Roker will reflect on his professional career and the importance of humor and a positive attitude personally and professionally in his talk, Let a Smile Be Your Umbrella: The Power of Positivity.
The Delta Gamma Lectureship in Values and Ethics was created in 1992 by Paul Martin in honor of his wife Dorothy "Dotty" Garrett Martin, who was part of the Akron "Eta" chapter of the sorority. The goal of the speaker series is to establish a venue on college campuses where values and ethics could be discussed in an open format, making Roker an ideal candidate for the event.
General admission tickets are $10 and can be purchased here.
---
About Roker:
Spanning more than 40 years on TV and 14 Emmy awards - and in addition to reporting on the weather - Roker conducts interviews with celebrities and newsmakers around the world and does a wide variety of segments on every imaginable subject. He also co-anchors the popular 3rd Hour of Today, presenting homespun lifestyle segments that touch all Americans.
Roker is also an award-winning television producer. He is CEO of Al Roker Entertainment, Inc. (ARE) which develops and produces television programming for broadcast, network, cable, digital, streaming and digital platforms. Notably, he was the executive producer of the award-winning Coast Guard Alaska and Coast Guard Florida series for The Weather Channel, now currently airing on Pluto TV. Not only will you find an Al Roker-produced show on your favorite TV station, Al Roker Entertainment also creates trusted video content for the world's leading brands, usually messaging the social good activities of brands, foundations and non-profits.
As a prolific bestselling author, he has penned 13 books, the latest being "You Look So Much Better In Person - True Stories Of Absurdity and Success." This latest tome is a humorous collection of essays based on lessons for living a happy life and achieving success through the power of saying "yes!" In addition, hismystery novel, "The Morning Show Murders" (part of a three-book trilogy) debuted in 2018 as a Hallmark Movies and Mystery TV movie starring Holly Robinson Peete and Rick Fox, and has spawned numerous TV spinoffs.
Roker regularly tweets on Twitter @AlRoker, shares photos from his family life (and amazing cooking) on Instagram, and talks with his audience on Facebook. Fans of his writing can also access Books By Al Roker on Facebook to keep tabs on his literary output and events.
Roker lives in New York with his wife, ABC Correspondent Deborah Roberts and has three kids.
Share