Akron hackathon prepares students for a future in technology
10/14/2021
"One of our goals with the TECHCORPShack is to recruit students who are traditionally under-represented in high school technology classes or programs and to provide them with a safe and supportive space to learn." Lisa M. Chambers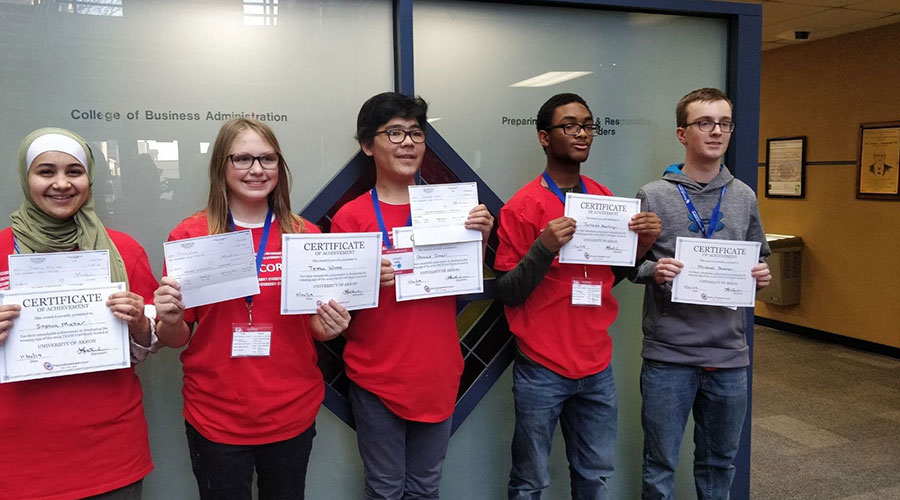 Student Jarred Brantley is pictured (second from the right) with other Hackathon students at a previous event.
They say necessity is the mother of invention and for Jarett Brantley, a junior at Buchtel Community Learning Center in Akron, Ohio, two broken game consoles became his necessity in need of invention. "When I was in seventh grade, I had two 3DS consoles and neither were fully functioning, so I took the working parts out of each to make one fully functioning 3DS. Jarett's curiosity for technology has grown into a passion, so when his mother, Kathy Brantley, told him about the TECHCORPShack in 2019, he was all in. "Most of my technology experience was mechanical," Jarett explained. "I had no idea how to do coding or develop mobile apps, but the TECH CORPS instructors and mentors made it all easy to understand."
The 2021 TECHCORPShack will take place on Saturday, Nov. 6 at The University of Akron. Students in grades 9-12 are invited to participate. No prior technology experience is required. In fact, one of the goals of the TECHCORPShack is to provide a safe and supportive environment where students can learn more about technology.
High school students from Summit, Stark, Portage and Medina counties can register for the TECHCORPSHack at bit.ly/21tchack. Technology professionals are needed as volunteers at the hackathon. To learn more, visit bit.ly/21tchvol.
The TECHCORPShack in Akron will be hosted by The University of Akron and is sponsored by AT&T Ohio. This is the fourth year that AT&T has sponsored the TECHCORPShack.
"Our purpose at AT&T is to create connection, and TECHCORPShack does just that," said Brad McLean, president, AT&T Ohio. "This event connects students with technology in a way that inspires imagination and makes a difference in their lives. We're proud to have supported this event for years and we're excited for students from diverse areas of these Ohio counties to enjoy this innovative experience next month."
"We believe our partnership with TECH CORPS provides area high school students with an opportunity to experience technology education in a unique environment," shared Lisa Littlejohn, Coordinator, Centers and Institutes, College of Business, The University of Akron. "Bringing students onto our campus helps students visualize post-secondary education as a reality they can attain. This is also an excellent opportunity for students to meet people from other high schools and work on team building."
Through the TECHCORPShack, students learn how to use a mobile app development tool and receive support and guidance from technology volunteers from the community, explained TECH CORPS National Executive Director Lisa M. Chambers.
"Hackathons can sometimes be intimidating to students who have little or no previous experience with technology," said Chambers. "One of our goals with the TECHCORPShack is to recruit students who are traditionally under-represented in high school technology classes or programs and to provide them with a safe and supportive space to learn."
At the 2019 TECHCORPShack, Jarett was a rising freshman and the experience he gained helped better prepare him for technology coursework in high school. "Getting to work with the MIT App Developer prepared me for more complex coding in high school like Python," he said. "Once you know one computer language, it's easier to learn others and see how they can help you develop websites, search bars, wallpapers and more."
Although it was Jarett's first experience with a hackathon, his team won first place. He hopes other students will step out of their comfort zones to take part in the 2021 TECHCORPShack. "Don't be afraid to try new things," Jarett encouraged. "This experience will help you make new friends, meet new people with new experiences different from yours, and you might just end up liking it, I know I did!"
Jarett will be a logistics volunteer at the 2021 hackathon. After high school, he plans to attend Stark State College and then transfer the credits to The University of Akron to pursue a career in software development.
---
Media contact: Cristine Boyd, 330-972-6476 or cboyd@uakron.edu
Share