Mechanical engineering graduate degree pays off for local tire expert in training
Paul Wischt is a Product Design Engineer in Consumer Tire Technologies at Bridgestone Americas in Akron. His job includes a engineering design, prototype tire builds, experimental testing, meeting with colleagues to conduct cross-functional reviews of the product, and working through process to release a safe and reliable product to mass production. Wischt is currently working on new tire trend technology in the All Weather tire segment that would improve tire performance.
Originally from Barberton, Wischt's father is a structural engineer and his mother is a polymer scientist, so he was predisposed at a young age to be curious, ask questions, and find solutions to problems.
Wischt says that when he was in college he "didn't plan to get into the tire and rubber industry" and a graduate degree was the farthest thing from his mind. When Bridgestone provided an opportunity to learn about engineering and product development through the co-op program, he gave it a shot.
"Four co-ops and a full-time job later, I am exactly where I want to be," says Wischt.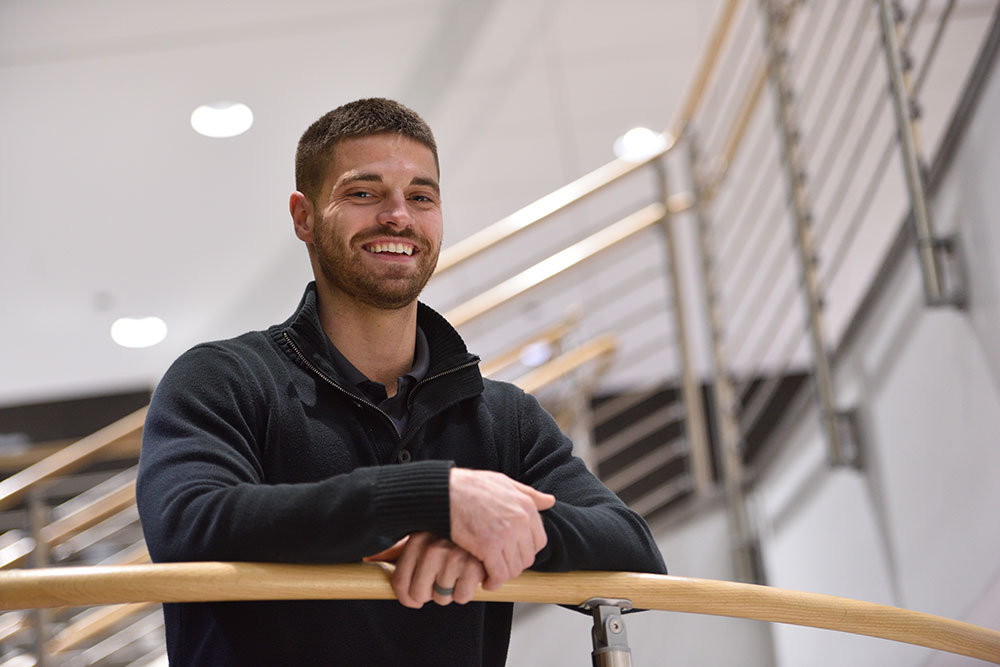 "My master's degree taught me about simulation and finite element analysis - both of which I regularly use at work," says Wischt.
After he accepted his full-time position at Bridgestone, Wischt wasn't done learning. He wanted to set himself apart for more senior technical jobs, so he went back to school immediately while he was "still fresh with the academic mindset." He chose UA over other schools because of the university's proximity to his job, availability of night classes, and his familiarity with the College's excellent engineering program.
His graduate degree paid off – literally.
"My degree opened more doors for positions at Bridgestone that may not have been available to me with only an undergraduate degree, and it even led to an early promotion." When he received his master's, he was quickly promoted, moving from Engineer II to Engineer III with added pay and responsibility.
Wischt worked full-time while in graduate school. He enrolled in two classes a semester and graduated in two and a half years. Bridgestone's tuition reimbursement program covered a large majority of his tuition and he paid out of pocket for the rest.
Not even 30 yet, Wischt is well on his way to achieving his goal of becoming a subject matter expert in tire design and simulation. He also hopes to crush homeownership, having recently bought 10 acres of land in Medina County with his wife, Victoria.