Mechanical Engineering Graduate Program
The graduate program in the Department of Mechanical Engineering prepares students for either the master's or doctoral degree, and expands their knowledge of mechanical engineering fundamentals.
Faculty have strong research programs in dynamics, vibrations and controls, fluid mechanics, heat transfer and energy systems, materials and manufacturing, solid mechanics, and systems engineering. Students are encouraged to devise a plan of study that fits their interests, regardless of how it cuts across these traditional disciplines. Graduates pursue careers in academia and industry, in Ohio and beyond.
---
THE GRADUATE DEGREES
Master of Science (M.S.) in Mechanical Engineering
The Master of Science (M.S.) in Mechanical Engineering expands students' understanding of the fundamentals of mechanical engineering while introducing them to modern technologies and equipping them with in-depth knowledge of their specialty area.
Doctor of Philosophy (Ph.D.) in Engineering
The Doctor of Philosophy in Engineering is an interdisciplinary doctoral program. It is designed to give students a broad background in engineering sciences together with intensive study and research in a specialized area of the student's own design.
Why UA?
Our program benefits:
Convenience: Our part-time fits in easily with your busy schedule.
Real-life application: Receive advanced learning of applying engineering principles to design problems that you can put to use right away.
Learn from the best: Our faculty are former chief engineers, start-up founders, international fellows, and industry leaders.
Opportunities for you
Access to the latest equipment and software that is used in companies and academia
Participate in entrepreneurship programs
Graduate level classes are small enough to ensure personal attention by the professors while large enough to facilitate group projects and interactions
Once in-person learning resumes, work in world-class labs including the Center for Tire Research (CenTiRe), FAA Center for Excellence for Technical Training and Human Performance, and Center for Surface Engineering and Lubrication Research (CSELR)
 ACCELERATED OPTION: You can earn your bachelor's and a master's degrees in five years and at a significant savings. Learn more about the: Accelerated degree option.
Please note: This excludes co-op.
RESEARCH
Our research relies on a mix of engineering principles and innovation. We develop cutting-edge solutions to solve problems. Faculty, in partnership with graduate students, have made exciting discoveries, from developing a solution to improve tire treads inspired by frog toe pads to designing a portable storage device to organize and transport wheelchairs.
Research and labs include:
Advanced Manufacturing
Acoustic/Elastic Composite Metamaterials
Computational Mechanics
Electrospun Polymer Adhesives
Micro/Nano Engineering Lab
Microelectromechanical Systems Lab
Multi-scale Modeling of Damage and Failure of Materials
Performance, Failure Mechanisms and Life of High Temperature Composites
Surface Engineering and Advanced Manufacturing
Joint Laboratory for Flow Visualization and Lubrication
Nonlinear Dynamics and Structural Mechanics
Nanomechanics and Nanotribology of Information Storage Systems
Modeling/Testing of Wear of Materials
Advanced Energy and Sensor Lab
Human Factors Engineering Lab
CAREER PATHS
Mechanical engineering is the one of the broadest engineering disciplines. A mechanical engineer can work in sales, research, technical work, administration, management and production operations. According to The Center for Education and Workforce, mechanical engineers with master's degrees make 20% more than individuals with bachelor's degrees.
Employment:
Recent mechanical engineering graduates are employed as product engineers at Ford, mechanical engineers at Babcock & Wilcox, and wind turbine controls engineers at Phillips, to name a few.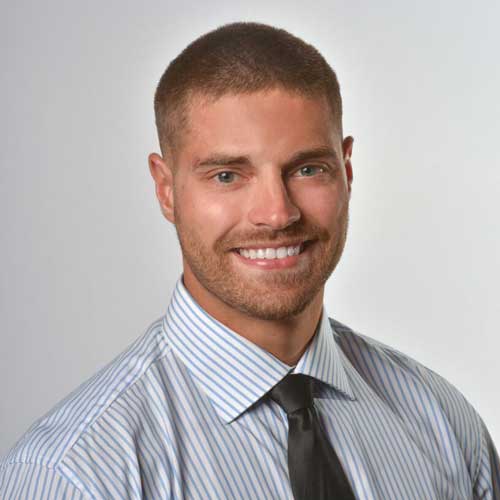 Student spotlight
"My master's degree deepened my knowledge on simulation and finite element analysis that I use at work. It opened more potential doors for job positions that may not have been available to me without the degree and it even led to an early promotion."
— Paul Wischt, '16, '19
Product Design Engineer in Consumer Tire Technologies
Bridgestone Americas
Read more about Paul's story
TUITION & GRADUATE ASSISTANTSHIPS
Tuition & Fees
Current graduate student tuition and fees can be found in the Office of Student Accounts.
Graduate Assistantships & Financial Aid
Graduate assistantships help pay for school. They are available for doctoral students on a competitive basis. The deadline for receipt of assistantship applications is February 1 for Fall admission and three letters of recommendation are required.
It is important to be informed of the many sources of aid available. Student loans are available to degree-seeking graduate students. Information on student loans can be found through the Office of Student Financial Aid.
The Office of Student Financial Aid is located in Simmons Hall.
Also, visit the The Graduate School for more information and to apply.
For more information
Direct questions to:
Esther Wain-Weiss
Director, Graduate Programs and Administration
330-972-5690
erw3@uakron.edu