With the help of frogs, graduate student wins award for tire tread research
10/31/2018
Arnob Banik, a graduate teaching assistant in our Department of Mechanical Engineering, has won an award for developing a solution to improve tire treads to achieve better wet traction.
His inspiration? Frog toe pads.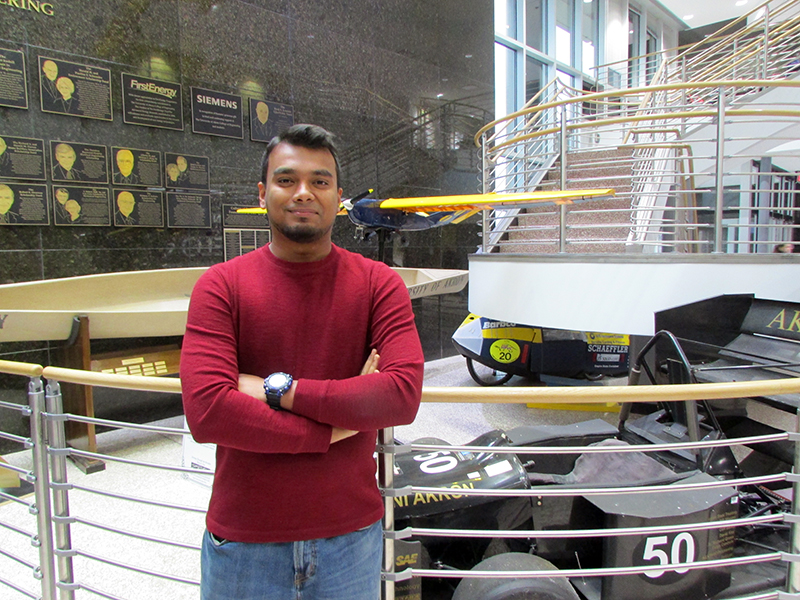 By mimicking a frog toe pad, Arnob-Banik's research has utilized biomimicry as he works to improve tire treads for better wet traction.
Frog toe pads, or, essentially the bottom of tree frog's feet, are sticky and adhesive in nature (making it easy for them to climb trees). This makes them a good model for artificial replication when it comes to improving tire performance. Banik's study utilized biomimicry (or learning from nature), along with a combined experimental, numerical and analytical approach to understand the adhesion and friction behavior of a frog toe-pad inspired, 3D printed rubber structure. The objective was to design and develop a unique, creative and feasible design in rubber surface by mimicking frog toe pad for improved wet friction characteristics.
Banik won second place and a $1,500 prize in the Future Tires category at the recent Monte Jade Innovation Competition in Atlanta. The national competition seeks to identify creative, emerging young professionals by encouraging college students to pursue their innovative ideas in the fields of science and technology.
"Placing in this competition is a huge deal — judges are highly selective and competition is always tough," says Dr. Kwek-Tze Tan, assistant professor of mechanical engineering and Banik's Ph.D. adviser. "Entries are judged on criteria including creativity, feasibility and marketability. Arnob's project checked all those boxes, and then some."
---
Media contact: Alex Knisely, 330-972-6477 or aknisely@uakron.edu.