UA engineering faculty secured nearly $11 million in research funding in 2018
02/18/2019

Faculty researchers in The University of Akron's (UA) College of Engineering – now in its 106th year – earned $10.9 million in research grant funding in the 2018 calendar year.

The grants were awarded by diverse government entities, industry partners and foundations for projects ranging from improving cancer treatment to making it safer to drive America's roadways.
"UA's College of Engineering is home to world-class faculty conducting cutting-edge and transformative research that cuts across all sectors: manufacturing, automotive, environmental, transportation, biomedical, structural, chemical and more," said Craig Menzemer, Ph.D., interim dean of the College. "I'm proud of the pioneering research my colleagues have devoted themselves to, which is a testament to the College of Engineering's strong reputation as the premier engineering school in Northeast Ohio. Our faculty's research will have an enormous impact on the way we live and work. All of this is happening right here, at The University of Akron."
In total, the college secured $10,936,826 in grant funding last year for projects and centers within the college. The grants stretched across the college's five departments (civil, $4,566,511; chemical and biomolecular, $2,533,596; mechanical, $1,856,386; biomedical, $1,411,669; and electrical and computer, $568,664).
Among the grants awarded, most dollars ($4,426,572) came from the Ohio Department of Transportation for various projects that focus on such things as asphalt mix overlay alternatives and effective bridge deck repair maintenance methods. Industry grants accounted for $2,075,243, while National Science Foundation (NSF) grants totaled $1,697,514.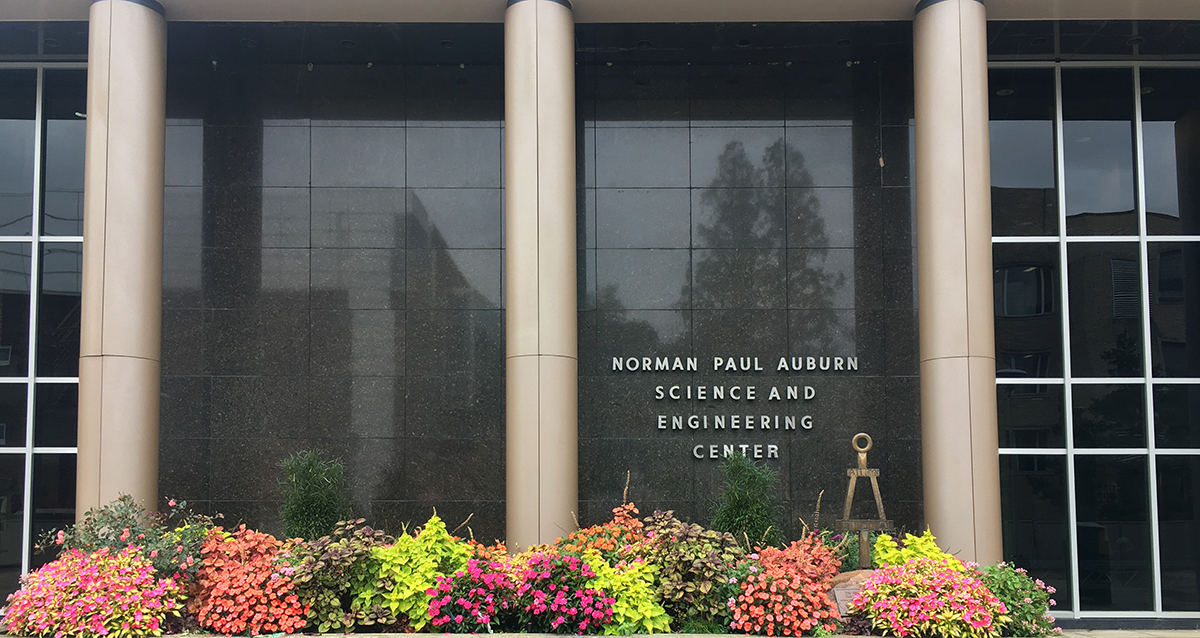 Some of the 80 projects and centers funded last year
Research focuses on effective cancer treatment
Hossein Tavana, Ph.D., associate professor of biomedical engineering, earned more than $860,000 in 2018 for research that could lead to more effective cancer treatment. He's using a $467,312 grant from the National Institute of Health's Cancer Institute to model the response of colon cancer cells to anticancer drugs. The grant will address the critical need to identify molecular mechanisms of drug resistance of colon cancer cells and to develop new treatment strategies that effectively block tumor growth but with reduced toxic effects.
Tavana received $328,426 from the NSF to study the role of stromal cells in breast cancer. The research will utilize his lab's patented technology to make 3D culture models that mimic the morphology of tumors and reproduce the interactions between stromal and cancer cells. Using the models, Tavana's research group will better understand how stromal cells render cancer cells proliferative and drug-resistant. This will allow for more accurate drug testing and introduce stromal cells as new therapeutic targets.
Tavana also received $68,248 from the NSF (through a subaward from his startup company OncoSolutions LLC) to validate his team's 3D tumor model for cancer drug testing and commercial service.
Detecting corrosion in natural gas pipelines
Chelsea Monty-Bromer, Ph.D., associate professor of chemical and biomolecular engineering, is leading her research group in a project with the Pipeline and Hazardous Materials Safety Administration, a U.S. Department of Transportation (DOT) agency, to develop a real-time monitor that can detect corrosion in natural gas transmission pipelines that is caused by biological growth. The project is funded by a $256,902 grant from the DOT. The real-time monitor will allow for less downtime due to maintenance and should reduce environmental and safety issues caused by pipeline failure. Monty-Bromer's team will use an electrothermal approach that involves zero-resistance ammetry measurements along a pipeline to detect the bacterial corrosion. This technique was initially developed by Monty-Bromer and John Senko, Ph.D., associate professor of geosciences, as part of a U.S. Department of Defense grant for recirculating water systems. Now, they're trying to apply this to a more complex system in an oil and gas pipeline.
Protecting electric grids, preventing costly power outages
A grant for $120,000 from Exacter Inc. in Columbus will fund a project ("Advanced grid infrastructure sensors development") that focuses on electric grid condition assessment to prevent dangerous electrical explosions and costly power outages. The project is being led by J. Alexis De Abreu Garcia, Ph.D., and Yilmaz Sozer, Ph.D., professors of electrical and computer engineering; and Jin Kocsis, Ph.D., assistant professor of electrical and computer engineering. The grant will go toward a demonstration pilot project in Akron using sensor technology created by UA and Exacter. Sensors will be placed in the city's sanitation vehicles to collect and transmit information on the city's electric grid system. Data processing will be handled by Israeli company Razor Labs, which has strength in innovative big data technology. If the pilot project in Akron is successful, the goal is to implement the technology across the U.S. using U.S. Postal Service vehicles to collect and process information to maintain the health of the national electric grid system.
Research will explore relationship between iris stiffening and glaucoma
Rouzbeh Amini, Ph.D., assistant professor of biomedical engineering, received a $150,000 grant from the BrightFocus Foundation to combine noninvasive imaging techniques currently used in eye clinics with a novel computer model to estimate iris stiffness. This novel approach is unlike previous studies, in which surgically removed pieces of the iris were used for measuring the stiffness of the iris. Amini's research group aims to understand how stiffening of the iris affects the shape of its composite cells during the pupil's responses to light, as it is believed that cellular-level deformation is an important factor in the regulation of activities in those cells. The main goal of the project is to examine if, why, and how the iris becomes stiffer and consequently abnormally deformed in the eyes of certain groups of patients who suffer from angle-closure glaucoma.
Commercializing research
UA's I-Corps site received a $100,000 grant last year from the NSF, it's second such grant. The I-Corps program trains UA faculty and students in entrepreneurial principles that they can use to commercialize technologies coming from their labs through either licensing or a startup company. Subawards will be made from the grant for 20 to 30 faculty members each year when they complete the I-Corps training program to pay for travel or prototyping related to the technology they worked on in I-Corps.
Collectively, the two I-Corps grants will span roughly seven years and provide $600,000 in total funding. Since 2014, when the first I-Corps grant started, 111 UA teams have completed the I-Corps program. UA was among the first three I-Corps sites to be funded by NSF. George Chase, Ph.D., professor of chemical and biomolecular engineering, serves as principal investigator for the grant, which is one of his many critical responsibilities as director of STEM Research.
Safer way to travel America's roadways
A group of researchers received more than $141,000 for tire research in the college's Center for Tire Research (CenTiRe). The multi-university center, with sites at UA and Virginia Tech, focuses on developing new tire materials and on the manufacturing, sensing, modeling, simulation and testing of tires.
Associate Professor of Mechanical Engineering Jae-Won Choi, Ph.D., received $69,299 in grants from Virginia Tech for his project, "3D printed smart tires for health monitoring." The project aims to develop a 3D-printing solution for "smart" tires consisting of customized tactile sensors and tread. The sensor-embedded tire will provide a tire footprint/pressure profile for different tread patterns in the tire development phase. Research will be conducted on 3D-printing processes, 3D-printable material development for sensors and tire tread, and design and evaluation of tire tread and sensors.
Additionally, Associate Professor of Chemical and Biomolecular Engineering Jiahua Zhu, Ph.D., and Yarlin Dong, Ph.D., assistant professor of mechanical engineering, received $28,680 from Virginia Tech and the NSF for his project, "Evaluating rubber aging on tire durability: a combined modeling and experimental approach." Rubber aging is related to field conditions, such as temperature, oxygen, humidity, and mechanical load affect rubber aging and durability.
The overall research goal of this project is to develop a reliable aging model for natural rubber-based tire compounds that quantitatively correlates aging conditions and mechanical characteristics. Creating such a model could possibly accelerate the development of more durable tire formulation, saving time and money for the tire industry.
Conquering a neurological disorder
Francis Loth, Ph.D., professor of mechanical engineering, received $110,936 from the Conquer Chiari Foundation to continue improving diagnoses and treatment options for Chiari malformation – a neurological disorder where the bottom part of the brain puts pressure on the spinal cord, causing many symptoms. One goal of his research group's studies is to identify diagnostically useful brain geometric features by comparing the cranial and brain shape of Chiari malformation subjects to that of control subjects. A second goal of these studies is to conduct image analysis on magnetic resonance images (MRI) using a specialized sequence to measure brain tissue motion during the cardiac cycle. These images are being acquired by Dr. John Oshinski at Emory University. Preliminary results show that Chiari malformation subjects have much greater brain motion during the cardiac cycle when compared to controls. Loth's research aims to better understand the cause of this motion and determine the diagnostic utility of such novel measurements.