First four aerospace engineers graduate from UA
05/19/2014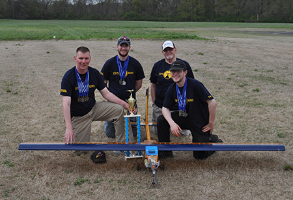 The nation's first aerospace systems engineering graduates just crossed the stage at commencement in May 2014.
In response to industry demands, the college established the country's first and only (outside of the U.S. Air Force Academy) undergraduate program offering a bachelor's degree that produces engineers with a focus on research, development, technical skills and business acumen.
The four graduates of this program, Drew Bower, Devin Cross, Ian Maatz and Mike O'Neil are all going directly into selective career positions at Wright-Patterson Air Force Base, Pratt & Whitney and UTC Aerospace Systems.
One employer described her UA student as "one of the best co-op students I've had in 20 years." And, the students are part of a winning aircraft design team, placing first in a recent international competition.