Cybersecurity degree leads to a profession growing quickly in size and importance
Businesses are straining to find experts who can protect their data, computers and networks from an array of threats.
To help meet the demand for cybersecurity experts, The University of Akron is offering a bachelor's degree option in cybersecurity through its highly regarded Computer Information Systems (CIS) program. UA was the first public university in the state to offer such a CIS Cybersecurity degree and is positioned to be the leader in cybersecurity education.
Fast growing field
"We have designed the degree to appeal to traditional-age students and to mid-career pros looking to broaden their expertise and deepen their value to their employers," said Dr. John Nicholas, professor of business and information technology. "It's a hot market now for these experts, and from what we are hearing from the business community in Ohio, we expect enrollment to be brisk."
The U.S. Department of Labor predicts the market for cybersecurity experts will grow 31 percent between now and 2029, a much faster rate than most occupations.
What will you learn as a cybersecurity major?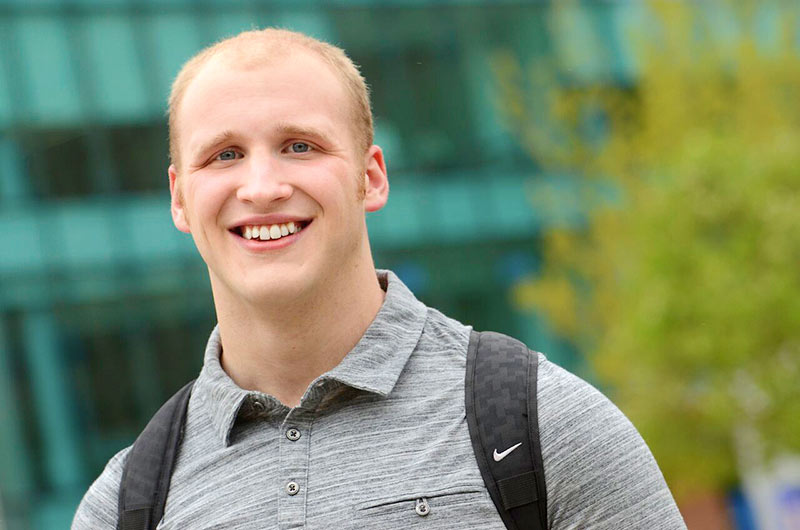 Cybersecurity-major students in the CIS Cybersecurity track will learn about computer network configuration, computer network and data security, network intrusion prevention and detection, computer networking forensics and digital forensics. Students in the CIS Cybersecurity program will also benefit from an in-depth study of the mathematics included in modern cryptography and cryptanalysis (encrypting and decrypting information) as they relate to cybersecurity and computing.
"It's truly an interdisciplinary program," Nicholas said. "Graduates will be armed with the tools and knowledge necessary to help businesses answer the nonstop challenges of cybersecurity."
The CIS Cybersecurity program curriculum will offer a co-operative education opportunity for students who maintain a GPA of 3.0 or higher, and it will offer internship opportunities for all others. The opportunities will provide CIS Cybersecurity majors with real-world learning opportunities in the field while completing their education, all to better prepare them for the workforce.
What does a cybersecurity pro do?
In a typical day on the job, cybersecurity professionals work on methods to prevent or mitigate attacks through their expertise and knowledge of databases, networks, hardware, firewalls and encryption (cryptography), Nicholas said. They will work for large corporations, consulting firms and nonprofits.
---
'Graduates will be armed with the tools and knowledge necessary to help businesses answer the nonstop challenges of cybersecurity.'
—DR. JOHN NICHOLAS,
PROFESSOR OF BUSINESS AND INFORMATION TECH­NOLOGY
---
"They keep computer systems running, prevent the theft of financial and personal information, and block intruders from accessing proprietary data, to name just a few responsibilities," he said. "They play an important role in any organization's success."
Who excels in cybersecurity?
Those interested in the CIS Cybersecurity degree should have an interest in computer networking, a foundation in math (to understand cryptography) and a commitment to lifelong learning, because the threats continuously evolve. Candidates should be of high moral character, as they will have access to sensitive information and will likely be subject to a background check before being hired.
Students holding an associate degree in computer networking, digital forensics and computer security can earn the bachelor's in CIS Cybersecurity in as little as two years.
Close ties to business
UA's Department of Computer Science makes extensive use of advisory boards comprised of local business leaders; it was one of these boards that urged the college to develop the degree.
RELATED
Apply to The University of Akron. On your application, indicate an interest in the Computer Information Systems Networking bachelor's degree. Cybersecurity is a track within that degree.