Accessibility
Travel | Parking | Museums For All | Museum Map | Wheelchairs & Strollers
Health & Safety | Audiovisual | Service Animals | Restrooms | Additional Information
Travel
The Cummings Center is located at 73 S. College Street, Akron, Ohio 44325-4302. Local bus service is provided by Akron Metro. Stops closest to the Cummings Center are at Mill & College; E. Market & College; and Main & E. Bowery St. Further route details are available from Akron Metro.
Parking
Free parking is available in the lot directly adjacent to the building. This lot contains a dedicated accessible parking spot near the museum entrance. Visitors can also park in Lot 30 at the corner of College and Market streets, which contains several accessible parking spaces. Metered parking is available along South College Street. Pavement from Lot 30 and metered parking may be uneven, and people with limited mobility should exercise caution.
Museums for All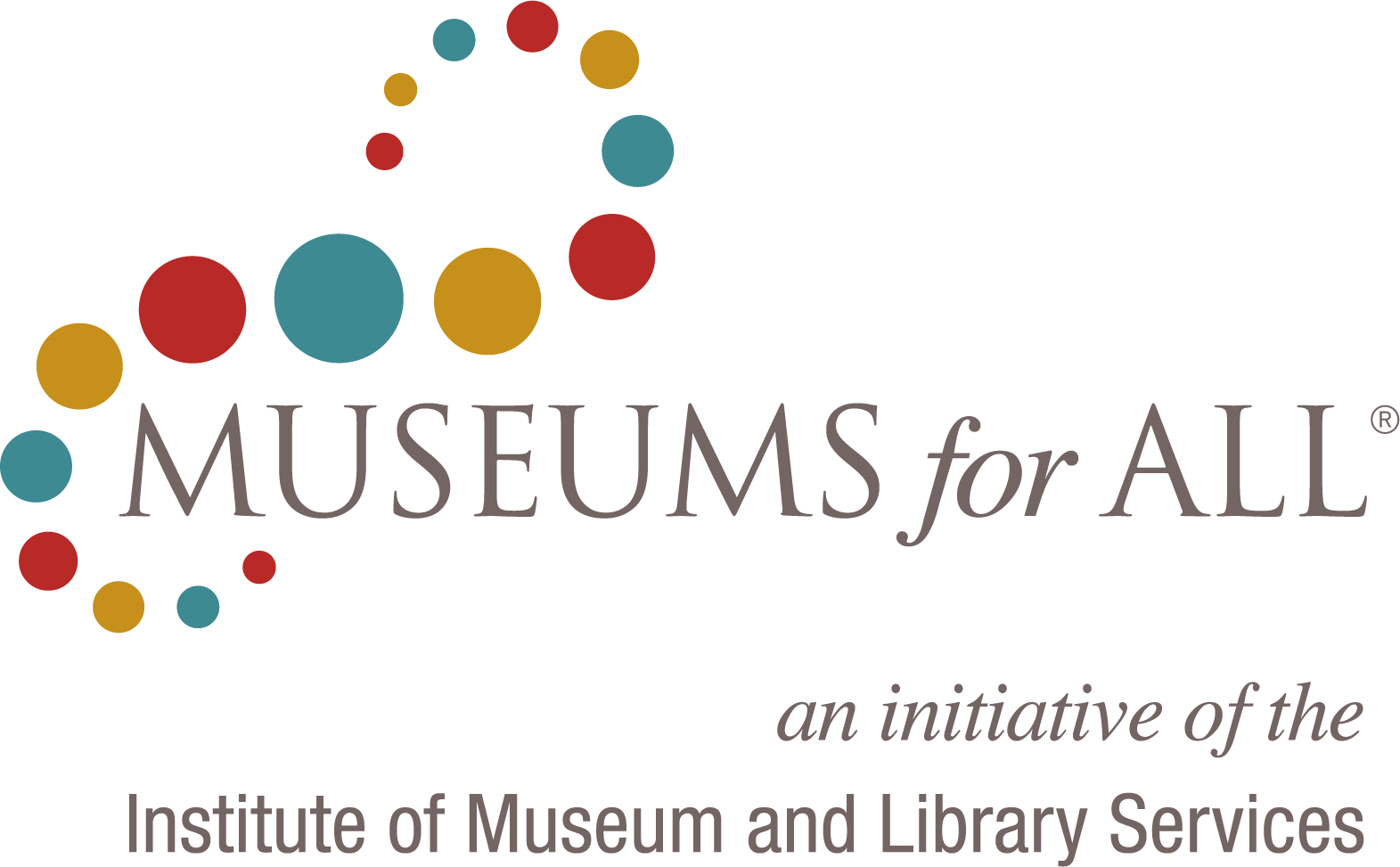 The Cummings Center is proud to participate in the Museums for All program along with the Akron Art Museum, Akron Children's Museum, Akron Zoo, Hower House Museum, Stan Hywet Hall & Gardens, and Summit County Historical Society. Through this program, we offer reduced admission to our museum and galleries during all regular hours.
Admission to the Cummings Center is reduced to $3 per person for the family or group of anyone presenting a state-issued EBT card at the admissions desk. Visitors should also note that all children under the age of 18 regularly receive a discounted admission rate of $5.
The Museums for All program was launched in 2014 by the Institute of Museum and Library Services (IMSL) in partnership with the Association of Children's Museums.
Museum Map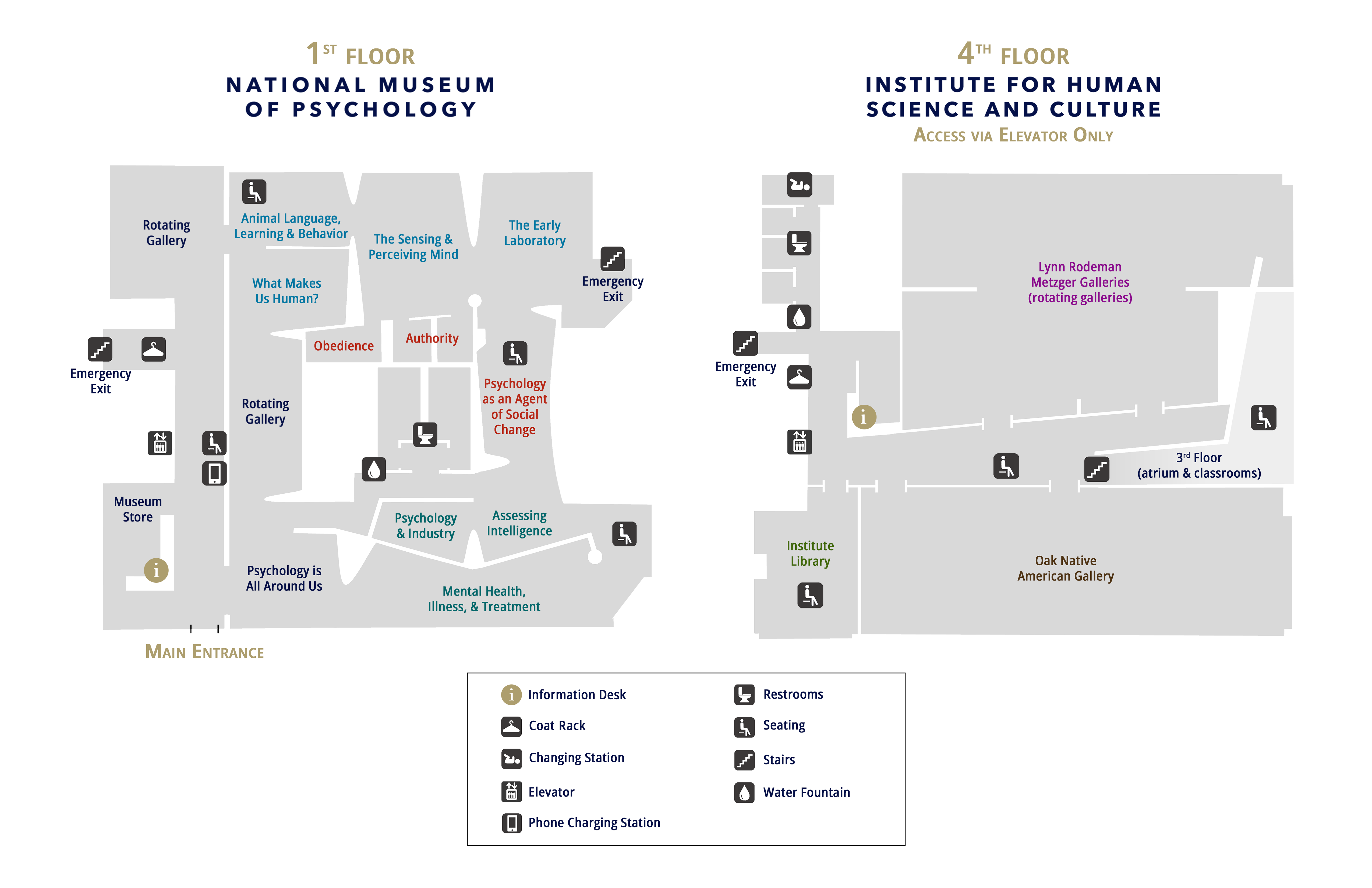 Click to expand
Wheelchairs & Strollers

The museum and galleries are accessible by wheelchair. A wheelchair accessible ramp is located on the northeast side of the building, near the main entrance. The National Museum of Psychology is housed on the ground floor, and an interior elevator provides access to the Institute galleries, located on the fourth floor. A wheelchair is also kept on-site and is available free of charge to those visiting the museum and archives. Select displays may not be fully wheelchair accessible. Assistance is available to access the content of these displays.

Standard strollers are welcome in the museum and galleries.
Health & Safety
Hand sanitizer stations are placed throughout the museum and galleries, and visitors are encouraged to sanitize their hands regularly. Social distancing is encouraged between groups. Visitors are not required to wear masks in the museum and galleries, but may choose to do so. If you are feeling sick, we ask that you consider staying home or wearing a mask within the museum and galleries.
Audiovisual
The museum and galleries includes a variety of audio, visual, and hands-on displays. All video displays include open captioning.
Service Animals
Service animals are welcome in the museum and galleries.
Restrooms
Gendered multi-stall restrooms are available on the ground floor in the National Museum of Psychology. All visitors are welcome to use the restroom that best aligns with their gender identity. Multi-stall restrooms include a wheelchair-accessible stall.
Single-stall, gender neutral restrooms are available on the fourth floor. The fourth floor contains a wheelchair-accessible single-stall restroom with a baby changing station.
Additional Information
Food and drinks, including water bottles, are not permitted in the museum and galleries. Backpacks and large bags must be left with the admissions desk.
For questions about accessibility and to request modifications or resources for your visit, contact gruich@uakron.edu.