Risk Management and Insurance Bachelor of Business Administration (B.B.A.) Degree
Program Overview
The Risk Management and Insurance major allows students to engage in a highly rewarding career. The program teaches students how to identify, analyze, and manage financial and operational risks that are inherent in both personal and business settings.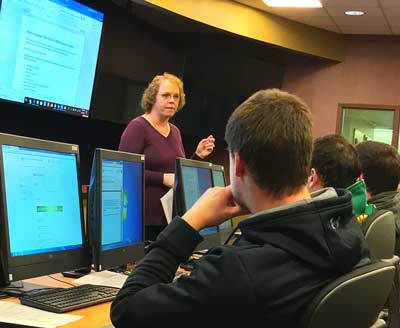 Risk Management and Insurance prepares students for employment in three major areas. The first is an insurance company career, working to create and service insurance products for individuals and businesses. The second is the risk management profession. The risk manager of a company anticipates possible losses and develops a plan to survive the risks. The third is insurance agency work, which involves selling and servicing of insurance products.
Students choosing to specialize risk management and insurance have the opportunity to sit for the Ohio property/casualty and/or life/health insurance license exams. They also have the opportunity to earn the University Associate Certified Insurance Counselor (UACIC) designation.
Examples of risk management and insurance career opportunities include:
Loss control specialist/underwriter
Risk analyst/auditor
Claims adjuster/manager
Agency sales/service
Bank compliance officer
Academic Resources
Resources are available to help you learn more about the school and major, and determine class schedules, requirements, and progress toward you degree.
Before you apply to The University of Akron, contact our Undergraduate Recruiter to answer your questions. Current UA students who want to be admitted to a major should be sure to visit an undergraduate Academic Adviser.
Once you are admitted to The University of Akron, you'll use the Degree Progress Report (DPR), which is an online tool you can use to view information about your progress toward graduation. DPR outlines your degree requirements, marks completed courses, and shows your remaining coursework.
Professional Experience
Application-based courses allow students to develop real world decision-making skills through the introduction of relevant business issues into the classroom and the use of expert guest speakers, case-based analysis, and integration of current events. Paid-for credit internship experiences are available for students to apply classroom learning in real-world settings.
Course Availability
University general education requirements and CBA Core classes are offered each semester, including over the summer. Please note that the number of sections available is often less during the summer semester.
Finance major courses are offered only in the fall and spring semesters. It is important that students work with their assigned adviser to ensure they stay on sequence with their requirements.
Finance Department
Learn about CBA finance students, careers, organizations that have recently hired CBA graduates, and much more on the Finance Department page.
Tutoring
Once you are a student, The University of Akron and the College of Business offer tutoring services for additional help in many subjects.
Student Organizations
The College of Business Administration is associated with many student organizations through which you can expand your classroom learning and enhance your leadership, organizational and interpersonal skills. Within these organizations you will meet students from diverse backgrounds and will have opportunities to interact with business professionals, participate in competitions and organize community service projects. Students are encouraged to actively participate in the organization(s) of their choice.