Undergraduate Internship Program
Some of Our Local Internship/Job Partners!
---
Funded Opportunities
---
Summer Pediatric Research Scholars
Akron Children's Rebecca D. Considine Research Institute offers college students opportunities to gain clinical research experience at northeast Ohio's largest pediatric hospital through the Summer Pediatric Research Scholars (SPRS) program.
Summer scholars work closely with mentors - physicians or other healthcare practitioners - in one of several pediatric medical specialties.
In addition to their research endeavors, summer research scholars also have opportunities to observe bedside patient care by shadowing medical and surgical teams.
This program runs over the course of 10 weeks, starting around the first week in June each summer.
Application are due Nov. 18, 2022, 11:59 p.m.
More information about the program, eligibility, and how to apply can be found here.
---
CLEVELAND METROPARKS
https://www.clevelandmetroparks.com/about/employment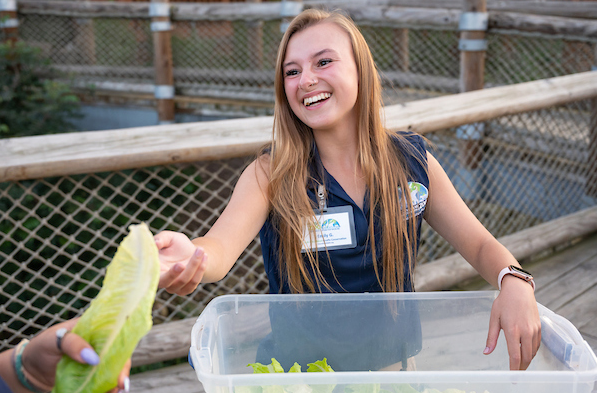 ---
National Aviary Internships
https://www.aviary.org/about-us/jobs/internships/
The National Aviary will be accepting applications for 2023 internships during the following periods:
Spring: October 7 through November 7, 2022
Summer: February 7 through March 7, 2023
Fall: June 7 through July 7, 2023
---
USDA-Agricultural Research Service - Horticultural Insects Research Lab
Christopher M. Ranger, Ph.D., will be hiring 1-2 students to start in Spring 2023 for the USDA-ARS-Horticultural Insects Research Lab, located on the campus of OSU's Ohio Agricultural Research and Development Center in Wooster, Ohio.
The student will assist with experiments focusing on ambrosia beetles infesting trees in ornamental nurseries and tree fruit orchards.
Prior experience is not required, but a driver's license and transportation to campus are required.
Interested students may contact: christopher.ranger@usda.gov
---
Ohio Department of Natural Resources (ODNR)
Students can go to www.careers.ohio.gov and keyword search "ODNR" to see current positions available now.
---
Summit County Jobs
https://jobs.summitoh.net/postings/search
Try searching here under "Temporary" positions for Internship opportunities.
---
The Davey Tree Expert Company

Davey Tree internships and seasonal positions introduce career orientated students to exceptional opportunities in the industry. Davey has a national reputation for stewardship and excellence in the green industry and our programs provide students and entry level candidates with the fundamentals they will need to grow their careers.
https://jobs.davey.com/go/Internships-and-Seasonal/8806300/
---
ORISE - Oak Ridge Institute for Science and Education - U.S. Department of Defense

All ORISE opportunities provide a competitive stipend.
Check out https://www.zintellect.com/catalog and adjust to your education level to search for opportunities.
https://orise.orau.gov/dodprograms/current-research-opportunities.html
---
Unfunded Opportunities
---
Stark County Park District
Currently seeking a Wildlife Rehabilitation intern to further their education and experience at the Wildlife Conservation Center. "If you're passionate about wildlife and wish to gain some hands-on experience in animal care, we're the place for you!"
Students Can Expect To:
Gain supervised knowledge of Ohio's native wildlife, human/wildlife conflicts, non-lethal solutions, and state and federal regulations governing wildlife rehabilitation.
Students will be working closely with staff and volunteers as well as gaining experience in educating the public on wildlife.
Learn species specific diets, basic animal husbandly, caging criteria, handling techniques, animal enrichment, release criteria, and other skills relating to wildlife rehabilitation.
Students will also be responsible for completing a project, Featured Case feature the life of a native wild animal from the time it has come into the center to the time it is released. This feature will be displayed on our website and/or Facebook for public viewing.
Gain valuable customer service, communication, and listening skills.
Encounter moderate to frequent exposure to insects, poisonous vegetation, zoonotic diseases and moderate exposure to outside weather conditions throughout the year.
Requirements:
Freshman or sophomore level college students in field of biology, pre-vet, zoology, conservation, or equivalent field(s)
Effective interpersonal skills
GPA of 3.00 or higher preferred
Hours: 24 hours a week. Ability to work a pre-determined hours and days of the week and a varied schedule including weekends is required. Typical scheduled shifts are 8:00a.m. 2:00p.m. and 2:00p.m. 8:00p.m. but may vary with advance notice.
https://starkparks.applicantpro.com/jobs/
---
Colobus Conservation in Kenya
Students, as volunteers, can gain valuable hands-on practical primate rescue and rehabilitation experience at our center, where we operate an on-site veterinary clinic and have a 24/7 emergency response team. There are opportunities to learn conservation outreach skills by assisting with our community work to reduce the human-primate conflicts of the area and gain habitat management skills by working on our forest restoration projects.
As a scientific organization, we are interested in developing collaborative internship opportunities with universities. We can host group field trips that are tailored to specific module learning outcomes incorporating captive and wild primate management. Previous students have gained a range of interesting conservation jobs after volunteering with us. Here at Colobus Conservation, we provide a safe and secure environment to students, which is easily accessible by air from Nairobi and by road from Mombasa. Diani has excellent nearby amenities, including shops, banks, hospitals, and restaurants. We are located within easy reach of a range of National Parks, marine conservation initiatives, and community development projects.
If you require any further information, please don't hesitate to contact me.
Sincerely,
Mwarabu S. Mwakutunza
Volunteer Coordinator
Colobus Conservation
P.O. Box 5380 Diani
80401 Kenya
Mobile: +254 724 227 224
Website: www.colobusconservation.org
Follow us on Social Media: @colobusconservation
---
Columbus Zoo and Associated Parks
View current opportunities here: https://careers3-columbuszoo.icims.com/jobs/intro
Specifically, check out the Ecology Apprenticeship options.
---