Meet Tatiana King
Tatiana's advice? Make the most of your time on campus. Meet with faculty. Join campus groups and take in all this lively campus offers.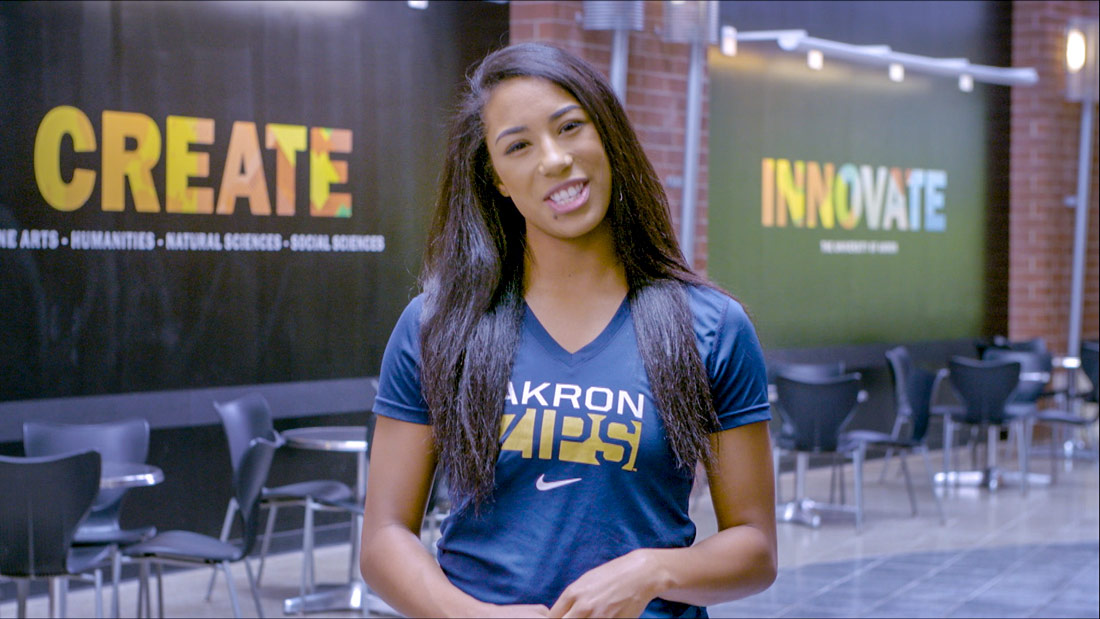 Hometown
Massillon, Ohio
High School
Perry High School in Massillon
How would you describe your Akron experience?
I've fallen in love with the University and all it has to offer. I love how the campus is just big enough to feel like a big university but small enough that I can feel close with the community on campus.
Are you involved in any extracurricular activities?
I am a member of WZIP, the hottest college radio station in the nation, and also a member of the cheer team, which has grown tremendously this year. Both of these organizations have helped me make lifelong friends and get involved with the community around us.
'As a transfer student, I wish I would've come to Akron sooner so I could love it longer.'
How do you plan to take advantage of Five-Star Fridays this semester?
I will have team lifting on Fridays, but outside of that I will be using my free time to get ahead of homework and rest my body for Zips football games!
What are your goals?
I hope to be an inspiration to those around me that anything is possible if you work hard enough. I am a mom, full-time student-athlete, part-time employee and radio DJ. Follow your dreams no matter what!
After graduation, I look forward to using my degree in collaboration with a fitness brand or company of some sort to promote wellness and an active lifestyle!
What advice would you give to prospective students?
Enjoy it while you're here! As a transfer student, I wish I would've come to Akron sooner so I could love it longer. The UA campus is truly my happy place. Make the most out of the facilities, staff and peers around you. Your UA experience is exactly what you make of it!