Campus then and now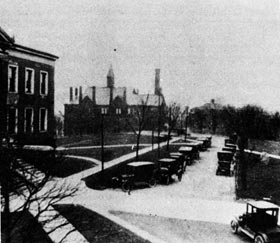 Buchtel Hall is to the left in this photo taken in the 1920s.
The institution now known as The University of Akron was founded as Buchtel College in 1870 by the Ohio Universalist Convention, which was strongly influenced by the efforts, energy and financial support of Akronites, particularly industrialist John R. Buchtel. From the outset, the college and the surrounding community were closely tied, with the college addressing the needs of the region as well as those of the Universalist Church and local entrepreneurs assisting the fledgling institution time and again. By 1907, Buchtel College's emphasis on local rather than denominational interests led it to become a private, non-denominational school.
The college's strong ties to the community and its challenging financial situation prompted Buchtel College trustees to transfer the institution and its assets to the city of Akron in 1913. For the next 50 years, the municipal University of Akron, assisted by city tax funds, brought college education within the reach of many more young people. During those years, enrollment swelled from 198 to about 10,000.
The University's growth paralleled the remarkable expansion of Akron. People were drawn to the city, already a major manufacturing center, by the promise of jobs. Companies such as Goodyear, Firestone and Goodrich were headquartered in Akron, so it was only natural that the world's first courses in rubber chemistry would be offered at the University, beginning in 1909. With the formation of the Rubber Technical Institute in 1942, University researchers and students were well-prepared to contribute to the development of synthetic rubber to aid the Allied war efforts.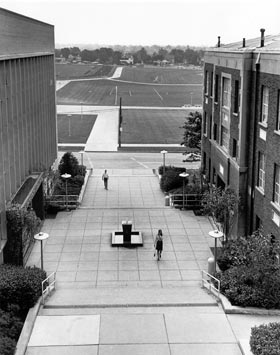 Looking south across what's Coleman Common today. Carroll Hall is to the left.
A long era of expansion followed World War II. Overseeing much of this growth was the University's 10th president, Dr. Norman P. Auburn. Under Auburn's leadership, the institution made the transition in 1967 from a municipal to a state university.
In the years to follow, as tire production jobs left the Akron area, the University's pioneering research was instrumental in helping the once-undisputed Rubber Capital of the United States evolve into the polymer center of the world.
In 1988, the University established the world's first College of Polymer Science and Polymer Engineering - now the largest academic program of its kind in the world.
Under the direction of its 15th president, Dr. Luis M. Proenza, completed a third cycle of expansion with the New Landscape for Learning initiative. Begun in 2000, the initiative resulted in 22 new buildings, 18 major additions, acquisitions and renovations, and 34 acres of additional green space. New buildings included the Buchtel College of Arts and Sciences building, the Honors Complex, Student Union, the Student Recreation and Wellness Center and the Stile Athletics Field House.