TRADITIONS AT UA
The Wagon Wheel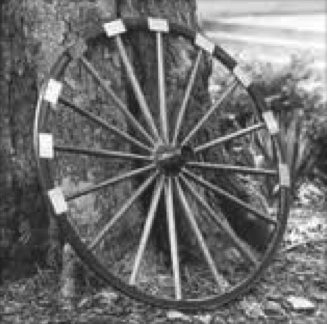 As legend has it, before settling in Akron, UA founder John R. Buchtel was traveling through Kent, Ohio, exploring areas for a new school. While riding through town in his horse drawn carriage, a wheel broke off and got stuck in the mud.

Discovered during the construction of a pipeline along the Western Reserve Trail in 1902, the wheel became the property of Dr. Raymond Manchester – Dean at Kent State University. Manchester later suggested it be the trophy of the winner of the annual footbal game.

The teams first met in 1923.
SpringFest
Our annual end-of-the-semester celebration! Held the last Friday before spring semester finals, UA students, faculty and staff turn Coleman Common into party central with inflatables, live entertainment, Ultimate SpringFest Challenge for graduating seniors, freebies, fireworks, and so much more!
Homecoming and Family Weekend
Welcome back, Alumni, Friends and Zips Families!
Events ranging from a 5K, campus tours, a homecoming tailgate, and the Akron football!
AK-Rowdies
The AK-ROWDIES, one of the largest student organizations at UA with nearly 2,000 members, have a simple goal: To cheer UA student-athletes to victory. The group is known as one of the best organized traveling student sections in the Mid-American Conference. And, of course, the Rowdies make their presence known at home games. When you join, you'll receive an official shirt, free food and priority seating at games, entry to the official "AK-ROWDIES Tailgate tent," free road trips and so many great memories!
Zippy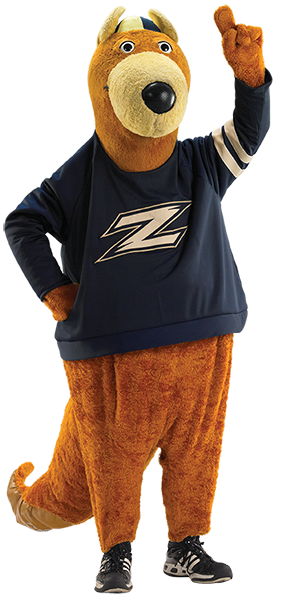 Affectionately known as Zippy, our marsupial mascot was the winner of the 2007 national Capital One Mascot of the Year Challenge.

Known as the perpetual freshman, she (because of the pouch!) packs quite a punch, puts a spring in our step, and helps keep us one giant leap ahead!
ALSO SEE
I Believe chant
A tradition nearly as old as the Rowdies themselves, the "I Believe" chant is our way of celebrating a win over an opponent in any sport.
New Roo Weekend
After visit days and orientation sessions, every new class officially begins their years here with a fun tradition known as New Roo Weekend.

Incoming and transfer students alike, whether they are moving into a residence hall or planning to commute to campus, quickly become part of the UA community during these three days. Jam-packed with activities and events, UA's newest students have many opportunities to make friends, get tips from upperclassmen and really learn their way around campus before that first class on Monday morning.
The Rock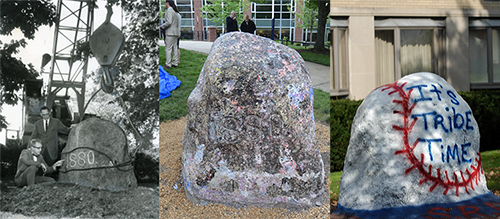 The Rock is an 8-ton gray boulder that is 7 feet tall, 5 feet wide and 3½ feet thick, containing 90 cubic feet of igneous rock known as syenite.

A gift from the eight members of the class of 1880, it was installed to show up the much smaller rock from the class of 1879, located 25 yards east of The Rock. The group contracted with local engineer Oliver Thorp for $75 to relocate the rock from Col. Simon Perkins' farm five miles away to the Buchtel College campus. On May 13, 1880, "impressive ceremonies" took place to implant the rock in its first home, where Zook Hall stands today. As the campus expanded, the rock was relocated in September 1961 to its current location south of Crouse Hall.

It wasn't until the 1960's that the tradition of painting it began as a way for students to show school spirit, cheer on a team, or welcome pledges to fraternities or sororities.

In May of 2015, members of the Geosciences Club restored the oft-painted rock and installed a commemorative plaque with its history and geology. The rock was chemically stripped of an estimated 4 inches of paint without harming the environment. Items discovered within the layers included tar and feathers, clothing and paper.
Ohio's Pride
The University of Akron Marching Band "Ohio's Pride" serves as the musical representative of University of Akron spirit for home and at select away Zips football games. The 260 member band combines exciting musical arrangements, contemporary show design and outstanding visual routines into a truly spectacular pre-game and half-time performance.

Membership is open to all students (including Wayne Campus), regardless of academic major.