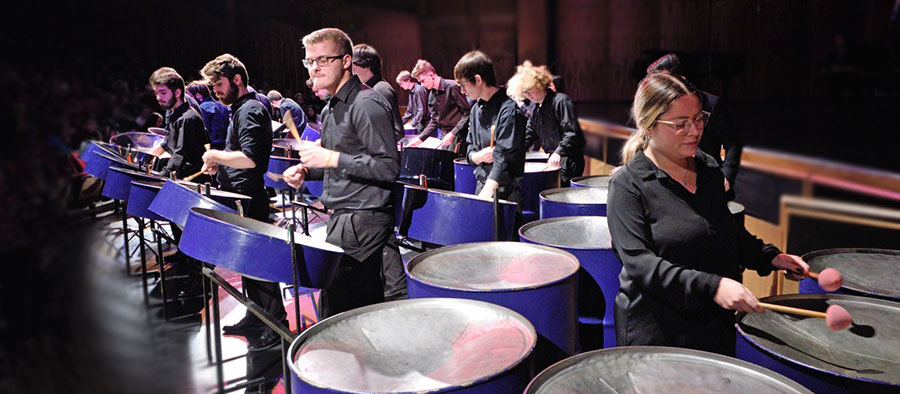 Undergraduate Degrees in Percussion
With a Bachelor of Music in Percussion you will learn performance techniques in orchestral and chamber music settings with an emphasis on world music and when you graduate you'll be prepared to have a wide range of career possibilities.
Undergraduate Percussion degree paths
Bachelor of Music - Performance (B.M.)
A performance degree that will prepare you to be a performer in orchestra, chamber music, world music, and private teaching.
Drumline/Marching Band is optional
Bachelor of Music Education - Instrumental (B.M.Ed.)
A degree that will prepare you to become a teacher with a certificate to teach in Ohio Public Schools.
Drumline/Marching Band is part of the curriculum and is required for two years
Benefits of double majoring
Graduating with both a B.M. and B.M.Ed. will give you even greater marketability with many professional options
There are many overlapping classes, so you will have options and flexibility with your classes and schedule
WHy choose to major in percussion?
Marketability:
Experimental and Interdisciplinary opportunities:
Outreach concerts provide you with many performance and teaching opportunities throughout your time at UA
We value music from other cultures, and the program's most visible and widely acclaimed component is the Steel Drum Band. You will experience teaching and playing percussion music from a variety of places, including West Africa, the Caribbean, and South Americas.
You have the opportunity to work with dancers as dance accompanists and to work with recording engineers and learn electronics/technology relevant to our field.
Learn from the best:
Our Director of Percussion Studies, Dr. Snider, Distinguished Professor, was the first recipient of the Outstanding Arts Educator Award from the Akron Art Alliance.
He has served on the percussion faculty at the Interlochen Arts Academy in Michigan and the International Percussion Workshop in Zagan, Poland.
He has served as an adjudicator at the International Marimba Competition in Warsaw, Poland and chief international adjudicator for World Steel Band Festival competitions.
He was principal percussionist with the Akron Symphony Orchestra and has served as an adjunct percussionist with the Cleveland Orchestra.