Guy Victor Bordo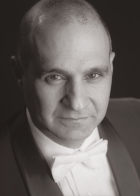 Title: Professor; Director of Orchestral Studies
Dept/Program: Music
Phone: 330/972-6204
Email: gvbordo@uakron.edu

---
Biography
Guy Victor Bordo is Professor of Music and Director of Orchestral Studies at The University of Akron School of Music. He conducts the University of Akron Symphony Orchestra, the New Music Ensemble, and teaches Advanced Conducting. This season will feature a wide range of repertoire including works of Stravinsky, Copland, Bernstein, Poulenc, Respighi, Mason Bates, and John Williams. In the spring of 2015, the UASO was featured in a series of children's concerts sponsored by Children's Concert Society held at Akron Civic Theatre. The University Symphony Orchestra has performed with many featured faculty soloists, as well as residencies and performances with renowned composers Randy Newman and Marvin Hamlisch; pianists Michael Chertock and Spencer Myer; violinists Maria Bachmann, Andres Cardenes; cellist Andres Diaz, and this season, violinist Ilya Kaler will return to play the Mendelssohn Concerto.
The University of Akron New Music Ensemble programs a wide range of repertoire from contemporary composers. In the past two seasons, the NME has premiered a number of works by UA faculty and students, as well as performing works by Varese, Ruggles and Stravinsky.
Dr. Bordo has also been the Music Director and Conductor of the Richmond Symphony Orchestra in Indiana since 1997. The RSO has built a strong reputation for innovative programming and attracted many fine musicians in the region. Having a strong interest in contemporary music, Dr. Bordo and the RSO have presented a wide range of compositions. A highlight in this area was the October 2001 residency of the great American composer John Corigliano. The RSO, with soloist Maria Bachmann, performed his composition Chaconne from the film The Red Violin, for which he won an Academy Award.
At home with a wide variety of styles and concert formats, Dr. Bordo has conducted prominent soloists including Yakov Kasman, Ilya Kaler, Lorin Hollander, Andres Cardenes, Anton Nel, Steven Burns, William Wolfram, and Mark Kosower, as well as popular artists Aretha Franklin, Marvin Stamm, The Beach Boys, and Wynonna Judd.
From 2006-2015 Dr. Bordo was Music Director/Conductor of Akron Baroque, a professional, self-governing orchestra with musicians from Akron, Canton and Cleveland. Active as a guest conductor, he made his European debut in 1994 with the Lithuanian National Opera Theatre in Vilnius, conducting Verdi's La Traviata. He was invited to return in 1997 where he conducted the State Symphony Orchestra, the St. Christopher Chamber Orchestra, and the Kaunas Opera Theatre in a production of Verdi's Rigoletto. Additional engagements include Light Opera Works in Chicago and orchestras in Lexington (KY), Cheyenne (WY), Waterloo/Cedar Falls (IA), Fort Collins (CO), the Westshore (MI) Symphony Orchestra, the Virginia Symphony, the Omaha Symphony, the Elmhurst Symphony (IL), the Cleveland Philharmonic, and the Akron Symphony Orchestra. This season includes return appearances with the Carnegie Mellon Philharmonic.
Dr. Bordo earned a Doctorate in Orchestral Conducting as a student of Victor Yampolsky at Northwestern University in Evanston, Illinois, as well as Bachelors and Masters Degrees in Music Education from the University of Michigan in Ann Arbor. He has studied conducting with Gustav Meier at the Tanglewood Music Center; Carl St. Clair, Music Director of the Pacific Symphony Orchestra; and Elizabeth Green, author of The Modern Conductor.
---