Elisabeth Shafer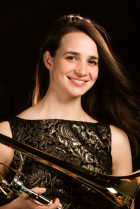 Title: Senior Lecturer
Dept/Program: Music - Trombone
Office: Guzzetta Hall 380
Phone: 330-972-6434
Email: eshafer@uakron.edu

---
Biography
Hailed by The Boston Musical Intelligencer as "outstanding" and "fearless," Dr. Elisabeth Shafer is a dedicated orchestral, chamber, and solo performer. Dr. Shafer has performed with Seraph Brass, Barclay Brass, CityMusic Cleveland Chamber Orchestra, Symphony in C, the Eastern Connecticut Symphony, and the Nittany Valley Symphony. She has appeared as a guest soloist with ensembles including The University of Akron Symphonic and Concert Bands, and the Perry High School Symphonic Winds at the Ohio Music Educators Association Conference in 2019, and will be featured as a guest soloist with the University of Akron Symphony Orchestra in the fall of 2019. In 2015, Dr. Shafer won Honorable Mention in the International Trombone Association Alto Trombone Competition. Dr. Shafer has given numerous solo recitals throughout the East Coast, Midwest, and Southern portions of the United States. She has worked with esteemed conductors Bramwell Tovey, Ken-David Masur, Valery Gergiev, and Peter Oundjian.
As a chamber musician, Dr. Shafer is a member of the Faculty Brass Quintet at The University of Akron, and is a founding member of the Boston Trombone Project, a Boston-based trombone chamber ensemble. Her trombone quartet, Hendrie's Heroes, was named First Alternate in the 2014 International Trombone Association Quartet Competition. Dr. Shafer is an avid early music and sackbut player, having collaborated in numerous ensembles including historical performance department recitals at Boston University, the Yale Schola Cantorum Orchestra, Yale Collegium Players, and Temple University Mozart Players.
Currently, Dr. Shafer serves as Visiting Assistant Professor of Trombone at The University of Akron. Prior to joining the faculty at The University of Akron, Dr. Shafer was a Teaching Assistant at the Boston University Tanglewood Institute Trombone Workshop, and a Teaching Artist in the Music in Schools Initiative in New Haven, CT. She has conducted and arranged music for the Boston University Trombone Choir, and the Boston University Tanglewood Institute Trombone Choir. As a classroom teacher, she has taught aural skills and theory classes for undergraduate and graduate students at The University of Akron, Boston University, and Yale University.
A native of State College, PA, Dr. Shafer earned her Doctor of Musical Arts degree in Trombone Performance from Boston University. She also received her Master of Music degree from Yale School of Music, and a Bachelor of Music degree from Temple University both in Trombone Performance. Her primary teachers include Toby Oft, Scott Hartman, and Matthew Vaughn.
---