Matt Dudack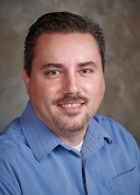 Title: Senior Lecturer
Dept/Program: Music - Percussion
Office: Guzzetta Hall 26
Phone: 330-972-6988
Email: dudack@uakron.edu

---
Biography
Matt Dudack is Senior Lecturer in Music at the University of Akron School of Music Percussion Department and is the Artistic Director of the University of Akron Steel Drum Band. He holds a bachelor's degree in music education from the Hartt School and a master's degree in percussion performance from the University of Akron.
Under his direction the University of Akron Steel Drum Band has received many accolades, including Grammy and Emmy award nominations, and has performed for such dignitaries as President Bill Clinton and (then candidate) Barack Obama. "Live at EJ Thomas Hall," a recording with guest artists David Rudder, Andy Narell, Ray Holman, Cliff Alexis, and Pan Ramajay was nominated for a Grammy award. "A Kiss for Christmas," and "By Request" bring updated steelpan recordings of holiday and island classics. The University of Akron Steel Drum Band's most recent project, "Hammer on Steel," includes a documentary about the origins of the steelpan and a concert video. Besides receiving eight Emmy award nominations, it has aired across the United States on various PBS stations. The University of Akron Steel Drum Band continues to push the musical boundaries of the steelpan art form along with bringing in the best in the field as guests including Boogsie Sharpe, Ray Holman, David Rudder, Andy Narell, Relator, Robbie Greenidge, Earl Rodney, Liam Teague, and Cliff Alexis.
Besides his duties at the University of Akron, Matt is a member of the Akron Symphony Orchestra and is co-founder of the Akros Percussion Collective, a chamber group which performs contemporary music internationally. He also leads Found Sounds, a group which performs in-school educational concerts for the Children's Concert Society of Summit County and throughout Northeast Ohio.
A founding member of the National Society of Steel Band Educators, he has presented twice at their annual conference. His music and method books for steelpan are published by MauMauMusic.com.
Matt is also on the faculties of the Miller South School for the Visual and Performing Arts in Akron and Canton Country Day School in Canton. Matt is a frequent performer at the Percussive Arts Society International Convention and has premiered new works for percussion by Ben Johnston, John Bergamo, Emmanuel Sejourne, and Stuart Saunders Smith.
---