Learning Communities
There's strength in numbers. Take classes together and connect in a common experience with the same group of students and succeed.
Available Learning Communities
There are more than 40 learning communities (LCs) available for you to explore. LCs are groups of 20-25 students who take classes together focused on a specific theme, academic area, or interest. This is a great opportunity to discuss with your academic advisor during your New Roo Advising & Registration appointment. Some communities provide an opportunity to express an interest in a LC ahead of your advising appointment.
Jump start your Learning Community Interest
For select communities, complete the LC Interest Form today.
Please note reserved seats are limited. To be eligible, students must have confirmed their intent to enroll at UA. In addition, each individual community may have additional eligibility criteria which is identified within their community descriptions listed below.


81%
OF STUDENTS
who participate in a learning community remain after their first year, which is significantly higher than students who did not participate in a learning community.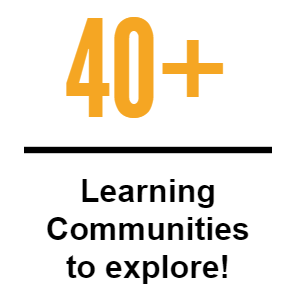 "This experience really helped me understand the different subject areas. The most rewarding thing was I learned to take ownership of my learning. It is worth mentioning that I made friends through my first year learning community, which has been so helpful throughout my studies."

- Ernest Williams
For more information, please contact:
Brandon A. Mikulski, M.A. Ed.
Director, Learning Communities & Akron Experience
330-972-5492 or bam64@uakron.edu