Akron ups its experiential learning and practical training game
06/12/2023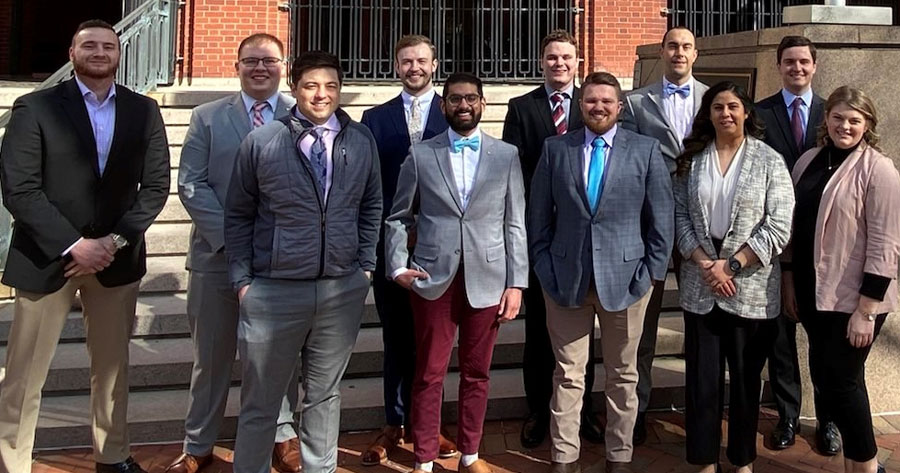 Akron Law judicial clerks, externs and alumni pose with Judge Holte in front of the Court of Federal Claims in Washington.
The University of Akron (UA) School of Law has long enjoyed a national reputation for its emphasis on practical training and experiential learning with the objective of producing practice-ready graduates.
"We look at experiential learning broadly," said Assistant Dean for Career Services, Strategic Initiatives & External Affairs Alisa Benedict O'Brien. "It can be any of our clinical programs as well as some of our skills-based courses like Trial Advocacy. We also offer a wide variety of externship placements with public, private, and non-profit organizations to match a student's interests and career goals."
Externships offer valuable training that is of interest to employers and helps students develop their skills of advocacy, client counseling, legal writing and professionalism under the supervision of a mentoring lawyer. Federal judicial externships are particularly valued because these placements tend to be very competitive.
Two relatively new programs have increased Akron Law students' exposure to these opportunities.
The first is the Washington D.C. Externship Program, launched in 2021 for intellectual property (IP) law students interested in opportunities to work in a legal capacity for government, public interest organizations, judges, or other related entities. The program has now been expanded to include non-IP students.
"Akron Law students have long taken advantage of externship opportunities, but almost entirely in the Northeast Ohio area," said Mark Schultz, Goodyear Tire & Rubber Company Chair in IP Law and director of the UA Center for IP Law & Technology (UAIP). "These Washington externships represent a special opportunity."
"Washington D.C. is filled with full-time legal externships in a variety of settings, likely more opportunities and varied than any other city in the country," said Jurist-in-Residence Professor of Law and former UAIP Director Ryan T. Holte, who now sits on the United States Court of Federal Claims bench in Washington.
He cites three unique advantages of externing in Washington
Professional networking in a larger city with a greater density of lawyers—probably the highest density of Akron Law alumni outside Ohio.
Significant legal work experience opportunities in areas of law and government not available elsewhere—notably, the federal executive and legislative branches.
Enhanced connectivity into a national legal marketplace for students considering working outside Ohio now or later in their career.
Students in the program take an accompanying for-credit remote externship course taught by Holte. He also supervises many of the externs in D.C. as well as those doing externships in a federal court outside of Washington. The combination of his location in D.C. and former position on the Akron Law faculty makes for a special way to supervise students remote to the school but local to him.
"I believe Professor Holte's involvement has been a factor in wider consideration of federal judicial externships among the students," O'Brien said. "If a student is very strong academically and has an interest in a federal clerkship, then we would suggest that they explore a judicial externship to really understand what the work entails. Last fall, Judge Philip Calabrese from the United States District Court for the Northern District of Ohio (NDO) came down from Cleveland and did a lunch program that attracted a lot of interest."
The second federal judicial externship program includes a diversity component. It is a partnership between Akron Law and the Akron Canton Barristers Association. Career Services and the Barristers solicit applications from students who self-identify as diverse and a committee interviews them to see if they would be a good match with one of the participating judges from the NDO court.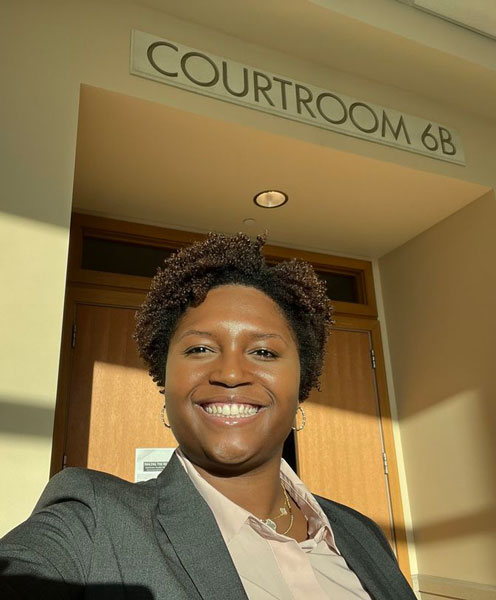 Ellison Starnes
3L Ellison Starnes completed a four-month externship with Calabrese last spring. She will be an associate in the estate planning group at Buckingham, Doolittle & Burroughs, LLC, this summer.
"It was a great experience," she said. "You really hone your writing skills working with the judge and his clerks. And it was interesting getting to know the judge and seeing how a court works behind the scenes. I think it's one of the better programs here because it opens doors for students, whether they're at the top of the class or in the middle. I even asked Dean O'Brien if I could do it again."
Meanwhile, consistent with new ABA standards and feedback from employers, Akron Law faculty have been updating degree requirements to include professionalism training. A new professionalism series will bring alumni to the school to speak to students about subjects such as legal practice, professional identity, advocacy and cross-cultural competency. Interested alumni may reach out directly to Dean Emily Janoski-Haehlen to discuss participating in the program.
---
Related: