Changing the cycle: Start-up company led by UA alumna aims to destigmatize menstruation and end period poverty
07/07/2021
Savannah Daniels, a 2021 graduate of UA's School of Law, has an impressive resume. She has interned for several law firms and was involved in student organizations, even starting one of her own — the Cybersecurity Privacy & Technology Law club. But Daniels is not only a lawyer, wife and public figure — she's also an entrepreneur and the brain behind a new, game-changing menstrual product called Courtesy Cups.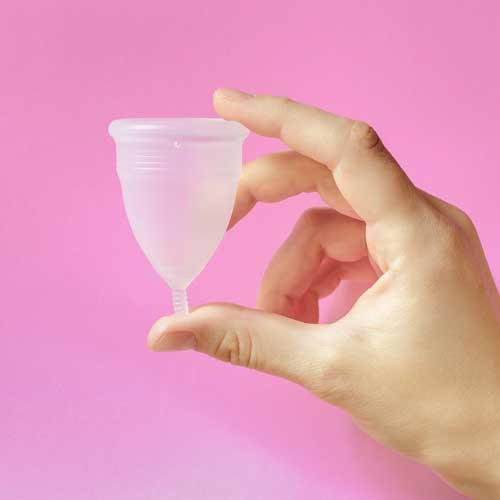 Savannah Daniels' Courtesy Cups product will look similar to the menstrual cup displayed here.
Menstrual cups are a more environmentally friendly and cost-effective alternative to single-use products like tampons and pads. But what makes Courtesy Cups unique is that the products are made of medical-grade silicon and collapse to fit in a special carrying case designed to clean each cup on its own. This makes menstruation while active or mobile more convenient and sanitary.
Courtesy Cups is currently in the discovery phase, meaning Daniels is still researching and analyzing the needs of her product and customer base. But the product has gained recognition by placing in two entrepreneurship competitions: the Zip Pitch competition organized by UA's EX[L] Center and Stark Tank, Stark State College's version of the reality business pitch TV show "Shark Tank." The product also completed the regional I-Corps Med Tech & Healthcare Accelerator through the National Science Foundation.
Promoting menstrual hygiene
Daniels says the idea came from her time as a truck driver in the National Guard, where "menstruation or menstrual products are only mentioned three times in our field sanitation training." Although awareness is increasing, women in the military are still given little to no menstrual hygiene education and left to fend for themselves, Daniels says.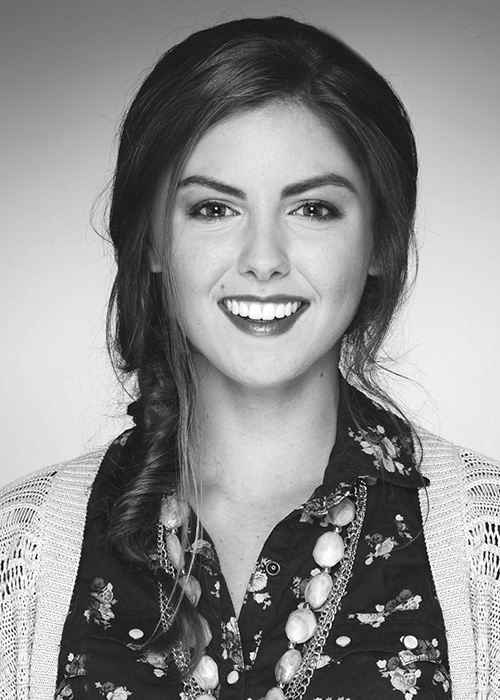 Savannah Daniels
"I spent weeks at a time in the field, sleeping outside without toilets, electricity or running water," recalls Daniels. "I told everyone, 'You have to switch to menstrual cups. You don't have to carry your trash around, or worry that you packed enough, or poach a tampon off a friend.' But how do you clean them? Courtesy Cups is the solution. This product offers the only option to sanitize menstrual cups on the go in the field."
As she develops her concept into a brand, Daniels is aware that military personnel are not the only ones facing these issues. Many students and those without dependable shelter lack access to necessary items and basic utilities. With such difficult circumstances, it is hard to experience menstruation as anything but an unwelcome struggle.
"Living in the field and looking forward to going home, I realized that some people may not know when or if they will ever go home," says Daniels. "People experiencing homelessness experience the same problem, with little access to toilets, electricity and running water; that's why Courtesy Cups has a mission to give back by donating one cup for every cup purchased. We believe that together, we can end period poverty."
What's next
The next step for Courtesy Cups is an application for the STRIDE program of the University of Akron Research Foundation to secure grant funding. The product will be available to the military first, then the public. Daniels expects it will appeal to "hikers, back-packers, and adventurers" and that she and supporters can cause change one cup at a time. When asked about the future of the brand, Daniels' response focused on this larger goal.
"Ending period poverty starts with talking about it," she says. "In our backyard teens are missing school days, making improvised protection, and even resorting to stealing these necessities. Destigmatizing menstruation means we can help more people overcome period poverty. With every conversation and pitch, we're making a difference, but I can't wait to get this product into the hands of someone who needs it."
For more information, visit the Courtesy Cups website or follow the business on social media with the handle @courtesycups.
---
Story by Deborah Endris
Media contact: Alex Knisely, 330-972-6477 or aknisely@uakron.edu.