Akron Law goes to the White House
06/16/2023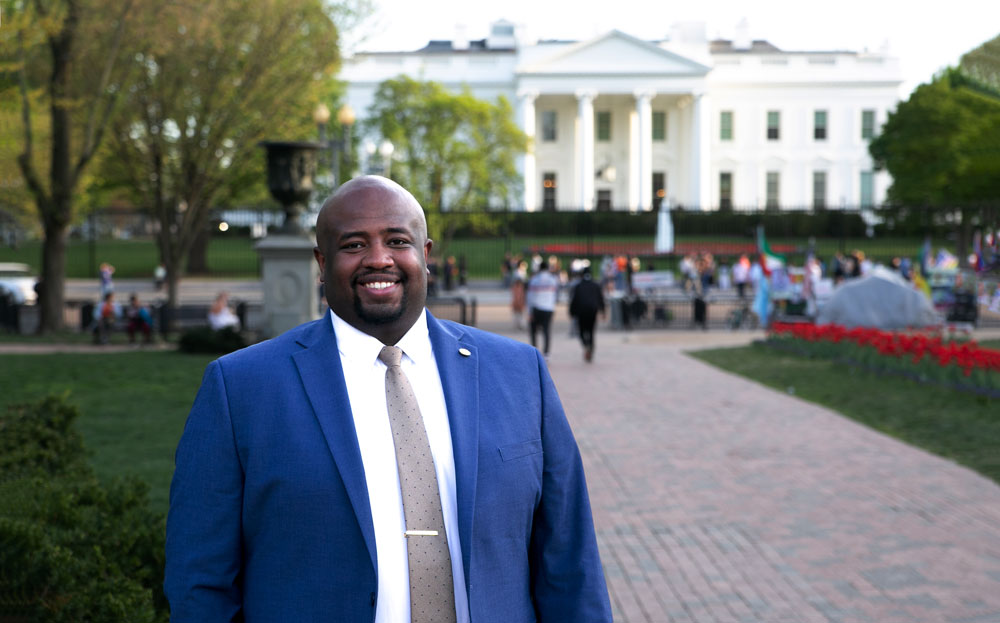 Akron Law rising 3L Elijah Hardee spent the spring 2023 term as one of five interns in the Office of White House Counsel.
Akron Law students have had a lot of unique externships over the years—NASA, the Copyright Alliance, Bounce Innovation Hub, and the Mid-American Conference. But rising 3L Elijah J. Hardee has definitely blazed a new trail with his spring 2023 internship in the Office of White House Counsel. He was one of five legal interns in that department—along with two from Georgetown and two from Harvard—and a host of other interns in other White House departments.
Hardee first became aware of the program last summer in conversations with Alisa Benedict O'Brien, assistant dean for career services, strategic initiatives & external affairs.
"She helped me quite a bit with my application materials and explained how I would have support from Akron Law's Washington D.C. externship program if I were selected," he said. "I really didn't think prestigious internships like this actually considered students from the Midwest, but I viewed it as kind of a lottery where you're never going to win if you don't buy a ticket. So, I applied. A couple of months later I went through the interview process, and a few weeks after that I received an offer to join the program."
Hardee might have underestimated the strength of his credentials.
He majored in Sports Management at Central Michigan University with a minor in Legal Studies and earned certificates in Political Advocacy and Elections and Lawmaking and Legal Processes. He was a Social Justice Fellow as a 1L under and Professor Brant Lee, assistant dean for diversity and social justice initiatives. Last summer he worked as a law clerk in the civil division of the City of Akron Law Department and then last fall as a judicial extern in the U.S. District Court, Northern District of Ohio, in Youngstown under Magistrate Judge Carmen E. Henderson.
He also may have underestimated the Biden-Harris administration.
"The administration overall and the people I work with are really committed to the idea of diversity," he said. "Not just racial and gender, but in terms of socio-economic background, education background and geography. There are students from all over America in the broader White House internship program."
As for the Office of White House Counsel job, the hours are long and the work challenging, Hardee said. Each of the five interns was assigned to different practice groups within the Office. Hardee was assigned to the judicial nominations team and the oversight team monitoring congressional hearings.
"The work with the nominations team has been a great experience. Many of the candidates being considered are sitting judges; others have been attorneys from vastly different backgrounds. The nominations team goes through their background, reads their decisions, briefs and past legal arguments they've made and, as a team, comes to a conclusion on whether a particular candidate is qualified for a lifetime appointment to the bench."
An early connection
---
Eli Hardee first connected with Akron Law as part of the summer 2019 PreLaw Undergraduate Scholars (PLUS) immersion program, which Akron Law hosted for four years in coordination with the Law School Admission Council. The program is focused on increasing diversity in the legal profession. Hardee was impressed with Akron Law, and the school was impressed with him.
"He was really prepared to take advantage of the new experiences in the PLUS program," said Professor Brant Lee, who oversaw the program and later wrote a letter of recommendation to the Admissions Committee. "I wrote that he was focused and articulate and showed reliability and maturity."
Lee was also able to offer some informed advice. He spent three years in Washington at the beginning of his legal career as counsel to the Senate Judiciary Committee, followed by a short stint at the beginning of the Clinton administration as interim deputy staff secretary and special assistant to the president.
"Every office has inside politics and ambitious people, but it's especially intense in Washington," Lee told him. "You'll do a better job for the people you're working for if you're not distracted by your own agenda."
Hardee is also involved in prepping nominees for their confirmation hearing before the Senate Judiciary Committee, including preparing materials for the nominees to review.
"That part of the job is very rewarding because you can actually follow your work from start to finish."
Hardee felt he was well-prepared for the internship.
"Akron Law does a great job of teaching us legal analysis, writing and research," he said. "It starts with being a good listener, understanding what the other person is looking for as an end product, and maintaining clear and open communication with supervisors as you work on and complete a particular matter."
"I'm extremely proud of Elijah, and I admire his drive," O'Brien said. "He is a hard-worker and an asset to the internship program. I had the privilege of visiting him in D.C. this spring and seeing firsthand how he is thriving in this role."
Hardee didn't spend all his time burning the midnight oil in the West Wing. He was able to bowl in the Truman Bowling Alley, volunteer at the White House Spring Garden Tour and the Easter Egg Roll and explore the city a bit. In April, he attended a Roadways to the Bench event at the DC Bar hosted by the Administrative Office of the U.S. Courts. The event supports the judiciary's goal of attracting the broadest possible pool of qualified applicants to seek appointments to Article I and Article III judgeships. Following a simulcast, judges at the event held small group meetings with the participants.
Akron Law Jurist-in-Residence Professor of Law Ryan T. Holte, who is now a judge in the United States Court of Federal Claims in Washington, supervised Hardee during the spring externship class.
"Given that our office distance is only one block, it's been especially helpful and enjoyable for my chambers staff to meet Elijah in person and host him for lunch and coffee," Holte said. "I've been impressed with how much success he has had with professional networking. D.C. has significant opportunity for legal education and networking events compared to other cities, and Eli has worn out his shoes in taking advantage of these engagements during his months in town."
Has the internship caused Hardee to redirect his career plans?
"I thoroughly enjoyed my Washington experience, and if an opportunity in government or politics presented itself, I'd have to consider it," he said. "But right now, I'm going to enjoy my last four or five weeks in the White House and turn my attention to working as a summer associate in the litigation practice group at Vorys, Sater, Seymour and Pease in Akron. It's really about trying different opportunities and experiences so that once I graduate and pass the bar, I'll know what path I want to take."
---
Related: