School of Law names Gentithes associate dean of academic affairs
04/29/2022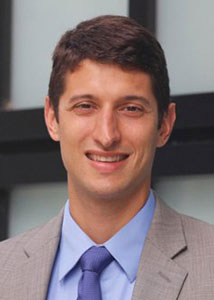 Michael (Mike) Gentithes
The University of Akron School of Law has named Michael (Mike) Gentithes associate dean of academic affairs. He succeeds Emily Janoski-Haehlen, who began her tenure as dean of the School of Law in late February.
Gentithes joined the Akron faculty in 2019 as an assistant professor of law. He was promoted to associate professor in 2021. In that time Gentithes has excelled both as a scholar and a teacher. Students have excelled in his courses on criminal procedure, constitutional law, and legal writing.
Gentithes has also coaches several moot court teams to national success, including a national best brief award at the National Black Law Students Association Thurgood Marshall Competition and a National Semifinalist and Fourth Best Brief Award at the American Bar Association's National Appellate Advocacy Competition.
He has also published more than 20 articles in law reviews across the country, including the Iowa Law Review, Harvard Civil Rights-Civil Liberties Law Review, William & Mary Law Review, University of Pennsylvania Journal of Constitutional Law, and Georgia Law Review. He also makes frequent presentations to bar associations on topics in constitutional law, criminal law, and appellate practice and is frequently quoted in the media on issued related these same topics.
"I am excited that Mike is a member of my senior administrative team and look forward to working with him," Janoski-Haehlen said. "His vision for Akron Law directly aligns with mine and I know we will move the law school forward into its next 100 years."
In his new position as associate dean, Gentithes will act as the chief academic officer of the law school. He plans to focus on ensuring that Akron Law continues to provide tremendous value for its students and that Akron Law faculty maintain their strong tradition of scholarly excellence.
Previously, Gentithes was a visiting assistant professor at Chicago-Kent College of Law and an adjunct professor at Loyola University Chicago School of Law. Prior to entering academia, Gentithes practiced as an assistant appellate defender in the Office of the State Appellate Defender, where he represented indigent clients in criminal appeals throughout Illinois. He was also a judicial clerk on the Illinois Appellate Court, an assistant corporation counsel for the City of Chicago Law Department, and a litigation associate for Kraus & Zucklewski LLP.
He earned an LL.M. degree in legal theory from New York University School of Law, his J.D. degree from DePaul University College of Law, and his B.A. from Colgate University. He was born and raised in Warren, Ohio, is an avid swimmer, and enjoys spending time with his wife and three daughters.