Ambassador's career path included Akron Law
06/01/2023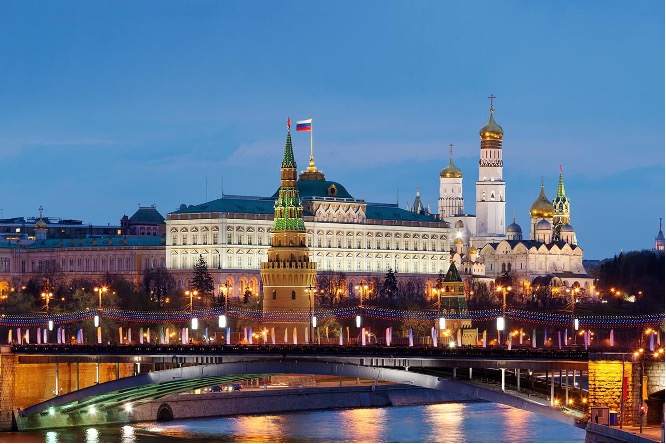 The Kremlin, seat of the Russian government, overlooks the Moscow River.
For Lynne Tracy, '94, who was sworn in as United States ambassador to Russia on Jan. 9, 2023, law school was a backup plan in case she didn't realize her dream of entering the U.S. Foreign Service.
Being accepted into the Foreign Service is a long and very competitive process, with thousands applying each year for just a handful of open slots. Tracy was selected for one of those slots and embarked on her diplomatic career in 1995. But her three years at Akron Law were not in vain.
"I enjoyed the law school experience. I sometimes thought that, in the end, it might be my career path," she said in a recent interview from Moscow. Law school really provided an important educational experience that I firmly believe was critical to my success in the Foreign Service. A legal education is extremely [valuable], not just for a legal practice, but for other kinds of career opportunities."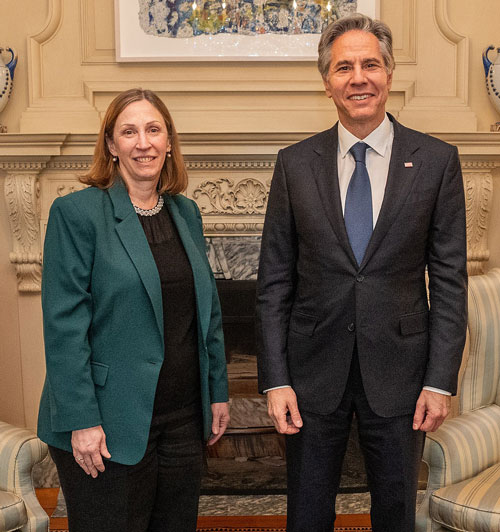 Ambassador Lynn Tracy with Secretary of State Antony Blinken in 2023.
One of the professors who made a mark on her was Richard Cohen, now retired, who headed the Legal Analysis, Writing and Research program for many years.
"What I learned from him ultimately became extremely relevant to my diplomatic career," she said. "He had an approach to writing clearly in a way that stripped away the jargon. I've talked about it over my career as one of the most important things I got out of law school—the ability to think about a problem analytically.
"Some of my first assignments were to report on what was happening in the former Soviet republics in Central Asia after the breakup of the U.S.S.R. It was important to bring data and knowledge to our writing, not just speculate off the tops of heads."
The future ambassador from Barberton, Ohio, entered college in 1982 at the University of Georgia thinking about a career in the Foreign Service. The professor in a first-year general survey history class commented that the government really needed more people who understood the Soviet Union.
"That was the spark," she said. "I put together an interdisciplinary major in Soviet Studies that included the Russian language as well as history, political science and other courses."
Fortuitously, right as she was graduating, the U.S. needed to add more Americans to the embassy staff in Moscow as a result of a dispute with the Soviets.
"So, I had this wonderful opportunity to come in as a contractor for three years. I worked in the consular section, primarily on visa issues, but it was a chance to see the Foreign Service without having to make a career commitment."
Prior to her ambassadorship to Russia—for which the U.S. Senate confirmed her nomination by a 93-2 vote—she served for three years as ambassador to the Republic of Armenia. Prior to that, she served as senior advisor for Russia Affairs in the Bureau of European and Eurasian Affairs at the U.S. Department of State, 2017-2018, and was deputy chief of mission at the U.S. Embassy in Moscow, 2014-2017. Her other leadership positions include deputy assistant secretary for Central Asia in the Bureau of South and Central Asian Affairs at the Department of State, 2012-2014, and Deputy Chief of Mission at the U.S. Embassy in Ashgabat, Turkmenistan, 2010-2011.
She was principal officer at the U.S. Consulate in Peshawar, Pakistan, 2006-2009, and principal officer at the U.S. Embassy branch office in Astana, Kazakhstan, 2004-2006. Other overseas assignments include the U.S. embassies in Kabul, Afghanistan, and Bishkek, Kyrgyzstan. She worked in the Office of the Special Envoy to the Newly Independent States at the Department of State in 2000-2001.
On August 26, 2008, while stationed in Peshawar, she was attacked by gunmen who sprayed her automobile with bullets, shooting out the front tires. Tracy, her bodyguard and driver all escaped. The Secretary of State's Award for Heroism recognized her quick thinking, her return to the post on the day, and her dedication to completing her mission even in the face of repeated threats to her life.
"It's a huge honor to be an ambassador, to be the president's personal representative," she said. "I come from a modest background. I certainly never expected that I would be here today. But as I gained experience, I gained confidence in what I was capable of doing."
An important part of what American embassy personnel do is to gather information by meeting with a wide range of people inside and outside government and inside and outside the capital, she explained.
"Every ambassador brings their own approach to the job. My approach to meeting new people is to talk about my background and my home and the commonalities I see with people and places in the country where I'm stationed. I find it's a very good way to start a conversation."