Constitutional law and government research
Faculty
Martin Belsky
Bernadette Genetin
Michael Gentithes
Willa Gibson
Brant Lee
Christopher (CJ) Peters
Tracy Thomas
Emeritus faculty:
Richard Aynes
Wilson Huhn
---
On the web
---
On Twitter
Tweets by ConLawCenter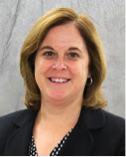 Faculty profile
Tracy Thomas
Tracy Thomas is director of the CCL and the Seiberling Chair of Constitutional Law. Her work focuses on questions of gender and civil rights remedies.
Tweets by ProfTracyThomas
Recent publications
See recent publications from the Constitutional Law Center.
Recent news
Tracy Thomas published Leveling Down Gender Equality, 42 Harvard J. Law & Gender 177 (2019).
Tracy Thomas was quoted extensively in The Atlantic Magazine on the 100th Anniversary of the passage of the 19th Amendment, drawing on her book Elizabeth Cady Stanton and the Feminist Foundations of Family Law (NYU Press 2016).
Mike Gentithes will publish his article "Gobbledygook: Political Questions, Manageability, and Partisan Gerrymandering" in the Iowa Law Review
Kristen Barnes presented her paper, "The Fair Housing Act and Voting Impacts" at the Texas A & M University School of Law on January 31, 2019.
Tracy Thomas spoke on "A History of Ohio's Ratification of Women's Suffrage," in conjunction with the Summit County Historical Society and the University of Akron.
Tracy Thomas was interviewed on NPR's Here and Now program regarding the Yale Fraternities Sexual Misconduct Lawsuit.
Tracy Thomas published After Suffrage Comes Equal Rights? ERA sa the Next Logical Step (with Tracey Jean Boisseau), in 100 Years of the 19th Amendment: An Appraisal of Women's Political Activism (Holly J. McCammon & Lee Ann Banaszak, eds., Oxford U. Press 2018)
Brant Lee was appointed to the newly-created Akron Civil Rights Commission.