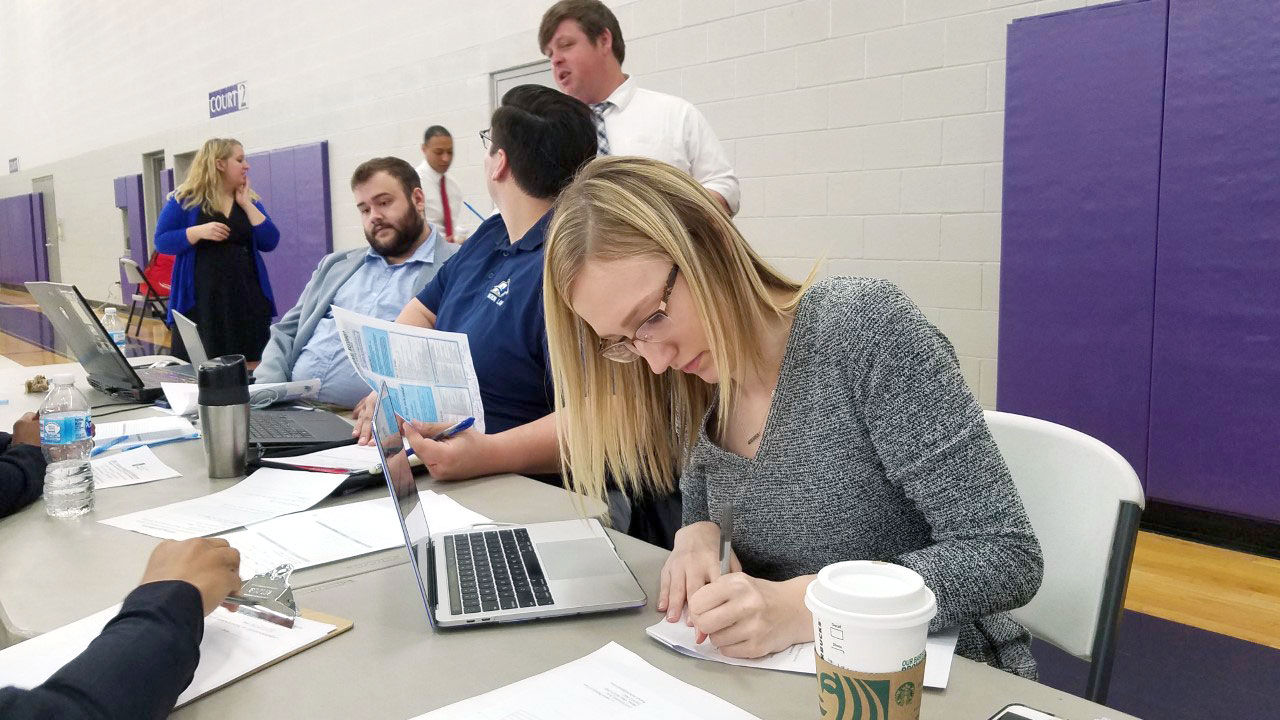 An Akron Law student assists a client at a Reentry Clinic.
---
LEGAL ASSISTANCE CLINICS
Trademark Clinic
The Trademark Clinic engages students to assist businesses and individuals in protecting their trademark rights under the supervision of a licensed trademark attorney. The Akron clinic is one of a handful of law school clinics throughout the country that have been specially designated by the United States Patent and Trademark Office to allow law students to prosecute trademark applications.
For more information, contact the clinic at trademarkclinic@uakron.edu.
Small Entrepreneur and Economic Development (SEED) Clinic
In this transactional clinic, law students supervised by staff attorneys provide low-cost legal and business assistance to small and emerging businesses, nonprofits, and other social enterprises in Northeast Ohio. Students benefit from the experience of interacting with real clients seeking assistance with real-world issues.
To qualify for SEED Clinic services, a business must have less than $100,000 in annual gross revenues and have been in business for less than five years.
For more information, contact Professor. Doug Moseley at 330-972-6145 or ddm55@uakron.edu.
Reentry Clinic
Law students assist low-income clients to help file applications to expunge (seal) their criminal records, obtain Certificates of Qualification for Employment (CQE), and file clemency applications.
UA's Reentry Community Clinic has been named one of the best in the nation by National Jurist's PreLaw magazine.
It was also recognized by the American Association of Law Schools as an "Innovative and Outstanding Program" in 2015.
UA Reentry Clinic Releases Results of its Statewide CQE Survey.
Ohio Governor's Expedited Pardon Project
The University of Akron School of Law operates the Ohio Governor's Expedited Pardon Project in partnership with The Ohio State University Moritz College of Law and the Ohio Department of Rehabilitation and Correction. Law students screen potential pardon candidates to ensure that they meet the project's requirements. The students also assist the project's clients with preparing a pardon petition to the governor. For more information, contact Professor Joann Sahl at jsahl1@uakron.edu.
Inmate Assistance Program
Law students travel to the Summit County and Mahoning County jails under the direction of staff attorneys to interview inmates and provide general legal information on criminal and civil problems.
This program provides valuable experience in understanding the criminal justice system, and the holistic set of problems facing incarcerated individuals. Supported by grants, some students in this program receive stipends while others volunteer for pro bono hours.
---
LITIGATION CLINICS
Civil Litigation Clinic
The Civil Litigation Clinic assists low-income clients who are experiencing housing problems. Cases are referred to the clinic from Community Legal Aid Services, Inc. Students interview clients, investigate the case, and prepare the case for court. With a State of Ohio legal intern certificate, students represent clients in court under the supervision of the clinic staff attorney. Students have the opportunity to appear in the Akron Municipal Court, Stow Municipal Court and Barberton Municipal Court, and in administrative hearings at the local housing authority.
Domestic Relations Court Clinic
Students in this litigation clinic handle family law matters in the Portage County Domestic Relations Court. With their State of Ohio legal intern certificate, students supervised by an experienced practitioner handle matters of child support contempt, dissolutions and civil protection orders. Students appear in court, argue at hearings, prepare briefings, and advise clients of modest means referred by the Portage County Bar Association.
The Portage County Legal News profiles a judge and Akron Law graduate who is helping current Akron Law students and low-income Portage County residents at the same time: Judge Giulitto starts DR court clinic at Akron Law.