THE UNIVERSITY OF AKRON
INTEGRATED BIOSCIENCE Ph.D. PROGRAM
---
About our program
IB is a unique interdisciplinary PhD program where biology is at the interface of research that cuts across traditional departmental boundaries.
Today's job market and research pursuits demand the ability to work on interdisciplinary teams. The questions being addressed require multidimensional approaches that can be accomplished only by working with a broad knowledge base. Thus, people who can interface with diverse scientists and engineers are highly sought after, both in private industry and in academic settings.
The IB PhD program is specifically designed so that PhD students work in interdisciplinary teams from the inception of their studies, both learning how to work and communicate with colleagues across an array of disciplines. Students and their faculty mentors design personalized coursework and research training experiences that draw from expertise across various disciplines both on and off campus, encouraging novel approaches to bio-based research challenges.
We offer students unrivaled flexibility in the design of their Ph.D. curricula.
IB complements other bio-related graduate training opportunities at UA, such as those in the College of Polymer Science & Engineering, the School of Nursing, and the College of Engineering.
Philosophy and rationale for the Integrated Bioscience Program
Biological problems rank among the most pressing that face our society by virtue of their scientific importance and because of their consequences for national health, the economy, and environmental stability. Although reductionist biology has been successful in dissecting the diversity of life, most major advances in understanding complex systems have been made by interpreting results across levels of biological organization (molecular to ecosystem levels) and crossing the boundaries between biology and other disciplines.
Importantly, major discoveries and new products and solutions in bioscience become possible because of recent advances in other fields of science and math. The study of complex biological systems is best approached by incorporating many perspectives, bringing together a diversity of complementary disciplines to unravel the complexity that is biology. Therefore, the 21st century will likely be known as the era of integrated science, engineering, and innovative technology and those trained to work across traditionally disciplinary lines will be the most successful in this new age.
Integrated Bioscience research areas
---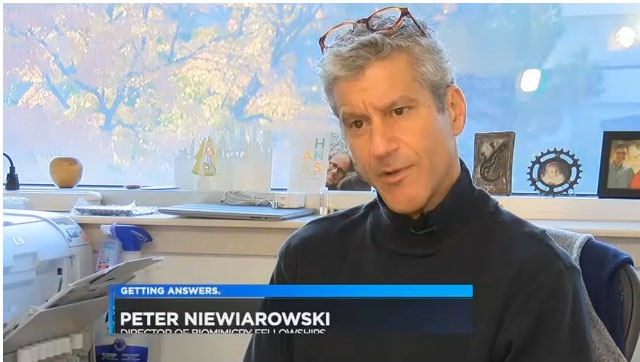 VIDEO: BIOMIMICRY BOOSTS PRODUCT DESIGN
Cleveland 19 News, the CBS affiliate in Cleveland, reports on how students in UA's Integrated Biology program are turning to nature to help improve such products as paint and football helmets. See story.
---
2023 IB Seminar Series speakers
Spring semester only | Seminars are generally held in the Biology Section of Auburn Science and Engineering, B201 on Fridays at 245 p.m. Coffee and cookies are provided. Please note location changes for special seminars.
If you see a speaker whom you would like to meet, please email Peter H. Niewiarowski for information.
---