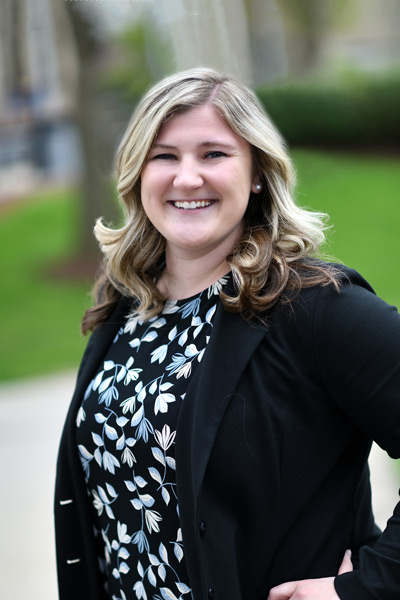 Class of 2022: Katelyn Stanoch
Alumna adds Master of Science in Accountancy–and adds to family's UA history
---
Katelyn Stanoch will be the student speaker at the Spring Commencement ceremony on Saturday, May 7, at 1:30 p.m. in the James A. Rhodes Arena. She is graduating with a Master of Science in Accountancy as part of the accelerated BS/MSA Accounting program. Stanoch received her Bachelor of Science in Accountancy in May 2021. This fall she begins a position at Cohen & Company, an accounting and consulting company in Akron.
Degree and major: Master of Science in Accountancy
Hometown: Richfield, Ohio
High School: Revere High School
Parents: Terry and Sara Stanoch
Q: What campus activities were you involved in?
A: Starting in 2019, I became a member of Beta Gamma Sigma, an international business honors society. As this organization's presence grew on campus, I became vice president of marketing on the Executive Board and became president in 2021. During this time, I was also a member of the Economics Club. Since 2020, I have also worked on campus as a College of Business Student Success Leader, a peer writing tutor in the Polsky Tutoring Labs, and a tutor for business classes through Knack. I have also been a student/graduate assistant in the School of Accountancy since early 2021.
Q: What campus honors or awards have you received?
A: During my time at Akron, I made the President's List for four semesters and the Dean's List for four semesters. Last year, I graduated Summa Cum Laude and was named a Williams Honors Scholar. I have also received the Akron Guarantee Scholarship, the School of Accountancy Advisory Board Accelerated BS/MSA Accounting Scholarship, the Accounting Restricted Fund Scholarship, the Rose Marie Kohn-Diehl Scholarship, the UCFW Local 880 Scholarship, and the Richard and Lela Schier Scholarship. Most recently, I received a scholarship that will pay for my study materials and test fees to take the Certified Management Accountant (CMA) exam.
Q: What are your plans after graduation?
A: Until I start my full-time position with Cohen & Company this October, I plan on studying for (and hopefully passing) the remaining three parts of the Certified Public Accountant (CPA) exam. Additionally, I will continue working closely with one of my professors on a research project, which involves National Association of State Boards of Accountancy accreditation for UA's Master of Taxation program. Otherwise, I will be taking a much-needed vacation with my family and will relax as much as I can!
Q: What is your favorite memory of UA?
A: This is a tough question—I have so many great memories at UA! But one memory that comes to mind is when my tax research group and I gave our big presentation last semester. When the day came for all the groups to present, we had practiced multiple times in the College of Business. After presenting, we immediately felt relieved, and most of my classmates and I went out to celebrate afterwards. This is one of my favorite memories because it really sums up my college experience. Working hard and dedicating time to your studies is very rewarding, and it is something to be celebrated.
Q: What unique things should we know about you?
A: There are a couple things about me that I find unique. First, I was a College Credit Plus (CCP) student at UA starting my junior year of high school. When I officially started classes in 2018, I had 51 completed credits so I was able to finish the five-year accelerated BS/MSA in Accounting program in four years. Second, I come from a family of six kids, so my house is never quiet! Also, fun fact, all my sisters and I have a name that starts with the letter K. Third, two of my grandfathers were professors at UA. My paternal grandfather, Jerry Stanoch, worked in the accounting department while my maternal grandfather, Richard Jackoboice, was the Director of Bands. I unknowingly ended up following in my grandfathers' footsteps as I have a love of accounting as well as music!