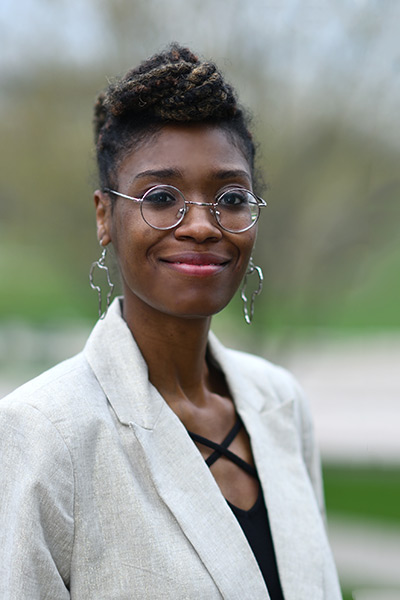 Class of 2022: LeKesha Parkman
Art and journalism prove inspirational for new UA graduate
---
LeKesha Parkman will be the student speaker at the Spring Commencement ceremony on Saturday, May 7, at 9 a.m. in the James A. Rhodes Arena. She is graduating with a B.F.A. in graphic design and will intern at the American Ceramic Society following her graduation.
Degree and major: Bachelor of Fine Arts in Graphic Design, minors in Psychology and Emerging Technologies
Hometown: Akron, Ohio
High School: John R. Buchtel Community Learning Center
Parents: Edward Parkman and Melody Parkman
Q: What campus activities were you involved in?
A: I was very involved with the school's student newspaper, The Buchtelite, including five semesters as the editor-in-chief. I was also the special sections editor before I became the editor-in-chief. I'm also a member of The National Society of Leadership and Success, and the National Society of Collegiate Scholars.
Q: What campus honors or awards have you received?
A: For the last 11 semesters, I've been on the Dean's List and made the President's List a few times. I've been part of the Honors College since 2019. I've earned The Robert J. and Richard M. Greenwald Scholarship for the Editor of The Buchtelite, the American Greetings Endowed Graphic Design Scholarship, the Mary B. Demetros Memorial Fund Scholarship and the Akron Guarantee Scholarship.
Q: What are your plans after graduation?
A: After graduation I will begin an internship at The American Ceramic Society as an advertising and fundraising intern. Following that, my goal is to join a publishing company as an in-house graphic designer, which would allow me to combine my interests in books, journalism and graphic design.
Q: What is your favorite memory of UA?
A: I have several favorite memories from my time at UA, all of which involve Mary Schiller Myers School of Art. Meeting my mentor David R. Flynn is a great memory. Dave is an awesome professor and his classes are incredibly inspirational. Also, I enjoyed working in the Emily Davis Gallery with the volunteers, gallery workers and grad students, and especially Arnold Tunstall, the director. Another favorite memory is earning my minor in Emerging Technologies. Professor Markus Vogl was instrumental in sparking my interest in that field.
Q: What unique things should we know about you?
A: I have a cat and a dog, each with vision in just one of their eyes. I always say that together they have 20/20 vision. Also, I work as a paint instructor.