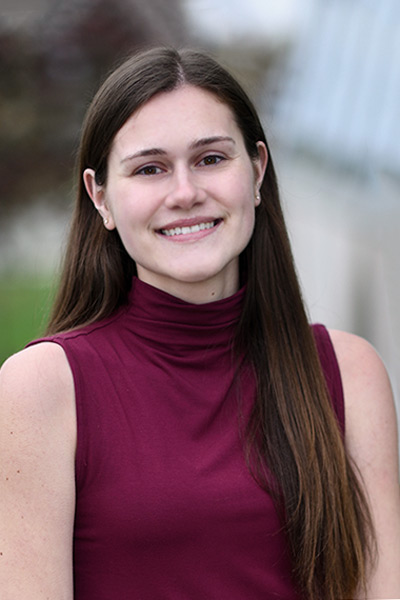 Class of 2022: Maddison Schutt
Student research and trivia nights among highlights for new UA graduate
---
Maddison (Maddiy) Schutt will be the student speaker at the Spring 2022 Commencement Ceremony on Saturday, May 7, at 6 p.m. in the James A. Rhodes Arena. Maddiy is graduating with a B.S. in biomedical engineering-biomaterials and tissue engineering, and will head to Duke University to pursue a Ph.D.
Degree and major: Bachelor of Science in Biomedical Engineering-Biomaterials and Tissue Engineering
Hometown: McKean, Pa.
High School: General McLane High School
Parents: John & Kathye Schutt
Q: What campus activities were you involved in?
A: Throughout my time at The University of Akron, I have been involved in undergraduate research, the Department of Student Success and Greek life. As an undergraduate research assistant in a biomedical engineering lab, a biochemistry lab, and a polymer science lab, I have spent countless hours working to refine my research skills. My favorite aspect of research is being able to apply the information that I learned in my coursework to understand real challenges that I face in the lab. In the Department of Student Success, I have served as both a tutor and a learning assistant in the topics of algebra, calculus, physics, chemistry, biology, anatomy and organic chemistry. The best part of being involved in this aspect of campus life is being able to make a direct impact on my fellow students. In Greek life, I have served as president, secretary, and risk management officer of Phi Delta Epsilon professional fraternity. This experience has allowed me to learn leadership skills and meet a diverse group of motivated individuals with whom I might not have otherwise crossed paths.
Q: What campus honors or awards have you received?
A: As a senior in high school, I had the honor of receiving the Buckingham-Orr Scholarship from UA, which is a fully funded four-year undergraduate scholarship provided through the Williams Honors College. I have also been on the President's List every semester that I have been at UA. This February I received the Karen M. Mudry Achievement Award for Outstanding Undergraduate Research Poster.
Q: What are your plans after graduation?
A: Starting in fall 2022, I will be attending Duke University to pursue my PhD in mechanical engineering and materials science. I will be primarily focusing on soft materials, polymers and functional biomaterials while there.
Q: What is your favorite memory of UA?
A: My favorite memory at UA is the weekly trivia nights that my friends and I used to have when I lived in the Honors Complex dorms my first year. We used to get together in the study rooms, make teams and battle with our knowledge of random facts. It was the highlight of my week every week.
Q: What unique things should we know about you?
A: One unique thing about me is that I am getting married to a fellow UA 2022 engineering graduate in May! We went to middle school, high school and attended UA together. Another unique thing about me is that I am an animal lover. I grew up on a horse farm, so I have been riding horses since I was three years old. I have had my horse, Sully, since I was eight years old. He is currently 30 years old. At school, I have a really great guinea pig named Jasper.