ANNA SALLIE
Company | Ball Metalpack
Location | Canton, Ohio
Position | Quality Co-op
Tell us a little about yourself.
I'm a 31-year old step-mother to a wonderful little girl. In my free time I like to read, cook, and work around the house. I was heavily influenced by my father's ability to fix and build just about anything. I am glad that I waited to go to college. That time gave me a sense of purpose and focus that I may not have had if I had started at a younger age. I will graduate with a B.S. in Mechanical Engineering in 2021.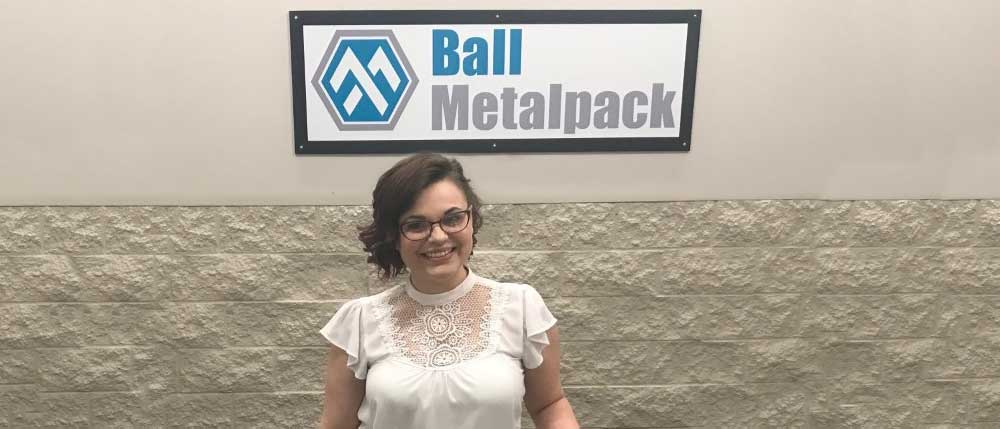 Anna Sallie, mechanical engineering undergrad at The University of Akron.
Why did you choose to participate in the co-op program?
The co-op program has offered an unmatched opportunity to explore what the engineering field has to offer. I have had the chance to speak with companies and tour facilities.
Is this your first co-op?
Ball Metalpack has been my only co-op. I am in my second rotation here.
How did you secure your co-op position?
I did my research! When the women in the co-op office tell you to study up, DO IT! After getting my butterflies out, I impressed my top co-op choice by knowing who they were, what they did, and what their most recent accomplishments were. I knew about awards given to the company that some of them were unaware of. Enthusiasm, knowledge, and preparedness go a long way.
What have you been doing at your co-op?
I have helped standardize procedure, brainstormed to fix standing deviation (design and process), and have developed better understanding of manufacturing.
What have you learned?
I have learned not only what our facility does and how a streamlined process effects product but also the processes of our supplier and customers. I have a better understanding of the significance of the exact degree of an aerosol end, thickness of the sheet of steel or aluminum, and the importance of compound adhesion dependent upon the contents of a container.
What impact will your co-op have on your classes?
There are some classes that you will take that will seem like you'll never use the information. Now that I have real world experience I see that I may not use all of the formulas exactly but the concept is there.
How do you anticipate your co-op will help you get a job?
When I graduate I will already have two years of experience. I'm building my value and am confident that, even if I don't end up with a job here, I will have skills that I can market to approach another company and let them know exactly what I can offer them beyond a GPA.
What is the best part of your co-op?
Every day is the best part! I get to wake up and go to a job where the people are great and appreciate me, where I am doing the job I want to do and learning a lot. Waking up early isn't so bad when you like where you're going.
Is there anything else you would like to add?
I know it is common thinking to want to just get through college then start your work experience. Working in industry as a student has prepared me for life in the real world. Getting your hands dirty while in school will serve you well.