Dr. Lawrence Noble, Jr.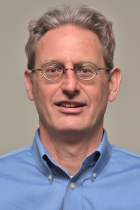 Title: Professor of Engineering Practice
Dept/Program: Biomedical Engineering
Office: ASEC 275A (Lab ASEC 371 & 374)
Phone: 330/972-6041
Email: lnoble@uakron.edu
Curriculum Vitae: Download in PDF format

---
Biography
Dr. Noble joined UA in 2015. Previously he worked for Life Systems Inc. for the International Space Station Wastewater Processor Assembly, Northrop Grumman for elements of the International Space Station Fluids and Combustion Facility, Cleveland Clinic, and Parker Hannifin. Dr. Noble has been recognized with the 2009 Innovators Award for the Implantable Anatomic Displacement Sensing System, the 2008 Innovators Award for the Suture Clip, and the 2007 Innovators Award for the Musculoskeletal Simulator.
---
Research
Human motion, artificial organs and artificial limbs
---
Education
Doctorate of Engineering (Applied Biomedical Engineering), Cleveland State University, 2011
M.S., Chemical Engineering, Cleveland State University, 2006
B.S., Chemical Engineering, Cleveland State University, 1984
---
Courses
Experimental Techniques of Biomechanics, Project Management for Medical Devices, Design of Medical Devices, Biomedical Design I & II, Biomedical Signal and Image Processing, Modeling and Simulation of Biomedical Systems, BME Tools - Matlab and Physiological Control Systems
---