Making lithium-ion batteries sustainable
Mechanical engineering students Nelson Lopez, Luke Musil, Dominic Frisone, and Bamidele Oluwadare designed a skid-mounted EV lithium-ion battery recycling machine to improve the cost and safety of recycling lithium-ion batteries. Combining multiple legacy processes with novel designs, the small-scale machine will perform in-situ pre-processing of EV battery modules. The micro-recycler will allow the valuable material to be liberated from the battery and sent for further refinement, providing cost savings in transportation. The small form-factor and low-cost will allow devices to be placed exactly where battery waste is collected, decreasing fire risk from storage.
Faculty advisor: Dr. Siamak Farhad
Examining the effects of recycling on PLA filament
A team of mechanical engineering students studied how recycling effects material properties of Polylactic acid (PLA) filament used in FDM printing. PLA is a thermoplastic, meaning upon heating, it turns plastic and hardens when cooled, allowing it to be recycled. The elements used in 3-D printing are usually single use plastic. The 18 printers in the College's 3-D printing room can produce 32 pounds of waste in two months. The students wanted to understand the degradation of material properties during the recycling process and methods to retain original material properties. This knowledge can lead to more efficient recycling practices at the university. The effects could be seen in reduction of filament waste, minimizing filament purchase costs and reduction of carbon footprint from the college.
Faculty advisor: Dr. Manigandan Kannan
Keeping cyclists safe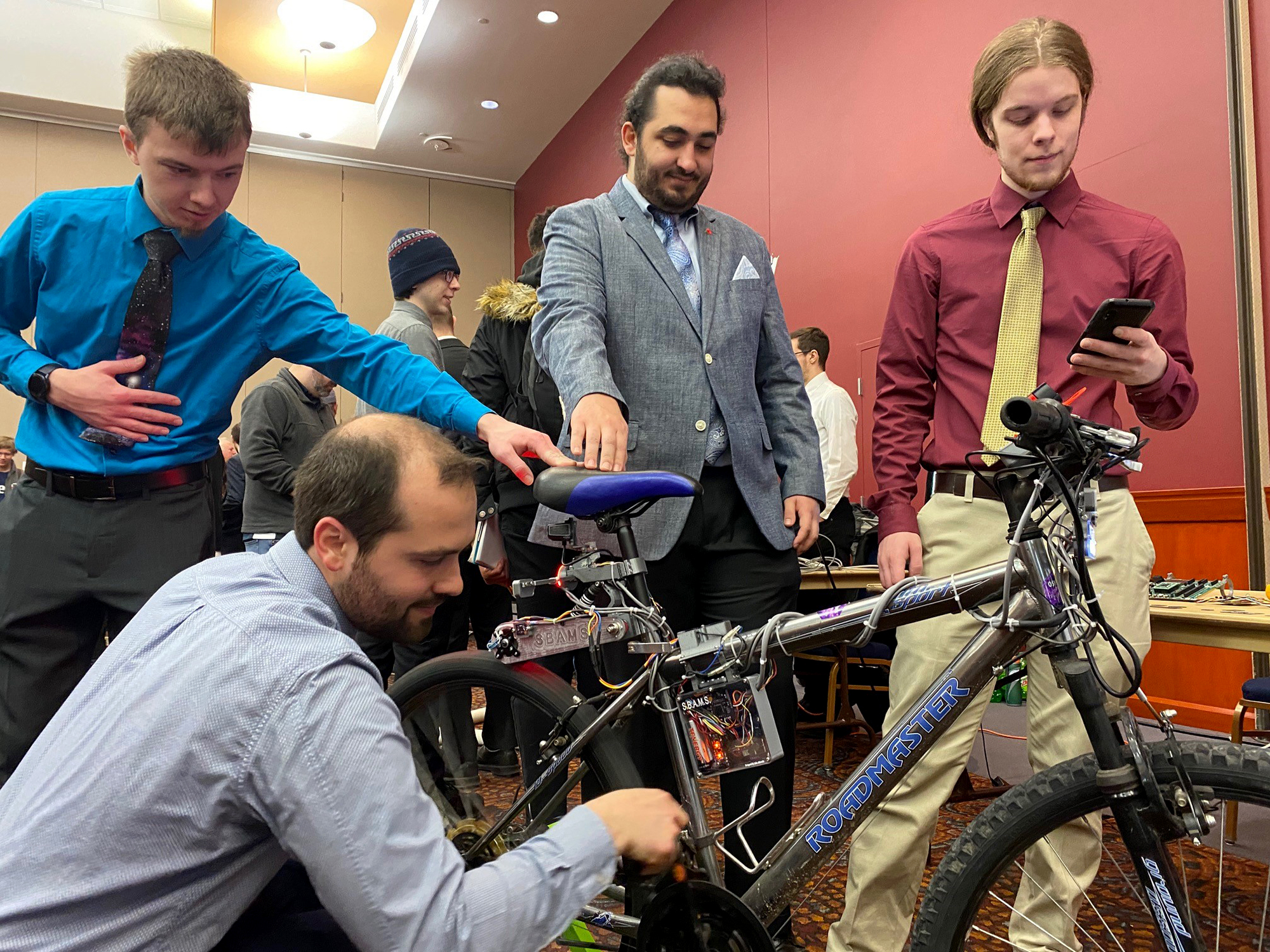 Dawson Beachy, John Albrecht, Noah Lamadanie, and Jack Bullock, senior electrical and computer engineering students inspect their senior capstone project, the SmartBike.
This student team of electrical and computer engineers wanted to use their engineering knowledge to solve a common road safety issue cyclists face – getting hit by a car. As speed limits increase, the safety margin for cyclists decreases. One potential approach to alleviate this danger is to increase the visibility and awareness of cyclists through the use of a system that can be attached to a bicycle. The students created a self-powered system, called the SmartBike, and incorporated a generator, distance sensor, and method of communicating warnings to the user and approaching cars. To improve the user experience, a power storage system will allow the safety system to function regardless of the user's current speed, and an optional phone application will give the user finer control over the system.
Faculty advisor: Dr. Gregory Lewis
Designing shoes for kids with foot conditions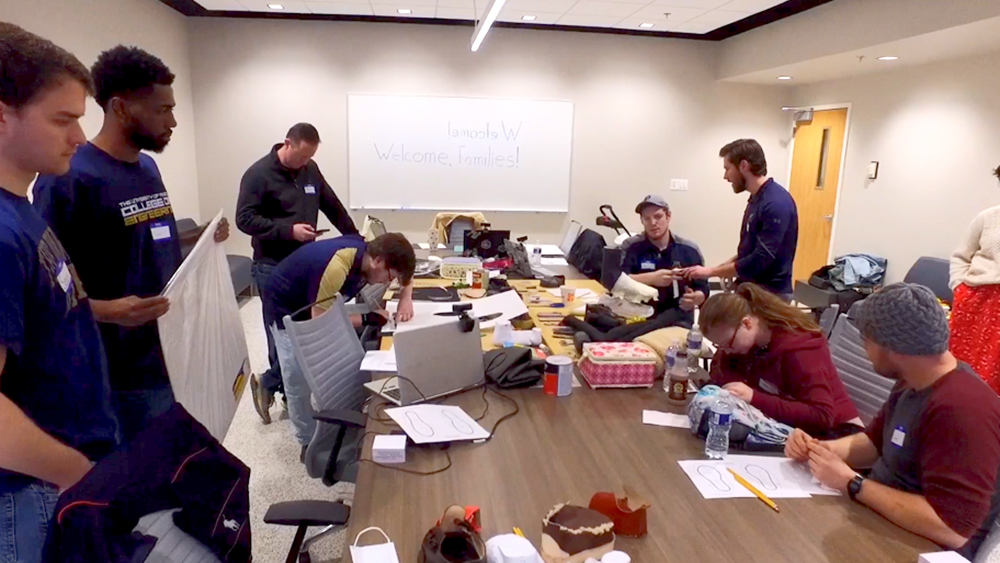 Sutherland McKelvey, Maurice Peek, Sean McKinney, Anthony Falletta, and Matthew Stang meet with families affected by CLOVES Syndrome to inform their design for modified footwear.
Foot conditions affect millions of people around the world. For more severe cases, such as CLOVES Syndrome, there is not an affordable, quality, and accessible solution for footwear. Custom orthotics can cost up to seven times more than traditional alternatives. Improper foot support can lead to varying degrees of health implications. This mechanical engineering student team used their engineering knowledge and connections to establish a process where any family in the United States can have a formulated plan to create a custom shoe for less than $500 using 3-D printing. This solution will save money, blend in with current footwear styles, and protect foot health.
Senior Design/Honors Project Course Instructor: Dr. Gopal Nadkarni