The Les and Kathy Coleman Common
Longtime Northeast Ohio community philanthropists, Les and Kathy Coleman, have been instrumental in the success of The University of Akron since 1997.
The late Dr. Lester E. Coleman graduated from The University of Akron in 1952 and received a bachelor's degree in chemistry. Dr. Coleman served on The University of Akron Foundation's Board of Directors for three years and received an alumni honor award in 1988.
Mrs. Kathy Coleman attended UA and was made an honorary alumna in 2008. Kathy is a former member of The University of Akron Foundation Board of Directors, where she served on the Stewardship and Women in Philanthropy Committee as a past chair. She also served on the foundation's Executive Committee and the Committee on Directors. Kathy received the Elizabeth Buchtel Award in 2009 and was awarded an Honorary Doctorate of Humane Letters in 2014.
During his lifetime, Les and Kathy established numerous Chemistry chair and fellowship positions, as well as scholarships to support UA students. After his death in 2000, Kathy funded the Les and Kathy Coleman Commons, on the University's campus.
The Les and Kathy Coleman Common, affectionately known as Coleman Common, is the center of campus near the Jean Hower Taber Student Union. Coleman Common is an open green space lined by trees and walks for leisure, recreation, and campus events.
Lester ('52) and Kathy Coleman
Benefits to campus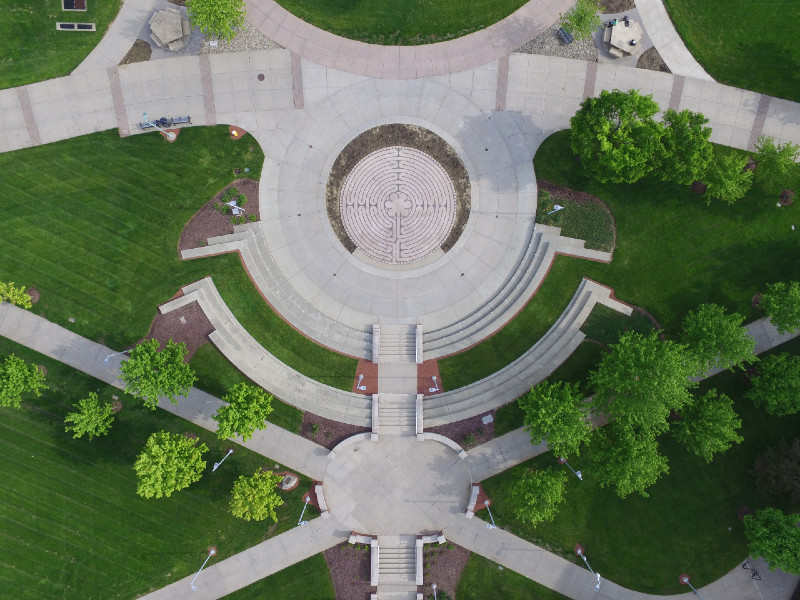 Coleman Common is a beautiful outdoor space where students can interact with peers or study. The space is also used for various campus events. It features a lawn amphitheater, terraces, cement labyrinth, and fountain creating a peaceful campus space for students and visitors to enjoy.
This space is alive with activity throughout the semester and is the site for signature events like Fall Convocation, Veteran's Day Memorial Ceremonies, Spring Fest, and more.
To honor a loved one through a named space opportunity on campus, please contact the Department of Development at development@uakron.edu