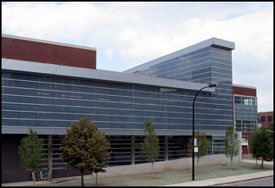 Simmons Hall - Room 304
Mission Statement
Testing Services adheres to the mission of the Counseling & Testing Center and promotes community engagement and student learning, success, and retention by providing a standardized testing environment for University and community members. The Testing Services differentiates itself and the University by its certification through the National College Testing Association (NCTA) and adheres to the NCTA Professional Standards and Guidelines
Brightspace Exams for University of Akron Students
Alternative credit opportunities, or prior learning assessments, include options that allow a student to earn college credits via a method other than enrollment in a class. These options can help students progress more quickly to their intended degree and save money.
College Level Examination Program (CLEP)
DSST (DANTES) - prior learning assessment proctored at CTC-Testing Services, not available for UA course credit
University of Akron Course Testing
Placement Testing
Admission and Certification Testing
CTC-Testing Services is certified to proctor a wide range of admissions, certification, licensure, and other professional testing. Exams include but are not limited to the following: ACT WorkKeys, Manufacturing Skill Standards Council, HiSET (high school equivalency exam), Prov (licensure and certification), National Center for Competency Testing, MAT (Miller Analogy Test), Scantron, ESCO Group, Nocti Business Solutions, and national testing programs including SAT, ACT, GRE-Subject, and LSAT.
Residual ACT - ACT for UA admission only, available if applicant is unable to take ACT on nationally scheduled test date
Please contact our office for information about any exams not listed. Counseling & Testing Center does not offer specific test preparation guides or workshops. Please refer to UA Solutions for test-specific resources. CTC provides test anxiety and study skills workshops and resources. For more information, visit CTC Important Resources.