Cracking the code: Computing programs unlock careers
As part of The University of Akron's sesqui¬centennial celebration — honoring 150 years of our people, place and promises — we are hosting a "Celebration of Academic Excellence" to highlight the history and future of our colleges and academic disciplines.
Today we are honoring the Department of Computer Science and Computer Information Systems in the newly expanded and strengthened College of Engineering and Polymer Science.
---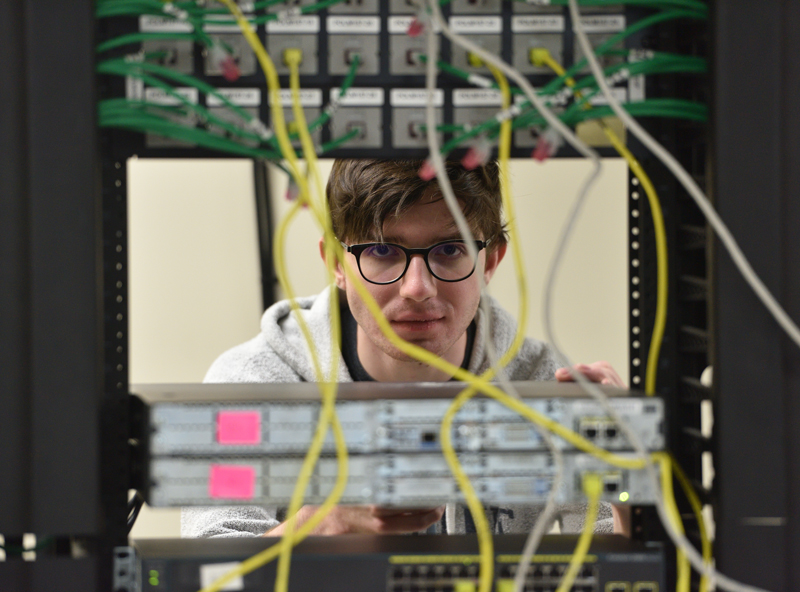 In our increasingly interconnected and digital world, the demand for highly skilled, versatile computer experts continues to grow.
That's why The University of Akron's Department of Computer Science and Computer Information Systems in the College of Engineering and Polymer Science offers cutting-edge degree programs, equipping students with coveted skills in cybersecurity, data/database administration, hardware/systems integration, software development, network design and administration, systems analysis and more.
Opportunity knocks
The University's graduates do not need to travel far to take advantage of great opportunities in the IT space.
According to a 2020 report from Team NEO, software application developers, web developers, information security analysts and other computer-related occupations are among the top 20 occupations in Northeast Ohio, based on family-sustaining wages and low risk of automation. The report also noted that the top emerging computer and IT careers — cybersecurity specialist, artificial intelligence engineer, and data scientist — had a median annual salary of $78,165 in 2019.
Unlocking potential
Since establishing its first Computer Center in 1957, the University has, through its in-demand computing programs, been unlocking students' potential and opening paths to careers in business, education, industry and government.
Students gather around computers in the Computer Center in 1974. Image courtesy of UA's Archival Services.
Take, for example, Greg Jones, a former bartender and construction worker who, at age 37, decided to go back to school in 2011.
"I had absolutely no background in any computer science or computer technologies but realized that these skills would afford me an opportunity for employment in many sectors," said Jones, who enrolled in the Computer Information Systems (CIS)–Cisco Networking track. "The focus on fundamental concepts of networking, system administration, operating system architecture, application support and how these technologies integrate has given me a flexible, big-picture understanding of the field."
After graduating in 2014, he is now in a management role as lead of U.S. support for Tufin Technologies in North Canton, Ohio. He is also a recent member of the University's CIS Advisory Board.
"I attribute this not only to my hard work but also the dedication of the faculty at The University of Akron," he said.
Other graduates have gone on to work for companies such as FirstEnergy Corp., Progressive Corp., Intel Corp., The Goodyear Tire & Rubber Co., PNC Bank, Sherwin-Williams Co., Diebold Nixdorf, Hyland Software, The J.M. Smucker Co., The AllState Corp., and Cisco Systems Inc.
Crucial skills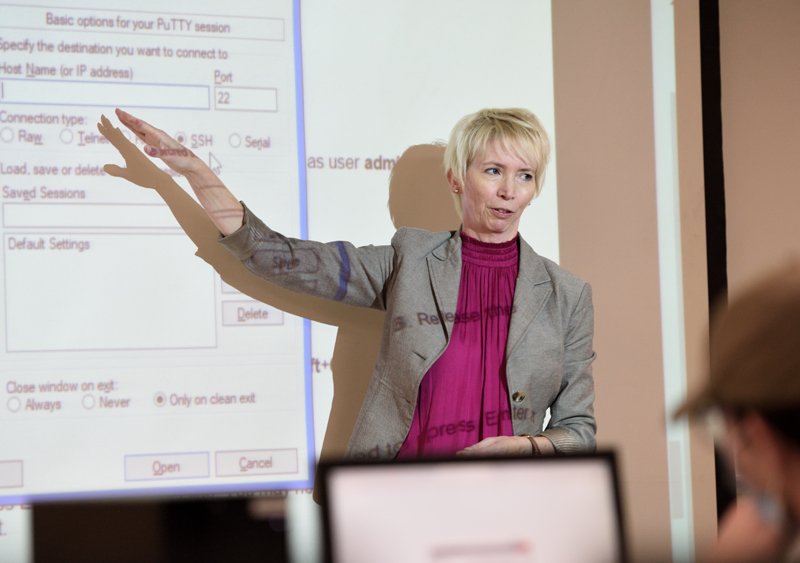 Students in the University's computing programs develop crucial skills in programming languages, such as Python, Visual Basic, Java, C++, and C#, allowing them to easily transition into technical programming or software developer positions upon graduation.
Also, students in networking courses are prepared to earn marketable industry certifications such as Cisco Certified Network Associate, Cisco Certified Network Professional, and CompTIA.
Moreover, students apply their knowledge in computing and tech clubs such as HAkron, which hosts an annual 24-hour hackathon, and the Association for Computing Machinery Club, which consistently places in the top five in regional programming contests. The student Cyber Defense Team finished second at the 2019 Midwest Invitational Cyber Defense Competition.
Students also have the opportunity to participate in an internship program to gain experience while in school.
A leader in cybersecurity
The University has been at the forefront in the rapidly growing field of cybersecurity, launching in 2017 a bachelor's degree in CIS-cybersecurity, the first of its kind among public universities in Ohio. The program is also among the first in the country to offer courses in applied cryptography (code writing and solving) at the undergraduate level. Last spring's CIS-cybersecurity graduates had a 100% job placement rate and starting salary of $70,000-$79,000.
The University is also home to the R.C. Musson and Katherine M. Musson Charitable Foundation ICS testbed (simulation lab), the only of its kind in the state, allowing companies to simulate cyber threats. It is modeled after the United States Department of Energy's Idaho National Laboratory. Last year, UA became the only university, public or private, in Northern Ohio to be designated an Ohio Cyber Range Institute Regional Programming Center by the state of Ohio. This designation enables UA to support the needs of cybersecurity, information, and operation technology professionals at the local, state, regional and national levels.
New department, new possibilities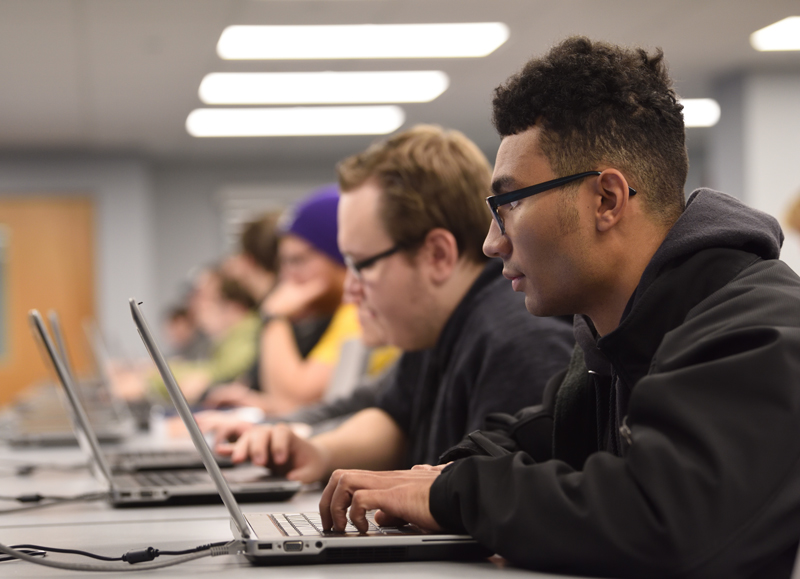 The newly formed Department of Computer Science and Computer Information Systems combines the expertise and resources of two historically strong computer programs. This gives students access to faculty, facilities and peers from a range of computing specializations, better preparing them for an increasingly interconnected cyber workplace.
Undergraduate programs in the department include:
Computer Science – Management Track (B.S.)
Computer Science – Systems Track (B.S.)
Computer Information Systems, Cybersecurity (B.S.)
Computer Information Systems, Networking (B.S.)
Computer Information Systems, Programming (B.S.)
Computer Information Systems, CISCO Networking (A.A.B.)
Computer Information Systems, Programming (A.A.B.)
The department also offers an M.S., and five-year accelerated B.S./M.S., in Computer Science.
Dr. Craig Menzemer, interim dean of the College of Engineering and Polymer Science, recently shared in his 2021 College Update Facebook livestream that the college is gearing up to provide co-op and placement services to students in the Department of Computer Science and Computer Information Systems starting this fall. These services will connect more students to employers who need skilled computer professionals to meet consumer demand — and will get students hired.
---