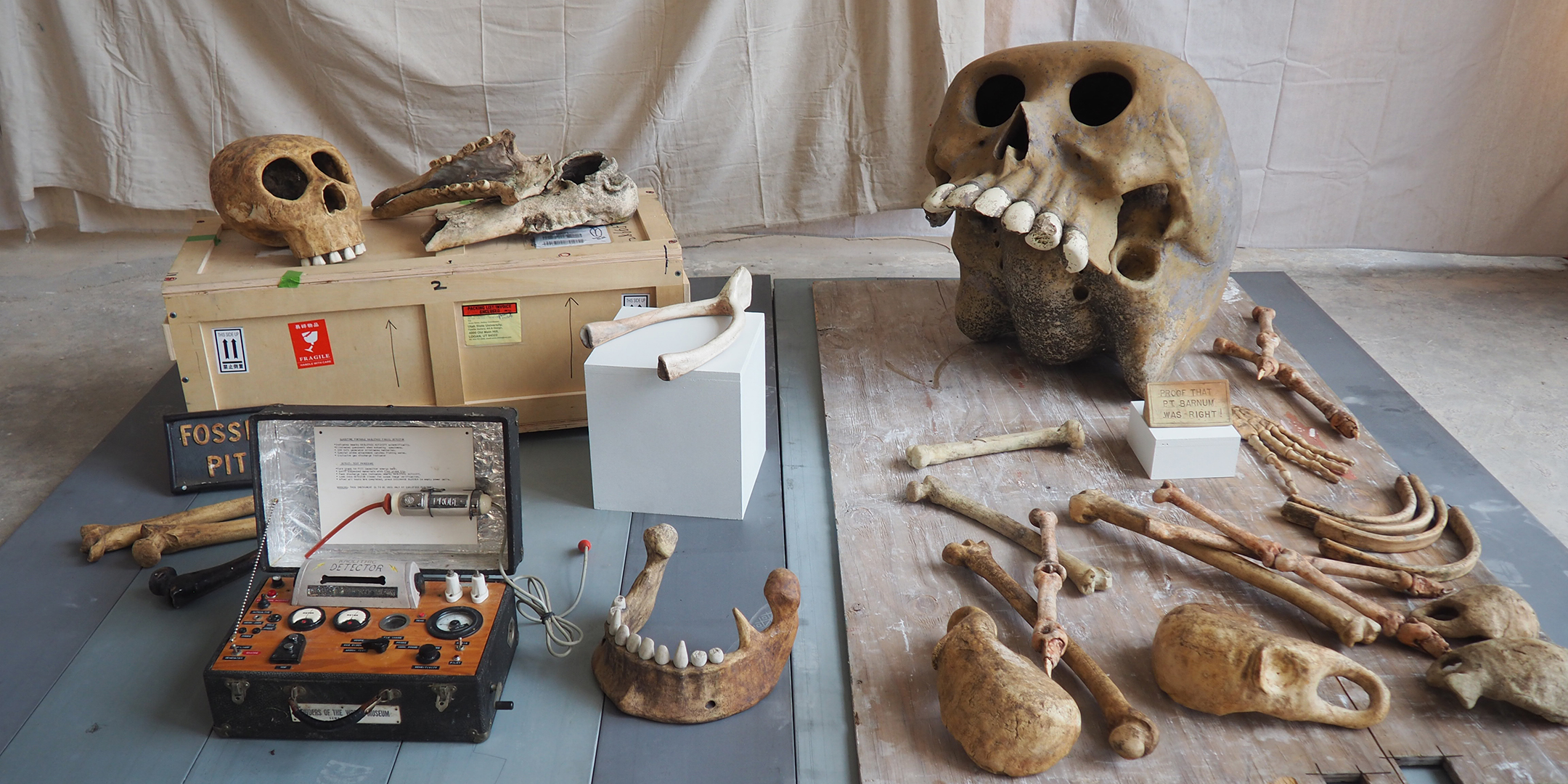 Clayton Bailey's World of Wonders
November 19, 2021 through September 10, 2022
Past Exhibit
---
Robots! Horn dogs! Jaw harps! Mutant heads! Bigfoot's skeleton! Peer into the wild and wonderful mind of renowned ceramist and prankster Clayton Bailey as Curated Storefront moves half of the collection to the Cummings Center's Metzger Galleries.
Based in California, Bailey gained a worldwide following in the late-Sixties and Seventies through his playful, fantastical creations — including gender- and animal- specific robots, troll-like ceramic heads and sci-fi-inspired oddities that became hallmarks of the era's Funk Art and Nut Art movements. Media coverage of Bailey often focused on his alter-ego, Dr. George Gladstone, a parody of the eccentric scientist obsessed with strange phenomena such as space-age robots, UFOs and Bigfoot.
After Bailey passed away in June 2020, Curated Storefront acquired virtually all of the artist's collection from his estate. Over 100 wild, surprising and incredible pieces from the singular mind of Bailey were on display at the Landmark Building from May to October 2021, and half of that collection will now be located in this new space. In an imagined universe populated by robots and Dr. Gladstone, Clayton Bailey managed to walk a line between ingenious fabrication and outsider art that is incredibly playful. This exhibition is fun for kids and adults who dare to enter his strange and surreal universe.
About Curated Storefront:
Over the past four years, Curated Storefront has presented engaging artwork in multiple unused spaces; commissioned and employed artists; offered educational outreach programs to further engage the public; and stimulated commercial development. More information about Curated Storefront and its other exhibits on display throughout Akron can be found at curatedstorefront.org.
Plan Your Visit
Get more information on hours and admission.
Health & Safety Information
Please stay home if you do not feel well, have been diagnosed with COVID-19, or had direct contact with an individual diagnosed with or suspected to have COVID-19. Get more information on our current health & safety precautions.
Travel, Parking, and Accessibility
Get more information on travel, parking, and accessibility.