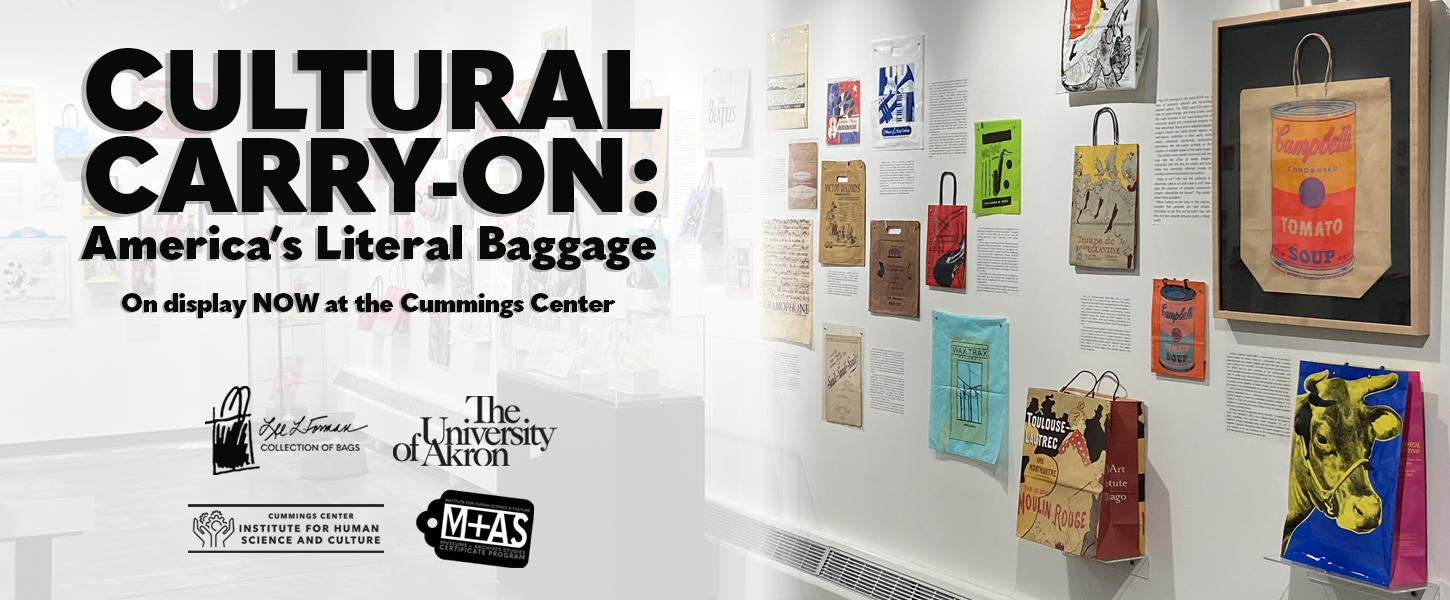 Cultural Carry-On: America's Literal Baggage
July 16, 2021 through May 2022
Lynn Rodeman Metzger Galleries
---
Drawing from more than 12,000 bags in the Lee L. Forman Collection of Bags, Cultural Carry-On showcases human experience and culture in the 20th and 21st centuries—from travel to politics to trash—through the canvas of bags. This exhibit was designed and installed by students from The University of Akron as part of the 2019-2020 Museums and Archives Studies certificate program.
About Lee L. Forman Collection of Bags:
The Lee L. Forman Collection of Bags is the legacy and namesake of Lee L. Forman, a collector who started saving new paper Bloomingdale's shopping bags in the 1970s. The collection grew as Forman became increasingly interested in the design and history of bags as cultural icons. The Lee L. Forman Bag Collection was gifted by Howard Forman in 2019 and is one of the Institute for Human Science and Culture's key collections.
Plan Your Visit
Get more information on hours and admission.
Health & Safety Information
The University of Akron currently requires that ALL individuals - regardless of vaccination status - wear a mask / face covering in indoor public areas across all campuses.
Please stay home if you do not feel well, have been diagnosed with COVID-19, or had direct contact with an individual diagnosed with or suspected to have COVID-19. Get more information on our current health & safety precautions.
Travel, Parking, and Accessibility
Get more information on travel, parking, and accessibility.