Larry C. Shubat, M.S., GISP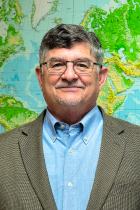 Title: Emeritus Professor, Surveying
Dept/Program: Civil Engineering, Surveying & Mapping, GIS/LIS
Office: Schrank Hall South 117-A
Phone: 330.972.2448
Fax: 330.972.4904
Email: lcs@uakron.edu

---
Biography
Professor Shubat earned a Masters Degree in Geodesy at The Ohio State University in 1987, and a second Masters Degree in Geography/GIS in 2005 from The University of Akron. He served 20 years in the US Army in the Mapping, Charting and Geodesy fields. He is currently teaching at The University of Akron in the Surveying and Mapping, and Geographic and Land Information Systems(GIS/LIS) programs in CAST.
---
Professional Organizations
Professor Shubat is a member of the Professional Land Surveyors of Ohio (PLSO), and the American Congress of Surveying and Mapping (ACSM). He is an Eagle Scout.
---
Education
M.S., Geography, The University of Akron, 2005
M.S., Geodetic Science, Ohio State University, 1987
B.A., Geology, University of California, Davis, 1976
---
Courses
Land Navigation
Fundamentals of Map Production
Intro to Geographic and Land Information Systems
GPS for Surveyors
Survey Computations and Adjustments
Applied Photogrammetry
---