Dr. David B. Cohen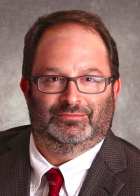 ---
Biography
David B. Cohen is a professor of political science, Director of the Applied Politics Program, and Fellow of the Ray C. Bliss Institute of Applied Politics at The University of Akron. He earned a B.A. in political science and international relations at the University of Wisconsin-Madison, an M.A. in political science at the University of Tennessee, and a Ph.D. in political science at the University of South Carolina.
Professor Cohen teaches courses and conducts research on the American presidency, Congress, and homeland security. He has studied White House staffing and organization for over two decades and is currently co-authoring a manuscript to be published by the University Press of Kansas titled The President's Chief of Staff: Evolution of a White House Institution.
In addition to his academic pursuits, Professor Cohen is a frequent media contributor and guest speaker on national and Ohio politics. He has been a member of the Board of Trustees of the Akron Press Club since 2007 and is the former Vice President for Programs.
---
Education
Ph.D., University of South Carolina
---
Courses
3700:100 Government and Politics in the U.S.
3700:341 American Congress
3700:346 American Politics in Film
3700:350 American Presidency
3700:351 Inside the White House
3700:418/518 Weapons of Mass Destruction
3700:419/519 Homeland Security Policy and Process
3700:427/527 Campaign Battleground
3700:630 Seminar: National Politics
---
Areas of Responsibility
American Politics Homeland Security
---